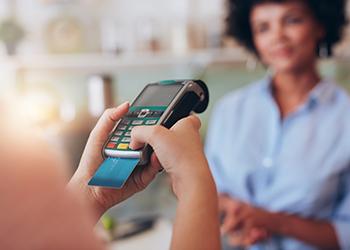 Jacob Lund/Shutterstock
Improving the transparency of financial aid award letters for prospective students is a hot topic, but thoughtful aid officers are continuing the fiscal wellness charge once those students get to campus. As a side bonus, they are raising the profile of their departments and creating career opportunities as they expand into financial literacy programming.
Karen Serna joined Austin Community College three years ago to start its grant-funded Student Money Management Office, which has a team of four employees. Previously, she worked in financial literacy for a community organization, helping low-income adults.
"I saw the door open and I took it," Serna said. "Students have so much going for them and are so motivated" to improve their financial lives. "This is where I wanted to work because it can make such an impact."
Toward that end, the college now focuses heavily on students who have completed fewer than 12 credits. The idea is to start these conversations early, while there is time to contain overall borrowing. The school's financial literacy course is delivered in one session as part of a broader "student success" course. To get in front of students, however, Serna's team has to convince professors to turn over a class period. About 70 percent do, she said.
Following the 70-minute class — which covers budgeting, student loans, and credit cards — the team invites participants to sign up for text alerts that send reminders about various money-related topics for six weeks following the course. About 8 in 10 participants sign up for the alerts.
Bite-sized, continuous reminders and incentives are the keys to making these programs effective, Serna and other financial aid experts said.
And like the corporate 401k workplace, automation is a game-changer. Today, many employers automatically enroll workers in savings plans. Likewise, colleges are meeting students where they are with financial ed.
For years, Cynthia Gonzalez considered it a win if she was able to get 50 to 75 of roughly 700 medical students at Northwestern University's Feinberg School of Medicine to attend her financial education sessions.
"The students who showed up were interested in the topic, but at the end of the day I am responsible for 700 students, so I didn't feel like I was really reaching them," she said.
About five years ago, Feinberg made the sessions required and Gonzalez, senior assistant director of financial aid, broke the sessions into 15-minute talks that would be added at the end of an unrelated lecture or activity.
Gonzalez and Serna were among several presenters at a recent conference of the National Association of Student Financial Aid Administrators. Despite progress in broadening financial aid offices' efforts to help make students more financially capable, they still face challenges, experts say.
Conference attendees discussed a lack of resources and staff time that can be allocated to programs beyond basic financial aid functions and persistent resistance from other departments.
"Sometimes universities don't realize the importance of getting in front of students with this information," said Gonzalez.
She and Serna offered a few tips for colleagues who want to broaden the financial education offerings within traditional aid offices:
Learn. It's important to give prospective students a realistic idea of ​​their likely costs on campus, but it's also important to learn if those costs are diverging once students get to campus. Surveying and talking with current students about their actual costs will help aid officers know if students are borrowing too much or too little.
Show, don't tell. Find opportunities for students to take action on a money topic even while they are sitting in an educational session. Gonzalez has students pull their credit reports while they are in her class rather than telling them to do it afterwards. Serna has students compare their cell phone plans and decide as a group who has the best service for the lowest price.
Customize. A lot of financial literacy classes teach monthly budgeting techniques, but students need to think in terms of an entire semester. Serna talks about income and expenses over the course of a 4- to 5-month time frame, allowing students with fluctuating income to identify shortfalls in advance. Gonzalez brings in a fully vetted financial advisor to discuss planning specifically for future physicians.
Remember, money talks. Incentives can really boost participation in whatever financial programs an office tries. Serna received a grant from a local credit union that pays participating students to practice healthy money behaviors like setting up direct deposit and maintaining a minimum emergency fund.
Loans as a last resort. In written and verbal communications from the aid office, set a tone that suggests the institution is committed to reducing student debt. "Student loans are there for when you are really in touch with your budget, have reduced expenses, applied for scholarships, and still need $1,000 or $2,000," said Serna. "This is an ongoing conversation once students are on campus because financial situations are often in flux. They need to know how much they need, not just what's being offered."