by Daniel B. Griffith, JD, SPHR, SHRM-SCP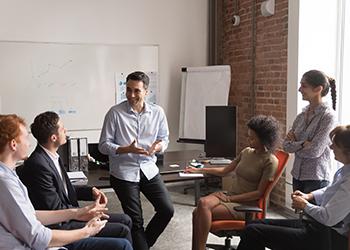 fizkes/Shutterstock
Few leaders will admit they consciously form in-groups and out-groups among the employees they manage. But we can say with all candor we've never created such distinctions, whether consciously or subconsciously, when assigning stretch assignments to some and mundane tasks to others, or offering career-enhancing growth opportunities to some and little more than on-the-job. training to others? Do our decisions on basic employment issues such as compensation, job titles and status, office space arrangements, classification, and promotion reflect an in-group/out-group distinction? While we may not support some employees as fully as others based on objective differentiations in performance, are we certain our decisions are purely objective and not based on personal bias that perpetually limits opportunities for employees we've subconsciously assigned to the out-group?
The Leader-Member Exchange (LMX) Theory offers insights into these questions, and how leaders make decisions, whether fairly or unfairly, to place employees in in- and out-groups. Leaders form one-to-one relationships with each team member and the quality of that relationship is based on the degree of trust, support, loyalty, respect, and obligation that develops between them. As employees join the team, the leader makes initial assessments, often subconsciously, and then sorts team members into in- and out-groups. The leader gives time and attention to in-group members and provides more quality assignments and opportunities for growth and advancement. Out-group members receive much less attention and are generally assigned routine, unchallenging assignments. The leader's behavior with individuals in these two groups then becomes routine, with in-group members establishing close relationships with the leader and experiencing greater opportunities and out-group members falling more behind with little chance for growth — or of joining the in-group. .
This sorting process might be understandable if purely based on employee self-selection. That is, an employee who truly lacks motivation, consistently performs poorly, and behaves badly should not expect the same opportunities as better performing employees. Yet, the sorting process is rarely this simple or objective, and the potential for personal bias is always present. Leaders must continuously reflect on whether their decisions in parceling opportunities are based on appropriate factors or whether their decisions instead perpetuate conditions that lead to out-group placement without regard to clear evidence that an employee's performance warrants the award of greater opportunities. They must assess out-group member performance, behavior, and motivation, support employee developmentand minimize the number of out-group members by developing as many positive, quality relationships with employees as possible.
If you want to avoid the trap of arbitrary in-/out-group distinctions, consider these strategies:
Scrutinize your standards for affording opportunities. Employees have different talents and different needs and expectations for receiving growth and development opportunities. They also have different time horizons for receiving next-level opportunities based on their time in their current role, level of experience, and preparedness to take the next step. It is okay to differentiate in the support you provide employees based on these and similar factors, provided your reasons are based on sound business reasons and do not result in the perpetuation of exclusionary practices for de facto out-group members. Have clear standards and a plan for affording opportunities for all employees. If necessary, discuss these matters with other leaders and with HR to ensure your standards and practices afford equitable and appropriate opportunities to all.
Monitor your relationship with each employee. As noted, the assignment of in- and out-group status largely depends on the quality of relationships the leader develops with each team member. Growth opportunities naturally fall to those who enjoy a positive, productive relationship with their boss. The fact is that you may simply not like some of the employees you manage or find it difficult to interact with them, much as they may have difficulty interacting with you. In our personal lives, we can choose with whom we will interact. You don't have this choice as a leader, which does not mean at a subconscious level you won't make such choices anyway in the opportunities you afford some and not others. Examine whether this is a reality in your interactions so you can make corrections to ensure you fairly consider all direct reports as you parcel opportunities.
Check in regularly with each employee. Along with monitoring your relationship with each employee, develop plans for connecting regularly to ensure you know how the employee is performing and progressing. This is more than an annual performance appraisal, but a means for regular conversations so you can develop a one-on-one relationship, discuss how you can support the employee, ensure the employee feels supported, and stay attuned to growth and development needs you hope to accommodate when you can. Regardless of how personally connected an employee may feel with you, each employee should at least be able to say you work diligently to connect and support him or her.
Check your biases against the choices you make in affording opportunity. With clear standards in place, you can better judge whether your decisions in affording opportunities are fair and objective. Are you rewarding an employee with opportunity appropriately and not simply because of your positive rapport with the individual? Are you transcending any personal feeling you have about an employee with whom you don't enjoy a close connection because by all objective standards the employee is in line to receive the opportunity? Having a clear standard, along with knowing each of your employees and their capabilities through intentional relationship-building, will help you check against personal bias in providing or not providing opportunities to team members.
If there is an out-group, let it be by employee self-selection and not your hand. As noted, employees should not expect significant consideration for challenging work assignments or other growth opportunities if they routinely perform below acceptable performance and behavioral standards. Seek to understand why an employee is experiencing these challenges and, if based on factors you can address or that exist in the work environment through no fault of the employee's, work to bring the employee back to a level of performance that warrants consideration for additional opportunities . But if, despite your efforts, the employee won't take ownership and work to meet standards, you are not obliged to afford opportunities that aren't earned or warranted compared to employees whose work is acceptable. Far from receiving opportunity, such an employee can expect just the opposite, such as discipline and termination. It is a lonely out-group but one of their choosing. It is an out-group of one.