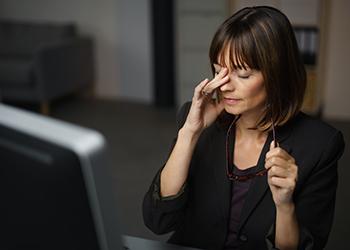 stockfour/Shutterstock
Summers off may give the impression of two to three months of leisure for instructors, but this is much-needed recovery time. For those in academia who do not have the benefit of summers off, or for whom this respite is still not enough, self-care throughout the year may help stave off burnout and other negative consequences of such intense work. This article highlights just some of the measures that educators — teachers, staff, and administrators — are taking or might consider to help bring them peace of mind and renew the joys of their work.
Taking stock. Some faculty and staff may not realize they are burned out until they reach a breaking point. In a culture where we are taught to tough it out, we may not realize that we have been pushed beyond our limits, and for too long, which can lead to burnout. Teacher burnout can manifest as Job dissatisfaction, emotional exhaustion, and job turnover. Instructor turnover in higher education is on par with turnover in health professionsas jobs with high human contact are often impacted by burnout.
James Anthony, educator and creator of the Not Waiting for Superman website, developed a teacher burnout assessment designed to help educators recognize the warning signs. "All it does is ask the questions doctors would — and then provide an indication of risk based on what the teacher is experiencing," explained Anthony, who consulted with a doctor and the literature on burnout when developing the questions.
As of June 2019, 6,993 people had taken the assessment and the results showed that 65% of the respondents had some signs of burnout, and 85% were working unsustainably. "Too many educators I know don't know enough about how to keep themselves healthy," stated Anthony, "Or the warning signs they are doing too much."
Building community. Becoming part of a community can improve personal relationships and instill a sense of caring about colleagues and students, which can help educators through some of the tough times. Professional development is one route towards developing community, and it is often already a regular requirement of working in education. Researchers like Ann Webster-Wright have identified that Effective professional learning is "continuing, active, social, and related to practice," ideally within a supportive community. While some educators may find this type of community in their workplace, opportunities exist to participate in a community at a grander scale.
One such community is The Educator's Room, founded by educator Franchesca Lane Warren to provide an outlet for sharing teacher knowledge. The site includes multiple blogs, podcasts, books, and social networking links focusing on teacher empowerment and community-building. Joining online communities such as The Educator's Room — or making time to form community with colleagues in the workplace — can provide a system of support, warding off burnout.
Cultivating mindfulness. Mindfulness has many forms, typically centering around being in the present moment, non-judgmental awareness, and compassion for self and all living things. Educators can benefit from focusing on mindfulness in their own teaching practices, cultivating their own and their students' well-being. However, although programs teaching mindfulness meditation to students are plentiful, there is a dearth of programs for educators to focus on their own mindfulness practice.
According to Dr. Susan Dryer Leon, director of the Experienced Educator Program at Antioch University New England, mindfulness education can "help people come into a more balanced relationship with work" by guiding educators through applying their own mindfulness practice in a way that benefits their teaching and their students. .
In the words of Dryer Leon, teaching can be "ego-bruising" work. It behooves those of us in education to work towards developing resilience and longevity, but we do not have to go it alone.