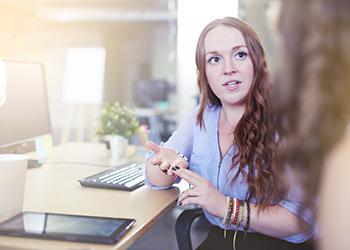 ESB Basic/Shutterstock
In an age when Colleges are struggling to meet enrollment goals and the The public continues to question the value of higher education, admissions officers at institutions across the country are working to improve student recruitment strategies. However, they are not alone in their battle. Today, perhaps more than ever before, academic advisors must do everything in their power to retain current students.
Some of you have chosen academic advising as a profession. Others, like faculty at small colleges, are tasked with advising a group of students in addition to their teaching and research responsibilities. Regardless of how you acquired this group of students, you play a critical role in helping them devise educational plans compatible with their long-term goals, ensuring they complete their degrees, and ultimately shaping their futures. It is no doubt a challenging field, but those who do it well are rewarded with not only seeing their students succeed but contributing to their institutions' overall health and reputation.
So, what's the secret to effective advising? The following competencies are essential for any academic advisor.
1. Take Ownership of Your Role in Students' Success
"Relationships matter, and connection is central to building strong, effective advising and mentoring relationships," says Celia Cook-Huffman, assistant provost at Juniata College, a private liberal arts school with an 85% retention rate. "When students have strong connections with mentors, they retain at higher rates."
While the ultimate responsibility for making choices about educational plans and goals rests with each student, advisors should serve as their partner throughout the college journey. Advisors have an obligation to help students plan a realistic path through, and beyond, college and make course corrections along the way. Good advisors recognize that they have the power to intervene, refer, and advocate for their students and take an active role in their students' academic lives. They not only know they can — but want to — make a difference for their advisees and they aren't afraid to put in extra work.
2. Build Relationships and Learn to Read Between the Lines
While it may seem like a no-brainer, Cook-Huffman emphasizes that step one is getting to know your advisees, really know them.
"Ask open-ended questions; Listen — really listen — to their narratives about themselves," she advises. "Listen hard, listen because you care, listen to understand from their point of view."
Tracey Farnsworth, a recipient of NACADA's 2019 Outstanding Advising Award, adds that you should do so without interrupting or making assumptions. She also highlights the importance of reading between the lines because students don't always directly ask for help.
"A lot of advisors early on in their careers are very focused on the information they think the student needs, rather than being focused on what the student is communicating — both verbally and nonverbally," she explains.
Jaclyn Graves, also recognized by NACADA for her exceptional advising, credits much of her success to building relationships, engaging in open and reflective conversations, and recognizing when a student may be wrestling with something and needs guidance.
"Being open and honest with students about my life and career path has allowed me to forge strong and trusted relationships with students," she says. "When they come to see you as a person, as a friend, they allow themselves to trust you, confide in you, and consult you when they're confronted with decisions."
3. Know When and Where to Refer
As noted in Erin Justyna and Rebecca Daly Cofer's Ten 'Must Have' Tips for academic advisors, it's important to acknowledge your own limits and create partnerships across [your campus]." It's okay to admit you don't have all the answers, but you should be able to point your students in the direction of someone who does. Academic advisors must be aware of campus and community resources that support student success and should be able to make effective referrals.
Remember, students often don't directly ask for help. If you feel that they may be struggling financially, for example, inquire a bit further and make a referral to the financial aid office if necessary.
You should also schedule a follow-up appointment to discuss the results of the referral and determine whether additional steps are necessary.
4. Make the time
Throughout her career, Graves has learned never to make a student feel rushed. She suggests, if they want to talk, take the time to listen and guide them if you can.
"Ask them how they're doing outside the classroom," she recommends. "If you run out of time, ask them to come back on another day to finish that conversation. If a student's name crosses your desk or pops into your head when you haven't seen them in a while, shoot them an email to check in… It's those little things that prove advisors to be trustworthy allies. Those are the things that enhance the student experience and positively impact things like retention."
Remember
No one said academic advising is easy, but if you work at it, you can make a positive influence on the lives of your students. Dig in; own it. Get to know your resources around campus, have real conversations with your students about their aspirations, invest in their success, learn from other successful advisors around you, and keep developing your advising skills. It only stands to benefit you, your school, and your students.