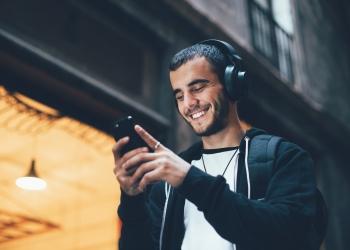 De Repente/Shutterstock
Generation Z is stirring up buzz for good reason; at 86 million members strong, this cohort is more populous than either the baby boomers or the millennials. According to Pew Research Center, Gen Zers were born after 1997; which means the most senior Gen Zers are roughly 22 years old. In addition to being the largest generation the country has seen, a defining feature of Gen Z is that its members are the most ethnically and racially diverse: 48% of Gen Zers are non-white.
The first Gen Z grads are earning their degrees, with plenty more slated to follow. Pew Research Center notes that Gen Z stands to be the most educated generation to date. Gen Zers currently surpass their millennial predecessors in their college enrollment rates. This is particularly impressive, considering that millennials were also record-setting in their pursuit of higher education.
In addition to their enthusiasm for education, Gen Zers have a reputation for being hard-workers, who value authenticity. Personal ethics matter to the young people who comprise this cohort. Gen Zers tend to be interested in academic pursuits that lead to meaningful professional roles. They are motivated by an ambition to address social issues through their work.
Generation Z is a cohort that's rich with ambition and promise. Here's what you need to know to aid you in your efforts with these enterprising young people.
Go Real or Go Home
Gen Zers value authenticity. From the courses they take to the career tracks they pursue, Gen Zers are eager to be engaged and enlightened in a guttural way. They want their work to matter and to lend itself to a greater purpose.
Gen Zers are looking for principled collaborators; this includes the professors they champion, the schools of thought they gravitate towards, and the employers they target. In his bookDecoding Gen Z," with Mark Beal, professor and managing partner Taylor PR Agencyexplains: "Even at the workplace, Gen Zers are looking for employers who have a purpose beyond generating revenue."
Beal sees culture as "critically important" to this cohort; Authenticity and social responsibility are core components of the professional and academic cultures Gen Zers seek.
Communicate in Real Time
Gen Zers' communication preferences tend to reflect the value they place on authenticity. Interestingly, despite their technological fluency, many Gen Zers also value old-fashioned face time. Beal explains: "Contrary to popular opinion, Gen Z does not refrain entirely from human interaction. In fact, they are craving more of what I like to call HI (Human Interaction). All Gen Zers whom I interviewed emphasized the need for more face. -to-face time at work especially with mentors and colleagues, more in-person with a network of peers and other individuals who share a common purpose and passion, and even more time with companies and brands via unique opportunities and experiences."
Although they relish HI, Gen Zers are also masters when it comes to communication via tech. Beal points out that texting them is a better way to get a response from Gen Zers than email and they are more likely to use Twitter and Snapchat than Facebook.
Beal explains that Gen Zers' fluency with tech makes them productive and efficient. He writes: "As someone who teaches more than 125 Gen Zers every semester at Rutgers University and Montclair State University, I can attest to the fact that this generation quickly adopts technology that makes completing assignments, especially group projects, highly efficient."
Education Is Where the Heart Is
Personal growth and continuing education is a strong value for Gen Zers. Beal explains: "Saddled by tuition debt, Gen Z does not fear education. In fact, they have a desire to learn more and evolve professionally and socially."
Beal points out that Gen Zers tend to be eager to continue their studies as lifelong students. Finding a professional arrangement that enables their continued education tends to appeal to Gen Zers. "[T]hey are hoping corporate America can support their desire to learn," Beal writes.
To that end, Beal points out that these young people are enticed by employee benefits that foster continued education: mini scholarships, grants, and other opportunities to further their studies will likely prove impactful incentives for Gen Zers in the workforce.
Creating a New Paradigm
True digital natives, Gen Zers are the first generation to grow up with social media as a part of their cultural landscape. They use their technological fluency to redefine convention; therefore, Beal notes, it's hard for them to imagine working conventional 9-5 hours.
Gen Zers' technological prowess has fostered an entrepreneurial mindset. Gen Zers can use technology to invent, evolve, and get work done efficiently. Therefore, as a cohort, Gen Zers tend to have little patience for being boxed into a conventional paradigm.
Beal points out that they have an affection for customization. He writes, "Whether you call it personalization or customization, Gen Zers love it at work, play, and even at the gym." The more they can create a fit that works for their individual needs, the more you can count on them delivering quality.
Mentorship Matters
Gen Zers tend to be happy to collaborate with leaders and peers alike. Beal explains that Gen Zers relish mentoring relationships, and they embrace the opportunities that working with a mentor presents. In fact, Beal's book cites a survey of 5,000 Gen Z students from more than 100 colleges and finds that "Mentorship was even more important for Gen Z than time-off and being able to work remotely."
Those mentorships don't always have to follow the traditional paradigm, either. Beal points out that Gen Zers embrace peer-to-peer mentorship just as they do the traditional paradigm.
Poised for Change
Gen Zers are a hopeful, hard-working generation. Beal writes, "Gen Z will change the world for the better, and transform the way we work, collaborate, and communicate over the next 20 years."
Get ready, here comes Gen Z!