by Charles R. Middleton, Ph.D.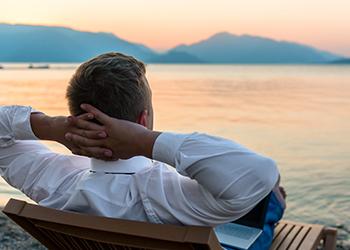 kosmos111/Shutterstock
As I write, the end of the academic year is upon us. A few may have already conducted spring commencement exercises; more will do so this month, and a contingent of institutions will cap the process off in June. It's a time when general exhaustion from the labors of the year sits heavily on the shoulders of students, faculty and staff alike.
In these happy, anticipatory days before summer begins, it may also be a timely moment to reflect on the importance of getting rest all year long.
There is ample evidence in the literature about how human beings function better when we are rested than we do when we are not. But, borrowing a phrase from the British Prime Minister Benjamin Disraeli, how do you get it as you climb up the greasy pole? As you advance into more complex positions and higher levels of responsibility and accountability take root, how do you assure that you get sufficient rest along the way so that you can keep climbing or at least stay put and not slide right down the pole again? Or fall off?
Three suggestions for you to ponder are in order. The first deals with daily routine. This actually may be the most challenging of the three. Career enhancement almost always means that the jobs become more interesting and consequential but they also become more demanding of your time and energy daily. The work can consume your every waking moment. Gone for me were the extended lunches with friends and colleagues, time spent in the gym, and reading for the pure joy of it.
When I became Dean, I faced a blizzard of paper daily, sorted neatly into topical folders: notes from department chairs; missives from on high; letters from alumni and friends, etc. And meetings! My goodness, I thought, does everyone want a moment with me? The answer was and is yes! I took paper home daily. It was exhausting. Email, now having replaced the stacks on top of my desk, later cluttered my desktop computer and there was more of it!
It does not take long to wear yourself out with the level, intensity, and constancy of the work. I asked season veterans in similar positions across the nation what they did and after listening to all the stories of more or less the same challenges, I settled on the best combination of ideas for me.
Here it is. Make "my time" a part of your calendar during the week (30 minutes a day doing whatever you wish will do), including just sitting and looking out the window. Perhaps most important, I scheduled it — put it on my calendar, simply as "busy." And I always went to bed after a minimum of 30 minutes of "downtime," the stack of folders I routinely brought home notwithstanding.
Or I tried, with marginal success — sometimes. Thus, a rest deficit opened up and continued to grow, week by week.
The second suggestion naturally evolved out of the problems of implementing the first. Hold time on the weekend for yourself and your loved ones. I call these "sacrosanct blocks" for doing whatever suits that is not work-related. Going to home football games does not count no matter how much you love your institution's team!
I recommend half a day minimum but a full day (or two halves) is better. The goal is to recharge your batteries for the coming week's intensity and you cannot do that by working all through the weekend, even or maybe especially on the projects that are due next week.
This helped me a little, but I wasn't more successful than I was at following the weekly routine I imagined and set for myself.
This placed a premium on the third aspect of disengagement and getting sufficient rest — taking off longer blocks of time. One of the ironies of a leader's life is that the higher the level of the position, the more vacation earned and the less likely it is that it will be taken. Here is where a colleague in my home department had weighed in on the day of my decanal appointment. A former dean himself, he counseled taking vacations not shorter than a full week plus the two weekends that bookmarked it. In short, nine days minimum.
And, he added, go away somewhere far enough that you are no longer tempted to drop by the house to pick up the mail. In short, staycations don't count!
This turned out to be wise advice. Surprisingly, it also turned out to be the easiest thing to do, especially since we get so many long intervals during and between terms that are ideally suited to add a couple of days either way and turn them into time to rest from daily and weekly responsibilities. .
Finally, this is not about rest per se. It's about health and wellness, far more consequential matters than merely being more effective. Leading when unwell is difficult, if not impossible, so our health is a critical component of our professional success. Perhaps this is why boards insist that the president attends to her or his. Exceptional leaders lecture subordinates on taking time off as well.
Work-life balance, you see, is a professional imperative, and how well you maintain it matters.