by Robert A. Scott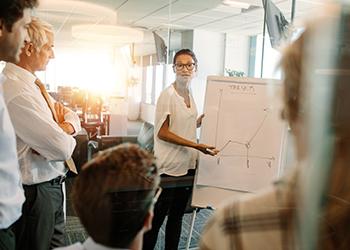 Jacob Lund/Shutterstock
It is said that concerns about the board and faculty, money, government priorities, and news stories about higher education's vulnerability keep presidents up at night.
What too few seem to realize is that there are metrics for monitoring campus vulnerabilities. While regional accrediting agencies review data such as these, it is up to campus leaders to be alert to the status of these indicators. Each metric can be the subject of questions about assumptions, trends over time, and comparisons to other institutions. They provide a guide to the "canaries in the coal mine," ie, trends in the local, state, or national environment that can indicate trouble ahead.
The following groups of metrics and measures parallel common institutional administrative divisions and board committees.
1. Board Governance and Strategic Planning
Boards are charged with protecting and advancing the state-approved charter that specifies the institutional mission. While it hires a president to execute strategy, it is important for a board to monitor the following metrics and measures. However, they need orientation and training, as under 10 percent of trustees have any professional experience in higher education. One cannot imagine a company board in which such a small percentage of members understood its core mission, strategies, financing, competition, and competitive advantage.
Some of the important topics related to governance and strategic planning are these:
Alignment of mission, goals, strategies, resource allocations, rewards, and results
Annual assessment of the board, board leadership, and the president
Comparative student, academic, and fundraising data for peer and aspirational institutions
Status of "shared governance" between and among the board, the administration, and the faculty
Strategic plan is published and up-to-date, with goals, assumptions, alternatives, and forms of assessment clearly stated.
Succession planning for the board and board officers, as well as senior leadership, are discussed annually
These are board-level concerns, and therefore must be of concern to senior leadership as well. The board and president should have an annual calendar indicating at which meeting items such as these will be considered for decision, discussion, or information only.
2. Academic Programming and Quality Controls
The core of the campus mission is teaching and learning. While trustees often correctly say they are not qualified to evaluate faculty credentials, they should be prepared to evaluate how personnel policies and processes are administered and how personnel decisions relate to institutional mission and goals.
Important topics to monitor include these:
Data-driven assessment of programmatic opportunities
Faculty hiring, promotion, tenure, and rewards in relation to mission and goals
Information technology adequate for program support
Internships, clinical placements, and other experiential learning opportunities that supplement classroom learning
Institutional and programmatic accreditations
Number of credits required for earning a degree relative to norms and competition
Percentage of course sections taught by part-time faculty
Retention and graduation rates, over time, by ethnic/national background, and residential or commuter status, and strategies for improvement
Routine academic program reviews
Just as the board as a whole will have a calendar of topics for routine review, the Academic Affairs Committee should as well.
3. Enrollment Management
Everyone on campus plays a role in making the campus a welcoming, supportive environment. Topics to monitor include these:
Admission requirements for freshmen and transfers relative to the mission, goals, and peer institutions
Admission statistics by academic unit and level, student type, top feeder schools, and geographic region, with year-to-year and peer comparisons when possible
Sources of financial aid: government, by type; endowed, expendable, institutional (merit and need-based)
The committee concerned with enrollment management, including freshman, transfer, and graduate admissions, as well as financial aid, should monitor the admissions "funnel" and actions by key dates.
4. Finance
The finance committee especially should include members who are knowledgeable about finance, especially higher education financial issues. An audit committee should always be a separate committee. Some institutions will also have an investment committee. Topics necessary to monitor an institution's health include these:
Accounts payable, including length of time
Accounts receivable by student year, including bad debt and receivable "write-off" trends
Annual external audit and management letter
Banking relations, including a line of credit
Budget report monthly, comparing actual expenditures to budgeted amounts
Cash flows from operations and the use of unrestricted invested funds
Construction delays and other issues
Consultants, managing the use of
Financial ratios over time and in comparison to a reference group of institutions, including revenue diversity; expense ratios, separating out instruction, research and public service, academic support, student services, institutional administrative support, and auxiliary operations; debt ratios, including debt service burden and average age of plants in years; liquidity ratios, especially in relation to operations and debt; and FTE (full-time equivalent) student ratios as related to revenues and expenses by category
Investment report on the allocation of invested funds and the status of operating cash accounts, monthly
Tuition revenues, gross and net, daily or weekly with comparisons to previous years
For many trustees, finances are the easier items to monitor. But numbers do not tell the whole story. For example, net tuition revenue is key, even if gross revenue is growing. The tuition discount rate can be a slippery slope to bankruptcy.
5. Student Success
The goal of a college or university is to educate students to the point of graduation and beyond. The fact of low graduation rates suggests that mission, goals, and results are not aligned and that resources may not be deployed to maximum effect.
To monitor student success, in addition to retention and graduation rates, it is helpful to review data such as these:
Average student debt and default rate
Counseling services and usage, including career, mental and physical health, etc.
Extra-curricular participations, including athletics, intramurals, Greek Life, etc.
Percentage of students with an internship prior to graduation
On many campuses, the percentage of part-time students is high. The goal is to make campus life as fulfilling for them as for full-time students. The goal should be to provide the complete college experience to students no matter where their pillow is.
6. Administration, Legal, Risk Management
The board of trustees sets the direction and the administration executes the plans necessary to achieve goals. In executing strategies, the administration must be cognizant of laws, regulations, and risks. The audit committee should consider both external and internal audit topics as well as a risk management matrix.
The topics to monitor include these:
Benefits and compensation, especially in comparison to peer institutions
Collective Bargaining Agreements
Computer Center and IT staffing, equipment, security
External validations of quality such as Arboretum Status, LEED certifications, etc.
Facilities and grounds management, housekeeping, food services, bookstore operations, etc. managed internally or outsourced
Insurance claims related to medical, workers compensation, and general liability issues, monthly and over time
Internal audit reports on administrative unit reviews
Leadership development for staff and executive officers; monitoring turnover
Risk management indicators, including financial, legal, reputational, regulatory, technological, etc.
Title IX and other regulatory and legal issues
A college or university is an organization that requires "back-room" support for the instructional mission. These are the operations that visitors often see first and can support or hinder academic quality.
7. Institutional Advancement
Institutions need money to fulfill their mission, but without a clear mission, they can have difficulty raising the necessary money. An institution must maintain and enhance relations with its constituencies, including students and parents, state and federal agencies, community and neighborhood groups, as well as those on campus, in order to achieve its goals.
These are some of the metrics and measures to monitor:
Alumni participation and assistance relative to goals and peers
Assessment of relations with the community, elected officials, and government agencies
Capital funds donated annually against goals and peers
Professional and public recognition for publications
Restricted funds donated annually over time and against goals and peers
Unrestricted funds donated annually over time and against goals and peers
Alumni and friends are affinity groups for any college or university. They represent opportunities for student success beyond the financial contributions they make. Investment follows information, interest, and involvement.
Conclusion
While acknowledging that not everything of value can be measured, this inventory of metrics can be useful to trustees and campus leaders, including faculty leaders. The role of a board, as the late and esteemed scholar of higher education, David Riesman, said, is to preserve the university (or college) of the future from the actions of the present. This advice applies to all three parties to shared governance, including the board, the faculty, and the administration.
Board members must be educated for their role, presidents must be encouraged to serve as Chief Mission Officer as well as Chief Executive Officer, and faculty involvement in governance must follow a commitment to the institutional mission above all interests.