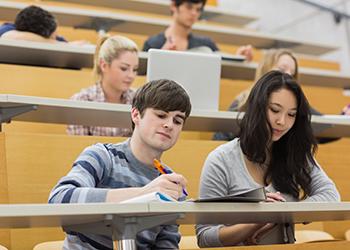 wavebreakmedia/Shutterstock
Look around a college campus and you'll have few clues about where students started and how they got there.
But the reality is that the face of higher education is changing, and many students finishing their degrees are not doing so at the same institution at which they began their journey.
Following steady increases in the overall number of high school graduates during the last 15 years, the US is headed into a period of stagnation, according to the Western Interstate Commission for Higher Education, leaving a potential void in colleges' incoming classes. Many students, increasingly wary of ballooning costs of four-year institutions, are turning to community colleges to save money on starting their degrees and will turn to others to finish their bachelor's degrees. And under increasing pressure by policymakers to amp up college graduation rates and fill local workforces with qualified graduates, states are nudging colleges to step up to the plate and embrace the transfer student population in ways never seen before.
"It's not just about admissions, it's about creating pathways for transfer students," said Ashley Purgason, associate vice provost of student success at the University of Texas at Arlington, where 67 percent of students transfer from another two- or four-year campus. "We need to be making sure we are addressing their unique needs and have people that are well-versed in the issues they face. This is a very different population."
Students who decide to transfer schools may be fueled by a variety of motivations, including finding a school that is a better fit, financial reasons, or access to particular degree programs. Nearly 38 percent of students across the country continue their studies at an institution different than the one at which they started, according to recent data from the National Student Clearinghouse. More racially and socioeconomically diverse than their first-year counterparts, and more likely to be the first in their families to go to college, transfer students can also offer colleges and universities a fresh approach to diversity on their campuses.
But the stakes and financial implications for successful transfer student mobility are high — both for students and for institutions.
A 2017 analysis by the Government Accountability Office found that students who transferred institutions lost roughly 43 percent of their credits, a problem that wastes tuition dollars and increases time to graduation. While some schools have streamlined the credit transfer process through articulation agreements, which can cut down on "wasted" credits that won't carry over, others still require a student to be admitted before they disclose how credits will apply to their degree programs.
In an effort to combat problems such as this one, community colleges are partnering with universities to begin the integration process sooner for students who know their final goal is a bachelor's degree. In an initiative launched two years ago, UT Arlington teamed up with nearby Tarrant County College, the most popular starting point for those transferring to UT Arlington, to provide more comprehensive transfer information earlier in the process.
From day one at Tarrant, they can meet with an adviser and map out a degree plan to ensure credit transfer, take advantage of a tuition freeze program, and are invited to participate in ongoing programming at Tarrant and UT Arlington specifically for participants in the UTA x TCC transfer pathway program to make sure they are staying on track.
"We pride ourselves on being a campus that is accessible and affordable," said Purgason of UT Arlington, which is considering adding additional partnerships similar to UTA x TCC in the future. "And part of that is being very intentional about that accessibility piece."
Feeding the national interest in transfer students are local policymakers who are becoming increasingly concerned about maintaining competitiveness in the labor force and producing enough qualified graduates to fill jobs. It has also renewed interest in "stopouts" — those who have college credits but no degree — a population that might be an easy target for states looking to bolster degree completion rates and get those with college credentials into the workforce.
To combat this concern, policymakers in Texas have set a goal of ensuring that at least 60 percent of residents have a certificate or college degree by 2030. In California, the state is also projected to face a large skills gap by 2030 and will be 1.1 million workers with bachelor's degrees short of economic demand, according to a report by the Public Policy Institute of California. The University of California system has now instituted a plan to enroll one new California resident transfer student for every two new California resident freshmen to help plug this gap.
And in Maryland, under legislation passed last year, community college is now free for Maryland residents who come from families earning less than $125,000 per year. This has created a whole new cohort of students seeking to complete their degrees at four-year institutions, said Katie Schwienteck, associate registrar at York College of Pennsylvania, which is located close to the Maryland border and welcomed its largest transfer class in eight years during the spring.
"We are seeing a decrease in our freshman numbers but an increase in our transfer students," she said.
Removing roadblocks for transfer students is also driving institutions to create degree programs that are more transfer-friendly. UT Arlington offers a bachelor's degree in University Studies, which helps students maximize credit hours — particularly those who have credits from multiple institutions or ones they achieved years ago but never applied to finishing a degree — through an individualized curriculum.
"It allows us to apply those credits liberally while still maintaining a rigor of degree," Purgason said. "We can be more flexible in how we take their credit."
Regardless of their pathway to pursuing bachelor's degrees, transfer students are challenging once-held stigmas about community colleges and attending multiple institutions.
"Sometimes the public doesn't realize that if you come in as a transfer student, the degree looks exactly the same as if you came in as a freshman," said Han Mi Yoon-Wu, interim associate vice president and director of Undergraduate Admissions. at the University of California system.