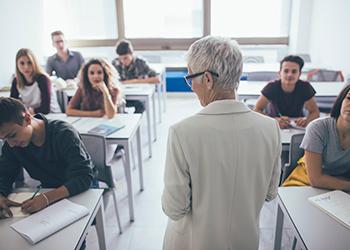 LStockStudio/Shutterstock
A report released today by CUPA-HR examines trends in hiring and salary growth among higher education faculty. The report, 2019 CUPA-HR Faculty in Higher Education Report, uses data from the CUPA-HR Faculty in Higher Education Survey. Data from 258,731 full-time faculty, 9,980 department heads, and 57,564 adjunct faculty were collected in this year's survey.
Researchers found that non-tenure teaching faculty continue to see higher salary increases than tenure-track faculty. Tenure-track faculty experienced salary increases of 1.6 percent while non-tenure teaching faculty experienced salary increases of 1.8 percent, for an overall median salary increase of 1.67 percent in the last year.
The hottest discipline for new hires is health professions, which is also the highest-paying discipline for non-tenure faculty. In the past year, 1,410 new health professions assistant professors were hired. Health professions were followed by business, management, and marketing, with 882 new assistant professors, and education, with 696 new assistant professors in the last year. Among the disciplines that experienced growth in hires of new assistant professors, architecture and natural resources and conservation saw the fastest growth rates.
The report also examined representation and pay equity for women and racial/ethnic minorities. The researchers found that the highest levels of equity and representation are found at associate's institutions. Among all institutions surveyed, while women comprise 47 percent of faculty and minorities comprise 21 percent of faculty, the majority of academic department heads are male (58 percent) and white (85 percent).
The report also found variance in salaries and hiring by institution type. Associate's institutions have the largest percentage of part-time faculty (69 percent) and doctoral institutions have both the largest percentage of full-time faculty (68 percent) and non-tenure teaching faculty (19 percent). Among all adjunct faculty, those at doctoral institutions earn the highest pay. Across all full-time faculty, those with doctorates or equivalent degrees comprise about 80 percent of the workforce and earn substantially higher salaries than faculty with master's degrees.
To learn more about faculty in higher education, you can read the overview of the Faculty in Higher Education Survey or read the full report.