by Aaron J. Hart, Ed.D.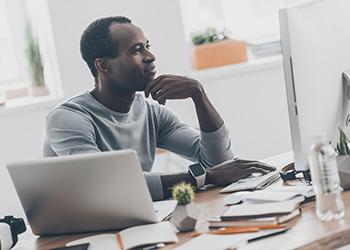 g-stockstudio/Shutterstock
We are often bombarded with solicited and unsolicited advice from colleagues, peers, and mentors as to whether a terminal degree should be part of our future plans. Unfortunately, at times, our ultimate decision is based on misinformation or lack of personal career planning. To ensure a successful doctoral program and maximize the benefits of a terminal degree, you must first ask, "Does this degree fit into my long-term career plans and can I achieve my ultimate professional goals without a doctorate?" Unless you simply have free time on your hands, the doctoral pursuit should only be made if you are certain it is necessary to achieve your career goals.
When interviewing candidates for various professional positions, to get an idea of ​​their long-term career aspirations, I often ask, "What position will you hold when you retire?" Ask yourself that question right now. Think about it. If the position description for the job states, "Doctorate preferred or required," then it's time to start mapping out a career timeline that includes pursuing a terminal degree at some point. If you aspire to be a president, vice president, or dean, it's not a question of if you will earn your doctorate, it's a question of when. If your ultimate career pursuits are at the mid-level or assistant director level, a doctorate may not be necessary.
Once you have determined that a doctorate is in your future, Create a career map. This plan should include professional and educational aspirations and a tentative timeline. We all know that life happens and any plan you create today can be altered or adjusted to fit future needs. It's important to create this plan because your decision to earn a terminal degree will affect where you work. For example, when I made the decision to earn my doctorate, I only applied for positions at institutions that provided tuition remission or assistance. I declined several job offers, including schools I admired and at which I previously aspired to work, simply because they didn't offer tuition assistance. For me, it was a priority to earn my degree with little to no student debt. I was fortunate to earn my doctorate debt free, and without student loans, working as a graduate hall director. Earning my doctorate as a full-time student allowed me to finish my program in three years and make my coursework my top priority.
Once you ascertain how you will pay for your degree, you must next determine whether you will earn your degree while working full time or as a full-time student. These choices will affect additional decisions. For example, if you decide to work full time and simultaneously earn your degree, it's more likely that you will need to take out student loans or it may take longer (four to six years or more) to complete your degree. As you create your professional plan, write down and consider your priorities as it relates to what you want most out of your doctoral experience. Do you want to earn your degree in three years, do you want to graduate debt free, and/or do you want to maintain your career while taking courses? Once you prioritize what you want from your experience, your choices for how you will achieve your goals will become clear.
Now that you have made your choices, and are ready to start your doctoral courses, I offer my final words of wisdom:
Meet with your advisor and department dean/chair to map out all of your courses before the first day of class. I met with my department chairperson, who later became my dissertation chair, over the summer before starting my program. We mapped out which classes I would take during each semester over the next three years, which allowed me to balance out the more challenging courses.
Next, try to take classes over the summer. Doctorate courses over the summer may appear to be more intense. However, you will have fewer distractions and will finish your program sooner than later.
Finally, identify your dissertation chair ASAP! The earlier you can start building a rapport with your chair the easier it will be to work together on your ultimate class paper. Your chair is the most important and crucial part of your doctoral process, and you should always make decisions keeping that fact in mind.