by Jason Smith and Amber C. Kalb, MS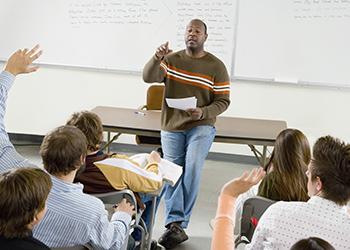 sirtravelalot/Shutterstock
The beginning of a new year is always a time for taking stock.
As we start a new semester, we might take the time to reflect on how much things have changed in higher education in just the past couple years and, yet, how some things manage to stay the same over half a century later, including underrepresentation of black and Latina/o faculty within higher education.
Despite universities often being held up as a bastion for inclusive politics, safe spaces, and diversity initiatives, in practice, racial diversity among faculty in institutions of higher education continues to be sorely lacking. Even in disciplines, such as sociology, where there are a great number of Ph.Ds of color in the pipeline and diversifying efforts implemented in hiring, we still find homogeneity among those faculties. So, what gives?
While recruiting diverse faculty has become a priority among search committees as a greater number of underrepresented minority (URM) students enroll in American universities and colleges, as of 2016, only ten percent of tenured faculty come from these backgrounds. This stark contrast between hiring committees' emphasis on diversifying the professoriate and, yet, the dearth of tenured URM faculty reveals not only a growing practice among departments to employ non-tenure track jobs (a category in which minorities and women are overrepresented [link removed no longer active]), but the difficulty for existing faculty of color to gain tenure in their current departments.
In addition to, but likely in conjunction with tenure denial, URM faculty departures are also tied to a disproportionately heavy workload as opposed to their white colleagues. Increases in student populations from underrepresented groups often mean increased teaching and service for faculty of color — impacting their research and publication track.
Given the difficult terrain for gaining tenure in the academic market, in general, but especially for URM faculty who are often engaged in activities necessary to the department's — and discipline's — reproduction and growth, yet, devalued in the tenure and promotion process, how can department administrations and tenure committees further support their URM faculty in a successful bid for tenure?
As we discussed in a recently published study with our colleagues, publishing matters most for underrepresented minority faculty sociologists in achieving tenure. Additionally, we also found that participating in sections of the American Sociological Association (ASA) that had a research focus on race was beneficial for URM sociologists in gaining promotion and tenure. These race-based organizations are useful for faculty in providing support, networking, and opportunities for collaboration.
Publishing
Publishing continues to matter. As a primary measure of productivity for university and college faculty, publishing has long been acknowledged as the "golden ticket" to enter (and stay) in the ivory tower. As a result, it likely comes as no surprise for those in higher ed that the "publish or perish" paradigm still rings true as a significant factor in determining whether URM faculty in sociology gain tenure.
Mentorship
What did come as a surprise was the lack of significance other factors had on URM faculty's upward mobility in the professoriate, such as whether or not one participated in the Minority Fellowship Program (MFP). Despite the prevailing wisdom that mentorship is key to student and faculty success alike in terms of acculturation to department/academic norms and expanding professional networks, our findings suggest that minority mentorship programs, such as the MFP, might be critically limited. That being said, while mentoring may not be the key to success in the narrow sense of promotion and tenure at predominantly white institutions (PWIs), URM faculty have noted how these professional relationships can be crucial in contributing towards a sense of well-being in sometimes "chilly" department climates.
Minority Sections
Belonging to a race-oriented section of the ASA was positively related to gaining promotion or tenure suggesting that these spaces are crucial to URM faculty's ability to network, collaborate and support black and Latino/a sociological research. If you aren't a part of one, joining a section is definitely a step in the right direction to grow your professional networks and present your work, especially if your department provides travel and application funds for URM faculty to attend conferences and workshops.
Recommendations
We suggest a few recommendations for increasing department diversity through promotion and tenure to administrators, tenure committees, and URM faculty members in light of these findings:
Further participation in and support for raced organizations would not only continue to provide additional space and opportunities for faculty of color to heighten their visibility in the field and expand their professional networks, but it would also increase the visibility of the departments and institutions they represent. It would benefit both URM faculty and their departments to take advantage of the professional development opportunities made available by raced organizations.
A sense of camaraderie and community among scholars has been shown to facilitate faculty productivity. In recognizing the valuable work and supportive environment that raced organizations foster, it would behoove administrations and departments to make funding available to URM faculty members to attend conferences, workshops, and other professional development activities. These activities are invaluable over the course of one's career to attain promotion and tenure.
In highlighting the benefits for URM faculties' participation in raced-organizations in developing new research agendas, gaining recognition in their fields, and growing professional and personal networks, we hope these findings and recommendations will further support minority scholarship and aid in further diversifying the professoriate. through successful bids for tenure among URM faculty.
This blog is based off a recent article published online first at Sociology of Race and Ethnicity. https://journals.sagepub.com/doi/10.1177/2332649218807951