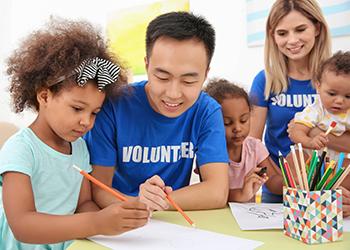 Africa Studio/Shutterstock
The expert model of higher education may seem agreeable to those who work in other industries or those who climbed within the ranks of the academy before current mid-career professionals. Higher education professionals work hard to obtain their knowledge and are compensated to share their expertise for the benefit of the institution and its students — or, as outsiders might call them, the consumers.
However, the emphasis on public engagement in US higher education over the last few decades has reached a point where job candidates will likely be asked how they will "give away" their expertise for not only the benefit of the institution, but society. For faculty, this means incorporating service-learning projects into their courses.
Although the concept of service-learning is not new, the expectation to collaborate across departments and within the community are increasingly imperative to the career development of higher education professionals.
"Community engagement is messy work," said Dwight Giles, professor emeritus of leadership in education at the College of Education and Human Development at the University of Massachusetts, Boston, and co-author of numerous books and articles on service-learning research and community. engagement. "[This messiness] flies in the face of what we do in the academy; We clean up the world's messes, we create matrices, we talk knowledge, and we compartmentalize it so we have departments. There are some challenges with moving beyond our departments."
Those of us in academia can find our own "messes," whether that's hosting a workshop for local children to teach skills they aren't learning in elementary school or helping solve problems encountered by nearby human services agencies. Just remember that, as Giles notes, "Community problems aren't labeled by discipline; they don't come packaged to the university. We have to get as many of us looking at them as possible."
What higher education professionals must know before engaging with the community is not only why it's important to students, institutions, and society, but also how it will enhance a career, so that higher ed professionals can apply these practices with conviction, fairness, and honesty .
Many mid-career professionals have been socialized into community engagement, especially those who attended high school in the 1990s when a US federal agency, the Corporation for National and Community Service, was created to fund and encourage community service in schools. By the end of the decade, nearly half of high school students participated in community service, a majority of which was incorporated into curriculum as service-learning. In the 1980s, only a quarter of high schools offered community service and only nine percent built it into the curriculum.
According to Recent data from the Association of American Colleges & Universities46 percent of surveyed institutions have service-learning as part of their general education requirements, compared to 38 percent a decade ago.
"Many new faculty are coming in with personal experiences, so it's not as big of a shift in thinking for them as it was years ago," said Alice Del Vecchio, assistant professor of interdisciplinary programs at Slippery Rock University. "More and more of them are on hiring and evaluation committees, so it only makes sense that (service-learning) is what they'll be looking for (in job candidates)."
Also, since 2006, there are more than 360 institutions that have obtained the Carnegie Foundation's Classification for Community Engagement, an elective classification used for self-assessment and quality improvement. Among the areas that Carnegie uses to select institutions is faculty rewards, through promotion and tenure, to prioritize the scholarship of community engagement.
There are many other reasons why faculty use service-learning. The top five reasons found by researchers include increasing student understanding of course material, increasing student personal development, increasing student understanding of social problems as systemic, providing a useful service to the community, and creating university-community partnerships.
There are also many reasons why community partnerships are important for universities, not only to reverse Decreasing public confidence in higher education, but for economic development and keeping their campuses relevant and place-based as they continue to invest in online, placeless channels.
"A lot of what we do gets funded by a foundation or the government," said Del Vecchio, who coordinates the philanthropy and nonprofit management program at SRU. "Almost all the foundations are saying we aren't giving money to one person, we're only giving money to people who collaborate. That breaks down the barriers of 'I own this knowledge' and the expert model."
Del Vecchio considers the use of service-learning as "a win to the third power" in career development of faculty, for teaching, scholarship, and community service.
"Doing a service-learning project allows you to be a more effective teacher and it also allows you to build a database that you can write about (for research)," Del Vecchio said. "It also allows you to put in your portfolio that you've done authentic service in the community."