by Dr. Shay L. Butler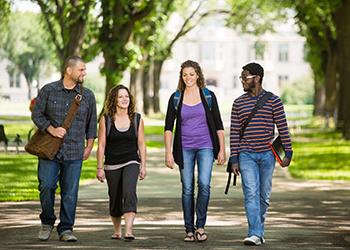 Tyler Olson/Shutterstock
Approximately two weeks before we entered into a contentious mid-term election period, we saw an uptick in white supremacist flyers showing up on campuses across the US, espousing "It's OK to be White." Scott Jaschik wrote about this surge and cited Richard A. Baker, president of the American Association for Access, Equity, and Diversity, who said "on its face, the statement is both innocuous and obvious. But the intent of the flyer's author is not to state the obvious. It is to find sympathizers to the white nationalists' cause." The history of American higher education is akin to a historiography of being "OK to be White" when taken into consideration that higher education in this country was founded for the sole purpose of educating the sons of elite, White, Christian gentry; men who owned land in and in most instances, slaves. The long list of individuals later allowed the privilege of a college education were White women, people from every other non-white race/ethnicity, diverse religions, and poor and working classes.
This flyer is of interest to me because I am frequently in predominantly White environments and engage quite comfortably across lines of difference. Sometimes, I find myself in a position when a White person takes me into their confidence to tell me about racism at their institution, racist comments shared with them by their colleagues, or racial incidents faced by students in the classrooms or elsewhere on campus. As I am told these stories, I occasionally feel as if I am some sort of priest who should be offering absolution for those tainted by tales of exposure to racism, although they, the reporters themselves, profess to own none of these bias feelings. I am always leery of people who profess no bias, particularly when I myself, a chief diversity officer, work very intentionally on identifying, acknowledging, and managing my own known and sometimes unknown biases. Nevertheless, we engage on the topic of their personal experiences with racism, with shared disapproval until the inevitable question arises that changes the tone of the conversation. The question I pose is, "When you learned of these perceptions, expressions, or actions, what did you do about it?" Awkward silence.
Now, I fully understand that not everyone does what I do for a living and thus doesn't have a toolbox of "bystander interventions" at the ready. But let's face it, many of us have sat through at least one diversity training, safe zone training, or intergroup dialogue training, so what did we learn? We certainly learned that we can sometimes fall short on answers when responding to insensitive and uninformed colleagues who responded to the flyers of White nationalists with indifference, or worse, misdirected empathy by stating, "I don't see a problem with the flyer." Scary considering this flyer isn't one of the subtle forms of racism we characterize as microaggressions. When one says that they find a statement like "It's Ok to be White" innocuous, then either A) they are intentionally aligning themselves with White supremacy by sanctioning the lyrics of the White Power Group Aggressive Force who actually created the song "It's OK to be White" in 2001 or B) they say and support things recklessly without doing research and are now reading this article wondering if the co-worker they shared this view with will believe them to be a white supremacist. Neither choice is a great place to be when charged with guiding undergraduates on their learning journey of critical thought and inquiry. Before I get too preachy, let me divulge that I too have not always done my due diligence in voicing an opinion on a topic of importance, responding with insensitivity based upon my privilege; whether it was my religious privilege as a Christian or my gender privilege as a woman. The point is I have privilege and if we can all agree to start from this acknowledgment we can begin to heal rifts with colleagues and students that were created because we lacked empathy, information, and humility.
Addressing unintended bias in the classroom by repairing rifts between faculty and students or between students during these weeks of divisive rhetoric is crucial. As the semester ends, we need our students focused on what matters. Research has shown that if students feel hurt, angered, misunderstood, and devalued, not only will it impact their success academically, but it will directly impede the desire to persist at our institutions. In order for students, particularly students of color to integrate into our communities they must be made to feel as if they belong, because they do. In a recent speech at a community event, I told a group of high school seniors of color to understand and embrace their value as college students. I told them to feel empowered and know their value. I warned them that people might imply that they earned admission through affirmative action — don't believe it. Some might infer that they are ill prepared for college — it's a lie. Others might openly say they don't belong — they couldn't be more wrong. I reminded these seniors of the saying of former first lady, Eleanor Roosevelt: "No one can make you feel inferior without your consent." I instructed them not to give it.
The same individuals working on our campuses who would think and say those things are the same ones in the "B" group above, reckless and misinformed. I am not sure that we in today's academy understand that many of us owe our jobs to the increasing number of students of color coming to college, now and in the future. As access increases, let's not kid ourselves; many institutions would not be making their bond covenants, avoiding structural deficits or yes, even making payroll without enrolling students of color. With this different understanding, perhaps we can also develop a new appreciation and the next time we would want to engage in deficit language about the changes we are experiencing on our campuses instead we take an asset-based approach. How do we do this? Some scholars offer this advice; "To resist deficit assumptions, we must shift the focus to assess and reflect on more complex causes of inequality and consider the continuous forms of discrimination and bias incidents that serve as barriers to integration:" see Creating Inclusive Environments. By assessing and reflecting, we are able to think more deeply about complex matters of identity and belonging. It is from this vantage that we will be better positioned to think about the many ways we can let all of our students know that it's fine to be whoever they were made by the creator to be, and that is better than OK.