by Christopher D. Lee, Ph.D., SPHR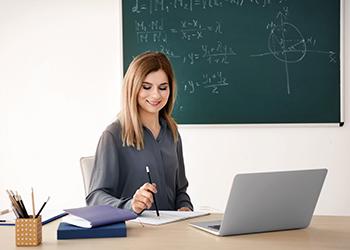 New Africa/Shutterstock
Most people do not think about the content of their resume until they are ready to re-enter the job market. However, one of the differences in a good and a great resume is how effectively the content is conveyed. Furthermore, a current resume or curriculum vitae are important because they can be used for more things than just applying for positions. Taking time to accurately record thoughts when they are fresh can help both the accuracy and vividness of the descriptions used to document one's work experiences.
For faculty who have to compile sizeable dossiers for promotion, tenure, and grant applications, these can be daunting, taxing, and time-consuming endeavors. Having a protocol to lean upon when approaching these tasks can yield positive results. Similarly, resumes and their content can be used when staff members are considered for internal assignments, promotions, or awards. Given the importance of having an up-to-date resume/CV, here are a few tips for maintaining current and compelling application materials.
Keep a folder of artifacts, scraps, and notes. Keeping a simple manila folder to put examples of good work, thank you notes, hastily scribbled upon scraps of paper can keep one semi-organized. As things occur, this repository keeps materials in one place. An electronic file can be a good complement to tried and true paper files. A congratulatory e-mail from a supervisor, reports, and other files can be saved to a 'career' folder on one's computer.
Complete One's Own Annual Review. Like the annual performance appraisal, taking time at the end of the year to look back and record noteworthy accomplishments is worthwhile. Memories fade. The time between starting a new job and looking for the next one could be five years or even a decade. Most would be hard pressed to remember every noteworthy accomplishment or aspect of complex work completed after years have passed, although such details are what usually brings vibrancy to the description of one's background. An annual reflection and resume update pairs well with an annual appraisal, as highlights from the appraisal might also find their way to the resume.
Use a Turnover Checklist. When a supervisor, leader, or other superior leaves the organization, these could be good times to ask for a reference or a letter of recommendation. Most of us are modest and we rarely see ourselves as fully and accurately as those who observe us every day. A leader might articulate our positive qualities in a particularly impressive way, one that we might want to record for posterity. This protocol also works when dealing with vendors or customers. A consultant who works on a project for the university for five months, or a repeat customer might make note of one's excellent work. Using these occasions to ask them to put in a good word or write a testimonial will help build source material for future resumes/CVs.
Record Mile Markers. Similar to using the occasion of turnover to prompt one to record noteworthy experiences onto paper or electronic files, taking time to write a paragraph or two upon completing a big project can help one document the significance of major accomplishments in real time. The freshness of the occasion allows us to capture the context and essence of achieving a goal, meeting a milestone, or similar work.
Savor the Good Memories. A wise person is said to have advised keeping one's birthday cards, thank you notes, love letters, and congratulatory notes in a box and discarding one's performance reviews and report cards. This is good advice for one's life and career. Seizing the moment and logging the big and small attaboys/girls, awards, accolades, or other recognition events is a good practice. Keeping these good memories and remembering the kind sentiments of former supervisors 'in their own words' can boost one's esteem, confidence, and morale in addition to helping one accurately build an impressive resume.
These tips enhance but do not replace the intense review, edit, and update that is needed for application materials when re-entering the job market. However, they make that process less time-consuming and more productive. This protocol is similar to routine maintenance of one's automobile (eg checking tires, oil changes, etc.) and then doing a major tune-up or repair when needed. It is even more important considering our memories fade and we can never recapture the clarity of prominent details that might otherwise be lost over time.
There are several helpful protocols and tips to follow to keep one's applicant materials current. Logging accomplishments and noteworthy professional development activities in real time onto designated paper and electronic files keeps one organized. Stopping at the end of the spring semester, during one's anniversary of hire, or the end of the calendar year can be natural occasions to pause, reflect, and record the good things that have occurred over time. When changing jobs, getting a promotion, when one's supervisor — or one's supervisor's supervisor (dean and provost for faculty) — leaves, these times of change should prompt one to solicit recommendation letters, references, and other career support.
Achieving goals, career milestones, or completing big projects — successfully leading a reaccreditation effort, or chairing an important search committee — are occasions that should be dutifully recorded in one's career files. A final tip for keeping a resume or curriculum vitae current is to capture the good stuff in the words of those sharing their sentiments as they happen. Taking a quick moment to record the nice words and phrases said about someone can help them remember how to tell their story to future employers on their resume/CV or during interviews in a more compelling way.