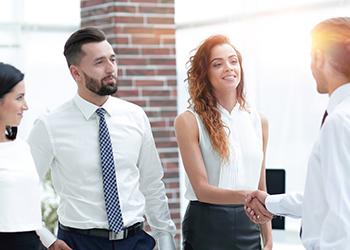 ASDF_MEDIA/Shutterstock
Congratulations on your new job! Yours is no small accomplishment: You made it through rounds of resume reviews, interviews, and negotiations to solidify this opportunity. Relish your victory — you earned it.
As you prepare to assume this role and acclimate to a new culture, don't forget to emotionally prepare yourself for the transition ahead. While you want to show your new colleagues that you can nail this, you also need to treat yourself gently.
Hopefully, you'll be well-supported as you get oriented. You'll need it. For even the most experienced professionals, onboarding is taxing and emotionally complicated. Recognize this, and allow yourself to be new. You don't have your routine down. You're not in your groove. You haven't yet identified your personal support team.
Don't burn yourself out trying to blow everyone's mind in your first weeks and months on the job. Treat yourself, in your own mind, as you would any other new employee. Be kind to yourself. Be patient with yourself. You don't have to impress your new colleagues continuously and daily. Your interview is over.
Early in your tenure, aim to find fit. After all, you're better positioned to impress when you feel comfortable and at ease. Secure fit first. The rest will fall into place.
A Fitting Mindset
It's understandable to want to roll in on your first day of a new job and knock everyone's socks off. Here's the good news: You've already done that. Now you get to learn all about your new co-workers and the culture of your new institution.
Allow your team to take the lead. Relax. Receive their hospitality. You learn better when you're at ease. Be gracious to them and to yourself. No one expects you to jump right in and get your hands dirty. Don't expect that of yourself.
Debbie Hatketalent acquisition & retention manager at the University of Cincinnati, recommends: "Set realistic expectations. If you are like me, you have a hard time saying 'no' — but trying to fit in your new environment by saying 'yes' all the time can set you up for failure long term."
Allow yourself to see this culture with fresh eyes. Allow yourself to feel what it's like to be new here.
Listen
You've done a lot of hard work to get to this point. You've graciously handled being put on the spot. You've answered the hard questions. And you succeeded! Now, get to know the people around you. Connect with them and get excited about partnering with them in your shared environment. Give them the stage and let them tell you all about what it's like to work here — what they love, what they've learned, what challenges them, etc.
People appreciate being heard. Listening is a simple way you can learn about your environment and impress your co-workers with your soft-skills. Plus, it gives you a break from being the one talking all the time. Enough with the interview already!
Find Your Tribe
Look for your resource people, and start building your network. Hatke recommends:
"Seek out a mentor or partner with a current employee who knows the company and knows the culture. Not only will this help acclimate you to the new culture it helps to have a friendly face to connect with regularly until you get to know your co- workers. Make a new friend during orientation and schedule time to meet up during your first few weeks. You may not ultimately work together in the same department, but again, it's a friendly and familiar face which can help ease some of the anxiety and isolation. of being the 'new person' in a new job."
As you learn the new role and you learn more about your new culture, it's helpful to process and to ask questions. It's helpful to be able to do this formally and informally. Of course, you'll have the chance to converse with and to pose questions to your manager and your teammates, but it's also helpful to cultivate other relationships, outside your unit.
Hatke advises: "Get out and meet people in your new organization any way that you can. Some companies have affinity groups or professional networks, take advantage of these." Having an array of colleagues to consult helps solidify fit. Aim for that.
An Onboarding Dialogue
Talk with your manager about what you need as you acclimate. This helps you get comfortable talking about fit and performance with your manager. Hatke points out that regular check-in meetings can help. She advises: "Make sure you get feedback on your performance after your first 30 days. If it's not provided, seek it. This is a good way to know if you are on the right track. Many companies conduct 30-60-90 days check-ins which are beneficial for both the manager and the new hire."
While there may not be much to discuss performance-wise after your first month on the job, you can talk about what seems to be sinking in and where you may have questions. Part of finding fit in your role is finding fit with your manager. Building a dialogue around your onboarding experience can foster that from day one.
Creature Comforts
Working in higher education doesn't mean you're cramming for a career. You don't have to be available with every fiber of your character before you've gotten acclimated to your environment. If that's the expectation for new hires at your institution, then something is amiss.
Onboarding is hard work. Recognize that, and take care of yourself when you're engaged in it. Create healthy routines that help you minimize stress. Hatke advises: "Get lots of sleep — none of us are at our best without it and the first few months on your new job will be tiring both physically and emotionally."
If your institution has an exercise facility, embrace that opportunity for wellness. Engage yourself, body and soul in the work of acclimating to your new culture. When you feel physically well, you are well-positioned to do your best work.
Remember
Keep in mind, too, that this takes time. Hatke points out: "You can't/won't learn everything in a day. It can take 1-2 years before you are actually 'comfortable' on the job. Do your best, but don't stress."
This team gave you their most glowing endorsement — a job offer. Now take your time and learn the ropes. You've got this.