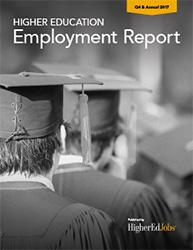 According to a new report from HigherEdJobs, the leading job and career site for higher education professionals, the total number of jobs in higher education increased during Q4 2017, which was opposite the trend from last year in Q4 2016.
According to an analysis of US Bureau of Labor Statistics data by HigherEdJobs, higher education employment increased 0.6 percent, or roughly 24,200 jobs, during the fourth quarter of 2017. This is in contrast to the decline a year ago in Q4 2016 when they decreased 0.2 percent, or about 8,100 jobs. On an annual basis, higher education jobs increased 0.6 percent in 2017, the largest annual gain since 2012. However, employment at community colleges was down for the fourth consecutive year. Roughly 63 percent of all higher education jobs were at public institutions in 2017 and 37 percent at private organizations.
The number of job postings for higher education positions increased by 1.4 percent in Q4 2017. Reversing a recent trend of large increases in job postings for part-time positions and diminishing growth for full-time positions, postings for part-time positions decreased in Q4 2017. Specifically, the number of postings for part-time faculty and part-time administrators both declined, while the number of postings for full-time faculty and full-time administrators both increased. According to HigherEdJobs, this could indicate academia believes enrollment variations, which have been declining for the past several semesters, are stabilizing and therefore can make longer-term staffing decisions, albeit cautiously.
The report analyzes the most current data from the US Bureau of Labor Statistics and HigherEdJobs' posting trends from roughly 870 colleges and universities that have continuously subscribed to the company's unlimited posting plan for four years. The full report can be viewed at http://www.higheredjobs.com/career/quarterly-report.cfm.