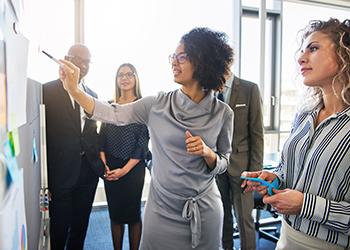 Flamingo Images/Shutterstock
Both women and men of color face challenges in the higher education workforce. A new research brief by the College and University Professional Association for Human Resources (CUPA-HR) looks at the intersection of race and gender to examine the pay and representation of women of color in the higher ed workforce. The brief, Representation and Pay of Women of Color in the Higher Education Workforcelooks specifically at black and Latino women to examine inequities and the daily experiences of women of color at work.
The brief reported that women of color are not currently paid equitably in the higher education workforce. They are paid 67 cents on the dollar compared to white men. In three of the four job types CUPA-HR surveys examine, professional, staff, and faculty, women of color are paid less than white men, men of color, and white women.
Women of color are also underrepresented in the higher ed workforce as compared to their representation in the overall US population. Women of color are particularly underrepresented in higher-paying roles such as faculty, professional, and administrative positions. Their representation is higher in lower-paying staff positions.
Colleges and universities that want to take steps to increase representation and pay for women of color may not know where to begin. Jasper McChesney, author of the brief, acknowledged that it can be a long process to rectify inequities in the workforce but concrete steps can help move institutions in the right direction. "Equity issues cannot be solved overnight, but by planning strategically, with unbiased data, higher education institutions can continue taking steps toward more diverse and equitable campuses," said McChesney.
Specifically, the brief laid out three key steps universities can take to address inequities in pay and representation. First, institutions should evaluate their current levels of internal equity. Colleges and universities should examine levels of pay and representation across different jobs and demographic categories. It is also important to consider demographic factors in combination to ensure aspects of intersectionality are not overlooked.
Second, colleges and universities should compare their internal findings with peer institutions. Comparing salary data can ensure fair market wages for employees and establish competitive salaries. Both fair market wages and competitive salaries will help institutions compete for candidates and hire a more diverse workforce.
Finally, schools should analyze employee turnover, age, and experience to gain a longer-term view of representation. This analysis will also allow institutions to examine the pipeline of women of color currently working who could be promoted into higher-paying or higher-level positions.
Visit the CUPA-HR website to read the full research brief or read CUPA-HR's other reports and surveys.