by Daniel B. Griffith, JD, SPHR, SHRM-SCP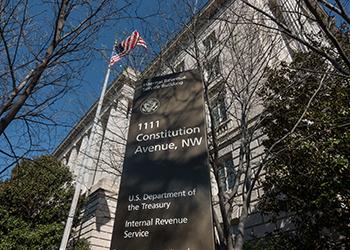 bakdc/Shutterstock
The Tax Cuts and Jobs Act of 2017 provides a new wrinkle that public universities and other non-profits must consider when recruiting and retaining employees who receive $1 million or more in annual compensation. Effective for tax years beginning after December 31, 2017, tax-exempt organizations are subject to a 21 percent excise tax on "remuneration" in excess of $1 million paid to any of their five highest-paid employees for the tax year by the organization or any of its related organizations. This new tax is set forth in Section 4960 of the Internal Revenue Code. "Remuneration" includes wages, including cash and the cash value of other remuneration paid in a form other than cash, such as benefits, and excludes payments to a tax-qualified retirement plan and amounts that are excludable from the employee's gross income. Importantly, "remuneration" does not include amounts paid to licensed medical professionals for their performance of medical or veterinary services. This excise tax is also assessed on excess parachute payments, defined by the IRS as payments that exceed three times the average annual compensation of the covered employee for five years before the employee's separation from employment. This tax applies to such parachute payments, even if the employee's annual remuneration does not exceed $1 million.
What are the implications to non-profits and their employees who receive compensation at this level and to efforts in recruiting and retaining such talent in the future? Norah L. Jonespartner at Quarles & Brady, LLP, whose practice focuses on advising tax-exempt organizations, provides insights on what these organizations must consider now and in the future as a result of this new law.
Impacts on Existing IRS Requirements for Highly-Compensated Employees
Non-profits have long been subject to IRS scrutiny regarding highly-paid executives. Section 4958 of the Internal Revenue Code imposes "intermediate sanctions" on certain executives who receive "excess benefits," which include compensation, loans, rent, and other economic benefits that exceed the fair market value of what the organization receives in return. Organizational representations that approve such "excess benefit transactions," such as board members, may also be subject to personal tax liability. However, the excess benefit transaction rules provide a way to create a "rebuttable presumption" that compensation is reasonable as compared to the market for executives with similar qualifications in the relevant non-profit sector, provided in part that the organization can establish it obtained and utilized relevant data and documentation at the time of its compensation determination. The Treasury Regulations contain the criteria for establishing the rebuttable presumption, and IRS Form 990 requires the organization to report on how it meets the presumption and records such information.
Section 4958 does not place a dollar amount on what is "reasonable," whereas the new law provides a clear threshold of $1 million. Further, the Section 4958 excise tax is generally payable by the person who received the excess benefit, whereas the new 21 percent excise tax is imposed on the employer organization itself. Finally, the Section 4958 excise tax is imposed when compensation is "unreasonable," regardless of amount, whereas the new 21 percent excise tax is imposed based on a clear, $1 million threshold even if that amount is reasonable compensation. Jones notes that the new 21 percent excise tax comes with no legislative history or context to inform non-profits regarding its interplay with the Section 4958 "reasonableness" standard. "When you develop a record of reasonableness and you look at paying more than $1 million in annual compensation, does the 21 percent excise tax that will need to be paid weigh into the reasonableness of compensation? It seems that it must factor in somehow, but this is an open question.
Jones notes there may be unanticipated consequences with respect to compensation decisions and potential liabilities, and how new and existing laws are reconciled, which will remain unknown until the new law is implemented over time and the IRS provides clarity. For example, most commentators believe that the new law was intended to reach public universities, but it is not clear from the face of the law that it does.
Current and Future Planning
Effective for years beginning after December 31, 2017, the law does not provide a "phase-in" period. Jones states, "This means that most employers are subject to the tax right now and need to work with HR to start planning if they have employees who receive more than $1 million in annual compensation. There's not a lot of room — no safe harbor — for arranging employee agreements. The biggest implication of this law that employers need to know is that they are going to pay this tax."
For future years, employers may wish to consider renegotiating compensation and severance packages. There are endless complex scenarios employers will need to contemplate depending on the circumstances. Consider, for example, the following common scenario:
A physician is faculty at the university's medical school. She also conducts research as a practicing physician at the hospital affiliated with the university, and is also part of a foundation associated with both. She is paid $350,000 from each for a total of $1,050,000.
Jones notes that such an employee would be reported as earning over $1 million by each of these three related entities. It is unclear whether the compensation paid by the hospital would be excluded under the exception for compensation paid for the performance of medical services. Each would, therefore, be subject to the 21 percent excise tax. In the future, they might negotiate a situation where there is only one employer, such as the university, and costs of supporting the employee are shared internally between the three entities. While the university still pays the 21 percent excise tax, the other two wouldn't. A similar negotiation might transpire for excess parachute payments.
Jones does not foresee an immediate scramble among non-profits to adjust compensation structures in order to reduce liability. "For 2018, there's really very little to do as a practical matter. It may make more sense to look at it in the next couple of years. The likelihood of wholesale changes is pretty slim. But once non-profits file their 990s and start paying the excise tax, there is going to be some incentive to look at making changes."
Employee Considerations When Pursuing Million Dollar Opportunities
Prospective or current employees negotiating million-dollar compensation, and their representatives, should be mindful of the impacts such requests will have on the employer's tax burden. Factoring in the 21 percent excise tax, a request for $1 million becomes a total outlay of $1,210,000 for the employer if the employee is one of the five highest paid employees for the tax year. Parties may be more challenged than before to negotiate packages that provide a fair and reasonable mix of compensation and non-remunerative benefits that would satisfy the employee and reduce or eliminate the employer's tax burden.
Jones further noted a need for increased sensitivity towards public perceptions fostered by media, disgruntled stakeholders, or others when parties negotiate compensation. She conjectured that, similar to employer requirements for filing 990s, which are publicly accessible, the IRS might impose requirements for employees identified as the five highest paid within the organization to make similar public disclosures. Jones provided this example:
"Let's say you have a $2 million-a-year employee. There will probably be some level of grumbling. 'How can you pay this, that's ridiculous?' Yet, the organization has found that such compensation is 'reasonable.' They've hired a consultant, looked at the employee's skills, and determined that the compensation is not untoward. But the employee still has to deal with negative reactions. 'How can you say it's reasonable? You now have to pay a penalty of over $400,000.'"
While standing by the compensation decision, employer and employee will need to agree on how they will manage and respond to such concerns.
The Future of Compensation Decisions
It is not clear that this new law will have a significant adverse impact on compensation for highly paid employees in non-profit organizations.
Jones states, "I could say this law will reduce compensation, but how are you going to do that? It's probably not going to happen in most cases. You have employee compensation and bonus agreements and HR structures in place. To take compensation away from existing employees is not a workable solution for most employers."
Jones also does not foresee significant impacts on recruiting. "The rate of increase in compensation may slow a bit. Perhaps employers will find ways to shift to non-monetary benefits to encourage employees to accept a job, but it's not practical to pay less than $1 million for qualified employees."
Ultimately, it comes down to how organizations strategize when recruiting highly compensated talent. Jones states, "When a tax-exempt employer is going after sought-after people, the analysis of compensation will need to include the recognition that 'we have to pay the tax — and we're okay with that.'"