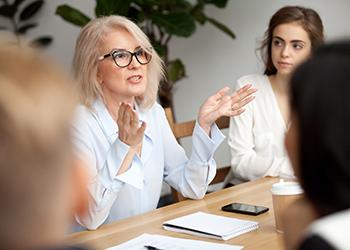 fizkes/Shutterstock
According to a newly released College and University Professional Association for Human Resources (CUPA-HR) report, top higher education administrators have fairly short tenures, possibly due to a lack of long-term salary growth. These findings are from the 2018 Administrators in Higher Education Surveywhich received reports from 51,224 administrators in 197 positions from almost 1,200 institutions.
The survey results showed that presidents and provosts tend to change jobs frequently. Presidents have a median tenure of five years in their current position while provosts have a median tenure of just three years in their current position. The length of tenure may be related to salaries, suggested Jackie Bichsel, CUPA-HR's director of research.
For most administrator positions, median salaries peak for those with 10 years in their current position, then decrease. However, for top executives, those in their sixth year in their current position are not making more than new top executives. The fact that those with many years of tenure do not experience significantly increased salaries may explain why the median tenure is so short. On the positive side, the survey reported that presidents did experience increased perks this year, after a four-year downward trend in perks.
The report also found that the highest-paid deans are in the health professions while the lowest-paid are in special programs, and that assistant and associate deans with faculty status are paid more than those without faculty status.
Members of racial and ethnic minority groups make up 15 percent of higher education administrators and are paid equally or better than white higher education administrators. Conversely, fifty-one percent of higher education administrators are women, but the majority of the highest-paid administrators are men. This discrepancy is also true among deans. Women are more represented among lower-paid deans than among highly-paid deans. Overall, women in higher education administration earn 82 cents for every dollar that men earn.
Visit the CUPA-HR website to read the full research brief, view infographics, or read CUPA-HR's other reports and surveys.