by Christopher D. Lee, Ph.D., SPHR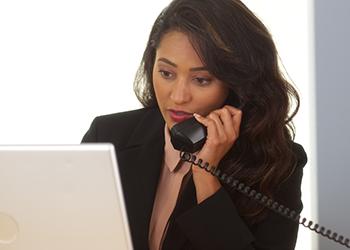 Rocketclips, Inc./Shutterstock
"Can you remind me why you are so great, again?" I did not say those words, but I was thinking them when a gentleman I once mentored recently contacted me for a reference. In the e-mail, he noted that we had first worked together 19 years earlier. He was a budding star then. I remembered him fondly, but the many details of his professional capabilities were admittedly a little fuzzy. Yet, there were two things I was certain about: I had earned all of my gray hair and I had lost a few memory-related brain cells in the ensuing years.
I dutifully asked him to help prepare me to say a good word about him when I eventually received a call. I asked him to draft a paragraph to a page of notes that would highlight the things about which I should speak. The irony is that as a younger man, one of my references asked me to do the exact same thing and I complied, although secretly I was a little offended. I had thought he was being lazy, but now I understand better why this is necessary. The truth is your references may or may not remember your career-defining accomplishments. These events were likely more important to you than anyone else, so helping others remember is in one's best interest.
Asking a former supervisor, associate, colleague, or professor to offer a reference for you is a big responsibility. Most often, an employment offer hangs in the balance. References are expected to say good things and a lukewarm or incomplete endorsement might cause unnecessary alarm. Preparing references for this important task entails at least four elements: 1) providing talking points, 2) giving them a copy of your resume or curriculum vitae, 3) informing them about the job that you have applied for and why and how that works with your background, and 4) mentioning job-related personal characteristics that might be pertinent.
The aforementioned talking points serve as a reminder of your work experiences with that person and provide a chance to highlight things that are of particular note. Items that help to qualify you for the job for which the reference is solicited are best. It might seem unnecessary to mention your former job title, duties, and accomplishments, but making the reference's job easier is the goal. Think of things from the former supervisor's perspective. They could have had a staff of ten, with multiple incumbents performing similar jobs over time with changing titles and duties. Giving them a copy of your resume serves as a reminder and shares with them what you have been doing since you worked together. This is particularly true if you are looking for a promotional opportunity that is much more senior than your former position — you want to show proof that you are capable of this new role by listing your up-to-date credentials and experiences.
The up-to-date resume is also a part of informing your reference of the position you are seeking. Tell them a little bit about the position so they have some context for providing the reference. If you once served as an alumni relations specialist and gradually gained fundraising experience with alumni, this is vitally important if the reference is now for a position as a major gifts officer. This (along with your talking points) will allow the reference to trigger memories about your experiences that connect with the job at hand.
It should be understood that all references have a general character reference component, whether this is explicitly stated or not. It may seem immodest to remind your reference of your character, integrity, work ethic, professionalism, and good sense of humor, but it is vitally important to do so. Remember, they could have worked with you 19 years ago and your single best characteristic may not be top of mind. A way of offering such jewels of information could be to say, "As you may remember, I have always prided myself on being a hard-worker, a person who is steadfastly mission-focused, and who sets high standards for herself and others; I hope that you agree that I have earnestly strived to live up to those expectations." Another way to call attention to your personal characteristics is to schedule a brief 10-15 minute phone conversation to catch up on old times with the reference. If the new job requires you to work independently, you should note the experiences and successes known to that person that tells that story. Mentioning personal characteristics that qualify you for the new assignment is appropriate.
While the most impactful references come from current and former supervisors, one's peers, coworkers, and other professional contacts are also called upon to provide information about one's work life. The same general principles apply. Let them know what you are up to and share information that helps them say the right things about your character and background. This is especially true for teaching faculty whose profession has different references and letters of recommendation patterns, since peers often provide these. Peers know even less about our work than our supervisors, so it is vitally important to share information with them.
Some might wonder if asking references to draft a letter of recommendation is a good idea. For the average candidate today, unsolicited written letters of recommendation are received with a healthy dose of skepticism. Unfortunately, there is a common practice of soon-to-be former supervisors writing good references for employees who are departing on less than stellar terms. When things do not 'work out' with probationary employees and others, it is sometimes a negotiated agreement to pen a nice letter — read truthful though incomplete reference — to help the employee move on to their next success. Managers use this technique often and therefore receive the same with a healthy degree of caution, no matter how legitimate and accurate the endorsement may be. This is why smart organizations also call the writers of recommendations as a quality control check.
References are vital allies in one's quest to secure the next career opportunity. Just as it is in any endeavor, preparation is a key to success. Therefore, candidates should prepare their references for the eventual call by giving them information to refresh their memory, highlighting things that are most important from their background, giving them reference materials such as a bio, resume, or curriculum vitae, and tailoring information to the desired position. In addition to helping the reference remember the details, it makes their job of helping you get a better job easier.