by Dr. Shay L. Butler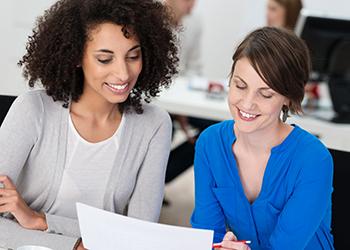 stockfour/Shutterstock
It was 1996 and the then affirmative action officer at the university where I was employed approached me and asked if I'd consider joining a campus women's group. She (Gloria) was a senior level employee who I knew reported directly to the president of the university. I was a young African-American graduate student working as a first-year residence hall director. With no prior experience in residence life, I was green and optimistically clueless about what a career in student affairs, my chosen profession would ultimately produce. My professional immaturity didn't seem to matter to Gloria. But it was the words that followed her invitation that I was in no way prepared for when she said, "we are a group of all white women and we need a woman of color to offer us a different perspective." That moment made a lasting impact on my life and career. From that day till now, I have found myself straddling the professional worlds between colleagues of color and white colleagues, men and women, Christian and non-Christian, gay and straight, and the list goes on; in order to bring people together to build mutual understanding. Understanding, not agreement, not tolerance, not appreciation and not celebration, simply understanding. Understanding starts with listening. Difference must be in the room if you are to hear and eventually understand the lives and experiences of others beyond the sound bites.
In the beginning, that courageous nod of affirmation and agreement from Gloria to go into a room of faculty and middle to senior-level white female administrators was a huge step. I was venturing into unknown and apparently not often trodden (at least at that university) territory. But there I went, and what happened next has been a lesson that has served me well in both my professional and personal life. The introductory meeting went absolutely fine. I was welcomed with graciousness and curiosity. Yes, I was a new woman; yes, I was different; but I was not a strange phenomenon because someone on the inside vouched for me and gave me access. Access? Was the group exclusive? No, not in any way. Their meetings were publicized and literally, any woman on campus could have shown up. There were however, not too many women that would have taken that step without a personal invitation and particularly, not a black woman at that university in the 1990s.
What was it about me that they found of interest? Why was I tapped for entry? Green though I was, Gloria took me under her wing and told me that "I had great potential, she could see it and she was rarely wrong about these things." I didn't know it at the time but she became my mentor, one of the first in my career. I was happy to role model myself after this poised, stately woman who carried herself with such confidence and grace. Gloria was, and remains, a great public speaker, mediator, and activist with the gift of diplomacy. She encouraged me to seek opportunities for public speaking. She said that I had a story to tell and a great voice with which to tell it. So, when the time came, it was Gloria who gave me the opportunity to give remarks at the women's group's premier campus event. She coached me, encouraged me, and calmed my nerves when I was overwhelmed. The day of the event she sat in the front row as I delivered my remarks and she watched and listened with great pride. That speech was titled "Paying It Forward" and in addition to my now mentoring women in higher education, this article is another way in which I continue to live that principle.
You see, before Gloria, other than women supervisors, I never had any interaction with a white woman who wasn't a teacher, professor, or supervisor. Coming from urban poverty in a major city that was diverse yet racially stratified, I'd never been a part of any women's group, let alone a group of white women. Some of my peers of color asked me flat out, why that group and why not the professional black staff group on campus. I didn't think that I had to choose. I mean, why couldn't I do both? Ultimately, I did become a member of both and later the president of that black staff group while also co-chairing another women's group on campus that was populated predominantly by my white female colleagues.
The experiences that I have had during membership in gender and racial/ethnic interest groups actually prepared me for the professional role that I would later hold as a chief diversity officer. I discovered a new interest in learning more about women's issues, advocacy, and leadership. I do not profess to be a women studies or gender expert. I am simply a higher education leader who believes in the power of working across lines of difference for the benefit of gaining a deeper understanding between individuals. Understanding can spark a desire to increase one's awareness and learn about the experiences of the other. If we start by putting ourselves in another woman's stilettos or Birkenstocks then we can come to terms with the fact that we are stronger together. Women helping women, people helping people, no matter one's race, ethnicity, or gender identity. Take a chance, reach out to mentor a woman who is different from you. One who may not share your race, religion, socioeconomic status, or your culture. Learn to get comfortable with discomfort, knowing that there may be moments on this barrier-breaking journey where one of you may offend the other, misinterpret motives, diminish trust. Push through it, extend grace to one another, be patient, be authentic, be you, and know on the other side of this is the gradual evolution of a better society.
There have been many other women mentors since Gloria: black women like myself, Hispanic women, and white women, including my current president. In between there have even been white and black males. They've all shared one thing in common — a desire to develop and advance a person with untapped potential who was eager to learn and understand. I have also had the benefit of mentoring women from various racial and ethnic backgrounds. Each person met along the way has had a lifelong impact. It is for them that I write this article, particularly during this rise in American xenophobia and tribalism. It is for them, and for you that I pay it forward.