by Robert A. Scott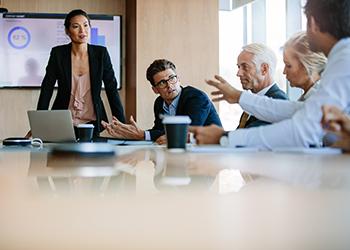 Jacob Lund/Shutterstock
Problems in university governance and leadership are in the news and often are the result of how campus trustees and presidents think about the alignment of institutional mission and goals with strategies and rewards. In "How University Boards Work," I discuss why I think these four elements — mission, goals, strategies, and rewards — should be aligned more closely.
For example, criteria for board membership and evaluation should be aligned with the goals and strategies of the institution, criteria for presidential selection and assessment should be aligned with the mission of the institution, and design of classroom spaces should be aligned with the philosophy of teaching. .
In addition, I give examples of positive and negative board behavior; guidance about board development and how boards should fulfill their duties of care, loyalty, and obedience; information on how best to prepare for board decisions and discussions; and advice on leadership development, succession planning, and managing the transition between chief executives, among other topics.
The most effective members bring questions; they do not offer prescriptions. There are board members, and others, who insist on a course of action because they heard or read that another institution acted in a particular way. For example, I learned about a trustee who proposed to his board that the institution cut its tuition because another had gained front-page coverage in a major newspaper and extensive reporting on national radio for reducing its tuition by 10 percent. A fellow trustee, an academic from another university, asked whether the board was aware of the competitive setting of that university and the size of its endowment.
It turned out that the financial and competitive circumstances of the institutions were dramatically different, with the private college covered in the news having a substantial endowment and numerous public university competitors nearby. The net tuition of the university whose trustee introduced the topic was already nearly 20 percent lower than the tuition at the university covered in the media and had a much smaller endowment. The trustee withdrew his prescription reluctantly.
Imagine, though, if instead of proposing an action inspired by a news story, the trustee had asked about his institution's tuition level relative to the competitive environment, and inquired whether his institution's tuition was higher, lower, or the same as competing campuses. This question, then, could have led to a discussion of pricing strategy relative to the needs and competitive position of the institution for which he had a fiduciary responsibility.
Boards also need advisors. Because of the many personnel and contractual matters on the board's agenda, colleges and universities engage lawyers. Some hire in-house counsel to advise the president and the board and to coordinate any outside counsel. Some boards even have their own counsel for especially complicated matters.
Some institutions rely on an outside firm with a range of legal talent to serve the role of general counsel and then hire one or more separate firms for specific, highly specialized matters such as labor relations and collective bargaining. Most campuses have a Title IX officer or coordinator who reports to the president, the CFO, or Human Resources. Institutions increasingly hire lawyers specifically to manage responses to the federal mandate regarding gender discrimination and sexual assault.
The wise board and president think of these lawyers as counselors, experts to offer advice during the process of decision-making. University boards and presidents cannot and should not act alone. In addition to legal counsel and the board as partners in governance, the president's advisory council as independent advisors, and the senior staff of vice presidents and deans as a president's cabinet, it is often helpful to engage paid consultants to assist in strategic planning and other activities. There are many types of consultants. Some are affiliated with AGB (Association of Governing Boards), some with national academic discipline associations, others are from private fundraising firms, and still others are independent contractors.
For example, consultants on strategic planning can extend the reach of the president to survey the campus community on strengths, weaknesses, opportunities, and threats, as well as on priorities for action. The responses can lead to new or strengthened initiatives to improve student retention.
Experts from academia and industry can advise on curricula and staffing, and suggest opportunities for strengthening programs and student experiences. They can advise on the development of certain programs, the cancellation of others, and the identification of strengths on which to create new programs and partnerships.
In addition, consultants can advise on board governance and operations. They also can provide helpful guidance when searching for senior officers, building alumni relations programs or developing fundraising capacity, and designing annual giving programs or a comprehensive capital campaign.
The campus audit firm should be an obvious source of consulting assistance. In addition to conducting the annual audit and advising on internal audit functions such as administrative operations reviews, they can advise on enterprise risk measures, fraud prevention, and comparative data for benchmarking. If an institution is seeking accreditation, the accrediting association can provide a consultant to assist in the development of a self-study and initiatives for improvement.
Consultants can also assist campus leadership in a number of other ways, including government relations, public relations, advertising and marketing, architecture, space planning, and construction management.
Faculty and alumni with expertise in the field should be asked to serve on the planning committee. They will know what questions to ask and likely will be critical of the results if they have not been consulted before the plans are adopted and executed. With appropriate advice and counsel, boards can more closely align their institutions' mission, goals, strategies, and rewards.