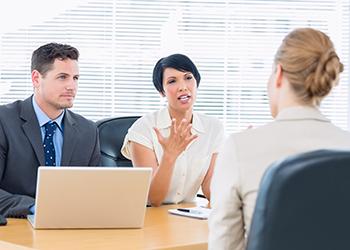 wavebreakmedia/Shutterstock
Two absolutes are on the table at a job interview: the job description and the applicant's resume or CV. The deciding evidence, however, often comes from the subjective way candidates craft a convincing case for their hiring, or, more simply, through storytelling.
There are Effective ways to build a story, such as structuring a conflict-to-resolution approach or providing a relatable anecdote about yourself, but as you prepare to tell your story in a job interview, you must first control the periphery. You must interpret who you are beyond what's on your resume/CV; understand how you fit into the role beyond fulfilling the job requirements; and, most importantly, be your authentic self.
But how do you do that?
Amy Wrzesniewski, a professor of organizational behavior at the Yale School of Management, was a guest on an episode of NPR's podcast Hidden Brain called "Dream Jobs," describing how "cognitive crafting" helps professionals find meaning and purpose in their work. Cognitive crafting, defined as changing the way you perceive the impact of your job, was part of Wrzesniewski's research where she interviewed the cleaning staff at a university hospital. Employees who were more satisfied and engaged in their work described their role as an "ambassador" or "caregiver," rather than an official title that would appear on their job descriptions. They would even perform tasks not required of them and go out of their way to make patients happy, telling the researchers"That's not part of my job, but that's part of me."
Cognitive crafting is not wordsmithing your way through an interview with euphemisms for job titles; it's changing your perception. Here are five ways to practice cognitive crafting before an interview so you can best describe yourself, tell your story, and get hired:
Assume the other candidates are identity thieves. Pretend as if the other candidates you are competing against stole your resume/CV and are using it in their interviews. How will you distinguish yourself? This will help you avoid reciting your resume, an interview no-no, when "Tell me about yourself" is requested by a hiring committee.
Get feedback. Take a personal assessment like CliftonStrengths or the Myers-Briggs Type Indicator. Not to proclaim in an interview that you are an "INFJ," but rather to use the explanations provided by these assessments to perceive and describe yourself in better ways than a "people person" or a "hard worker" and other platitudes that many candidates overuse. Also, ask a trusted colleague or one of your students to identify your strengths and use that in an interview.
Insert yourself into the institution's story. Remember, this is not all about you. The hiring committee wants someone who will fit into the culture of the institution. Schools should be telling their own story on their websites, through faculty testimonial videos or publishing their strategic plans. Use some of the trigger terms or common language as you tell your story so the hiring committee can envision you being part of the institution's story, whether being the solution to its problems or continuing to build on its success.
Recognize your compassionate anger. If those problems make your blood boil, this could reveal your personal values ​​and what truly matters to you. Author Todd Henry advises leaders of organizations to notice their "compassionate anger," meaning what compels them to take action, rather than silly slights or road rage. If you see problems institutions are encountering and think, 'Someone should do something about that,' then use that to interpret the impact you have on your work and build that into your career story.
Have a giver's mentality. In his book, Give and Take, Adam Grant, a professor at the Wharton School of the University of Pennsylvania, found that people operate as either takers, matchers, or givers. His research showed that givers, those who contribute to others without expecting anything in return, are more accomplished. When you approach the interview as someone who is here to help, rather than taking advantage of an opportunity or trading even your talents and efforts for a reward, then your value — that part of you that's you and not your job — will emerge. in your story.