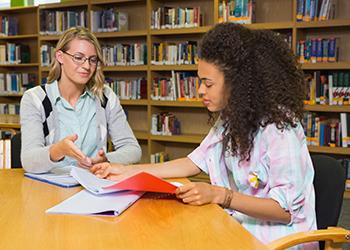 wavebreakmedia/Shutterstock
While high school students with learning disabilities can rely on school staff to help them acquire support, post-secondary students have to self-advocate to secure resources. College students with learning disabilities are legally entitled to equal access to education Subpart E of Section 504 of the Rehabilitation Act and the Americans with Disabilities Act (ADA).
Student Cafea resource that helps American students navigate the higher educational system, explains: "If a school also receives federal financial assistance or allows its students to receive federal financial aid, it must also adhere to Section 504. While schools run by religious entities are not covered by the ADA, if they or their students receive any federal money Whatever, they must comply with Section 504."
While they are legally covered, sometimes it can be hard for students with disabilities to self-advocate. In some cases, the nature of their disability makes this level of self-monitoring difficult. While becoming more independent is helpful preparation for their post-graduation reality, that only stands to serve students if they are able to reach that point. Understanding the difficulties college students with disabilities may face in self-advocating or securing appropriate support services is crucial for faculty members as well as administrators in ensuring that students feel comfortable.
An Ambitious Constituency
The National Center for Learning Disabilities (NCLD) notes that LD students' ambitions parallel their peers': "A majority (54 percent) have the goal to attend a two-or four-year college." NCLD further notes that 67 percent of young people with learning disabilities report enrolling in post-secondary education within eight years after high school graduation, again mirroring peers.
The National Center for Educational Statistics explains that about 11 percent of undergraduate students report having a learning disability, a visual, speech, hearing, or other health impairment.
Clearly, plenty of students with learning disabilities are eagerly pursuing post-secondary education. How are they being supported in their work?
A Summary of Services
Marianna Sorensen's recent piece in College Magazine ranks institutions according to the services they offer. Sorensen explains: "While 86 percent of colleges enroll students with learning disabilities, only 24 percent of them say they can actually help those students 'to a major extent.'"
The ten standout institutions that Sorensen's piece describes provide coaching, counseling, tutoring, and access to trained specialists. Some also offer testing centers where readers and scribes assist with test taking. Others offer life and social skills training, helping students acclimate to campus life.
Vermont's Landmark College, which earned the top spot in College Magazine's ranking, is one of the only institutions in the US designed to serve students who learn differently, including those with attention deficit hyperactivity disorder (ADHD), autism spectrum disorder (ASD), and dyslexia. Landmark's mission is to "transform the way students learn, educators teach, and the public thinks about education."
Academic Support
When it comes to training educators to support students with learning disabilities, there seems to be a wide range that varies by institution on both the secondary and post-secondary levels.
According to the Learning Disabilities Association of Americapost-secondary educators have these responsibilities to their students:
To allow students to disclose their disabilities in an appropriate and confidential place.
To acknowledge the rights of students with dignity and respect.
To maintain the integrity of academic standards.
To maintain student confidentiality at all times.
To provide reasonable instructional and/or testing accommodations.
A Personalized Approach
Dr. Ibrahim H. Dahlstrom-Hakki, Associate Professor and Director of Landmark College's Institute for Research and Training, describes Landmark's approach:
"Given Landmark College's unique mission as a college exclusively serving students with LD, ADHD, and ASD, our faculty and staff focus on meeting the needs of this student population. Driving this practice is the concept of Universal Design, that is designing a college experience. (both in and outside the classroom) aimed at meeting the needs of the broadest range of learners possible. That does not mean that we can anticipate the needs of every student 100 percent of the time, but the goal is to think of each college experience. from that perspective and then to have the skills and flexibility to adapt to support the students whose needs were unanticipated. While the concept of Universal Design is not unique to Landmark College, its implementation over the last three decades based on our unique experience sets it apart. from the practice of others in the field."
Landmark's approach has positioned the institution to garner expertise when it comes to understanding what LD students need to thrive.
Best Practices
Dr. Dahlstrom-Hakki explains some of Landmark's practices, which he describes as "critical to the success of students who learn differently." He explains that each student goes through a first-year program "designed to help students understand their areas of strength and challenge and ways to capitalize on their strengths and minimize the impact of the challenges. It also provides students with the skills and academic remediation necessary to be able to take college level coursework." He points out, "Different students progress at different rates, but once they are done everyone is ready for college level work."
Another feature at Landmark is that each student has an advisor who serves as a single point of contact with residential life staff, faculty, and other support staff. Dr. Dahlstrom-Hakki explains, "This campus wide communication ensures that the student can be supported across their entire college experience and allows us to intervene when things aren't going well by getting a full view of that student's experience."
In the classroom, faculty relay information via a variety of modalities to help ensure comprehension. They also allow students to demonstrate their understanding through channels other than just written testing.
Another key to Landmark's success: instructors help make students feel normal. Dr. Dahlstrom-Hakki explains: "Faculty are aware of the various challenges faced by students so they create an inclusive atmosphere that removes stigma around the use of assistive technology, that scaffolds social interactions, and that provides flexibility in helping students maintain focus by, for example , standing in the back of the room or taking a short break when needed."
Other colleges and universities looking to better support students with learning disabilities should examine how their first-year programs, advising structure, and teaching styles can be modified to include elements of Universal Design and increased flexibility.
Advice for Admissions Staff
If LD students and their parents are concerned about the level of support they will receive at your institution, admissions officers should direct their attention to the disability support center on campus. Dr. Dahlstrom-Hakki advises: "Students should look into whether their support services are a point of pride for the campus or a service that is simply meeting a legal mandate. Institutions that make student support part of their mission often do a better job of supporting diverse learners."
Those working in admissions offices should also be prepared to answer questions related to accommodations, support, and experiences of LD students. When visiting campuses, Dr. Dahlstrom-Hakki advises that students should note these items:
What academic resources, outside of the classroom are available?
What accommodations and assistive technologies are available and how do students qualify for these?
What is the faculty to student ratio?
Are faculty trained to work with a student population that is neurodiverse?
If staff members are prepared to answer these questions, students will be better able to decide what college or university is best for them.
Remember
Finding a good fit can seem daunting for LD students, but colleges and universities can work with students to ensure they can secure a post-secondary experience that suits them, preparing them for a satisfying and successful professional life.