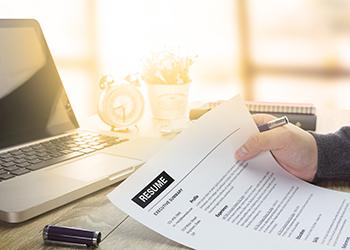 Neomaster/Shutterstock
With the start of the new year comes the opportunity to update, refresh and modernize your resume, LinkedIn profile and job-search letters. Whether you're actively looking for a new job or just want to be prepared in case a great opportunity presents itself, having up-to-date career marketing communications is essential.
Doing it annually (at a minimum) enriches the content of your career materials by refreshing them with new and important information. Think hard about what you've learned, accomplished and contributed over the past year that will add interest, meaning and depth to your career marketing communications.
Here are recommendations for what to update and the process by which to do it most efficiently. Follow the steps in order, and you'll find that you're able to update everything faster and easier than you might have expected.
Step 1: Prepare
Before you start, take some time to think about what information you're going to include. It might be your most recent or newly acquired:
Professional achievements
Project highlights
Educational credentials and professional certifications
Professional affiliations
Publications and presentations
Professional skills
Technology expertise
Once you've identified the new information you want to include, you need to determine where to include it. Some of it, the most impressive and important, will go into your resume, space permitting; much of it will be integrated into your LinkedIn profile; A few select highlights should be showcased in your job-search letters.
The most important questions to ask yourself as you move through the process of updating and refreshing your career communications is "Does this new information add value? Does it present me as a more qualified candidate?" The answers to those questions will help you decide whether or not to include something.
Step 2: Update and Modernize Your Resume
If you're like most experienced HR professionals, your resume is already filled with great information. Now you have more valuable details to include, so you must decide where and how to incorporate the new information.
Some of your updates will be easy. For example, if you earned your SHRM-CP designation last year, prominently include that information by adding it to the end of your name at the top of each page (eg, Josie Newman, SHRM-CP), including it in your summary section. , or adding it to your education section.
Other updates can be just as quick and easy: professional affiliations, publications, presentations and other brief factual information. These can go in your summary or other appropriate section of your resume.
Next, move on to new professional or technical skills. These are often just a word or two and can be worked into your resume in the summary, core competencies or experience sections. These skills are often the same keywords that recruiters and hiring managers will use to electronically scan resumes and identify qualified candidates, so it's essential to have them in your resume.
The last updates, and often the most important, are those that relate to your current job — notable accomplishments, projects, responsibilities and other highlights. This information can be incorporated into existing paragraphs to balance the old with the new, or add a few new bullet points to more prominently showcase your most recent successes.
Here are a few additional resume updates that you'll want to make if you haven't done so already:
Link to your LinkedIn profile. With a single click, a reader can instantly read your profile which, if written well, should be a valuable complement to your resume.
Be certain that your e-mail link works. With just a single click, the reader can send you an invitation to interview. Make it easy for people to contact you.
Delete your mailing address. Most people don't include mailing addresses on their resumes anymore because of the tremendous uptick in online identity theft. Instead, follow these rules:

If you're looking for work in the same area in which you live, include your city, state, and ZIP code. That information can be key when recruiters are searching for ideal candidates in a local market.
If you live in a major metro area and are looking for work in a two- or three-state area, consider a format like this: NY/NJ/CT Metro.
If you're willing to relocate, there's no need to mention anything about location.

Use graphics strategically. If you're particularly good with Microsoft Word and can paste in some graphics, it will give your resume instant distinction and help get you noticed. Consider using company logos, graphs, charts or other visually interesting items, but only if they add value.
Most applicant tracking systems can scan resumes with graphics, although they can't read the graphics themselves. They will simply ignore that information, as long as it is not touching any text. Make sure there is white space around those graphics.
Step 3: Update Your LinkedIn Profile
Updating your LinkedIn profile is best managed in the following order:
First, add straightforward information such as new degrees, professional certifications, training, publications and the like. This is easy and only takes a few minutes.
Second, edit your current job to integrate your new accomplishments, project highlights and other successes. You've just updated your resume, so that information is top of mind and can easily be added to your profile.
Third, update and refresh the summary section. Maybe it just needs a good edit and refresh, or it might be that you want to showcase some new accomplishments, skills, keywords, credentials or other distinguishing information.
Make sure your profile is rich with keywords. LinkedIn is the no. 1 site for recruiters to source candidates, and keywords are the foundation for those searches. It doesn't matter where those keywords are in the profile (summary, job descriptions, education), it just matters that they are there. If you want to be certain that your profile is keyword-rich, consider adding a list of professional skills (keywords) in the summary.
Note: Be sure to turn off "Notifications" when you're updating your profile and, of course, remember to turn them back on when you are finished.
Step 4: Update Job-Search Letters
Ask yourself the following: Of everything you added to your resume, what information will be of most interest to prospective employers? Did you have a great success or accomplishment this past year? A major project you worked on? A new degree or professional certification? If so, that information might now become the showpiece of your letter.
When you only have a few seconds to catch a reader's attention, it's imperative that your job-search letters instantly communicate who you are (a well-qualified candidate) and why someone should be interested (your unique skills, experience and expertise). If your letters accomplish this, great. If not, rewrite!
Even if there is no new information to include, take the time to review, update and modernize your letter. Refresh some of the language, change the order of bullet points or edit to shorten it if at all possible. You'll be surprised by the impact that just a few small changes can have.
Whether you're actively looking for a new job or not, you never know when a great new opportunity might present itself. As such, having an updated LinkedIn profile and a resume and letter ready to go at a moment's notice is more important than ever. With so much of job search happening in cyberspace, you never know who might find you for the opportunity of a lifetime.