by Daniel B. Griffith, JD, SPHR, SHRM-SCP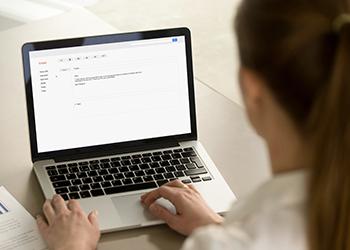 fizkes/Shutterstock
What message do we send when we fail to respond in a timely manner to emails from colleagues, co-workers, acquaintances, and others we might reasonably expect to contact us based on our role, relationship, and the work we do? Here are some possibilities which range from giving you the benefit of the doubt to impugning your motives and character:
"He must be busy. He'll get back with me eventually." (though you never do)

"He must get so many emails that mine got lost in the shuffle." (though it didn't)
"Her spam filters must be set wrong." (though they aren't and you've received plenty of emails from this individual — and you check junk email regularly for emails that do matter to you)
"I'm not a priority." (which is true)
"I'm being dismissed." (which may also be true but you wouldn't say this to the sender's face)
"She's deliberately avoiding me because she doesn't want to deal with …" (which you probably don't because it involves something that is upsetting or burdensome to you)
"He's a jerk." (or other choice descriptor suggesting you lack professionalism, which you do, though that was never your intent)
Let's face it. Unwelcome emails arrive constantly and it is simply easier to not respond if they don't involve matters of immediate importance to you. When you choose not to respond, some rationale percolates in your mind providing self-justification. Whatever the reason, the vacuum you create leaves the impression that you are unprofessional. To avoid this, consider these tips:
Triage and decide to respond in a timely manner. Decide what emails warrant a response. These are legitimate, professional inquiries, not the constant stream of sales inquiries, phishing, and other emails that clutter your box. Then, decide what form of response is due. Adopt a routine timeframe in which to respond. Twenty-four to 48 hours is standard. Also, adopt a system for keeping track of emails requiring a response so they don't get lost and forgotten as new emails come in.
At a minimum, acknowledge receipt. If you have no other response to give, at least acknowledge you have received and read the email. Your email system probably allows for automatic receipt verification that either the recipient or the sender can set up, but writing your own brief message to acknowledge receipt is more personal. In most cases, more than an acknowledgment will be required anyway, so consider the next suggestion.
Be upfront and transparent. There are many legitimate reasons why you are not in the position to meaningfully respond to an email. Be transparent about this. For example, you may need to:
Postpone: "Now is not a good time to address this. Could you check back with me in a week?" Or, "Could we arrange a time to discuss this in a couple of weeks?" Or, "I will provide a response to your request no later than …"
Redirect: "I'm not the best person to address this matter. I'm copying Ben who can best provide this information. Ben, this is …" Or, "I would suggest contacting Annette who can provide the information you need ."
Decline: "I'm sorry, but I won't have time to address this matter in the time you need it." Or, "This really isn't within my list of priorities for the quarter, so I won't be participating in this opportunity."
Take responsibility for overlooked emails. You are human so there may be an email or two that you simply overlook. You may become aware of this either as you sift through old emails or when the sender follows up with a second email that usually appends the original email. Don't make excuses or, if you feel you must, do so in a way that doesn't alleviate your responsibility:
"Bill, I'm so sorry I missed this earlier. I have been very busy, but that is no excuse. What I can do for you is …"
Call or meet if it will save time in the long run. Perhaps you received an email that requires a lengthy response which is why you haven't responded. You could grit your teeth and accept that you'll need to sit for an hour or more to craft a response, or you could call or set up a meeting to discuss the matter directly. Although this step also takes time, it may save time in the long run. Talking or meeting face-to-face may also alleviate misunderstandings that can occur with wordy emails that lack necessary verbal and non-verbal cues. So, call or send a brief email requesting a phone call or meeting:
"Jan, this requires some explanation. Could we arrange a phone call or meeting? I'd prefer a phone call, but a meeting is also okay. We shouldn't need more than half an hour."
Create a different expectation if you are too busy or not immediately accessible to provide a timely response. Automatic out-of-office messages are typically used for short absences away from the office and easily communicate that senders shouldn't expect an immediate response. You can also provide referrals to other contacts if such support is available to you:
"I'll be on vacation from May 1 to May 8 and won't be checking emails during that time. If you have an immediate concern, please contact Frank at … Otherwise, I will respond to your inquiry when I return. "
Or: "I'll be away from the office from Dec. 25 to Jan. 2 and will be checking emails sporadically. [or, "won't have regular access to email," etc.] The office will be closed during this time period. If you require immediate assistance, please contact Claire at …"
On the other hand, the nature of your work may involve a daily flood of email inquiries for which a timely response is not manageable. You might set up a routine automatic message that lets senders know they should not expect an immediate response or that suggests alternatives:
"Thank you for your message. We receive a high volume of requests on a daily basis and are not able to respond to all of them in a timely manner. If you have an immediate concern, we recommend that you: [access a website, fill out an online form, call a certain number, etc.]"
Or provide multiple alternate sources:
"For x, contact ___"
"For y, contact ___"
You don't have to risk negative perceptions about your professionalism just because email senders make requests and demands that you are not able to quickly address. Be upfront and transparent about your abilities and limitations in responding to email rather than leaving senders guessing with your non-response.