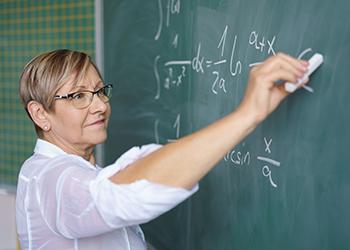 stockfour/Shutterstock
"The secret of joy in work is contained in one word — excellence. To know how to do something well is to enjoy it."
-Pearl Buck
Precipitous moments of euphoria abound in the last two to three weeks of your first semester-long journey as a new faculty. You made it! You engaged in orientation to the college/university with a cohort of new faculty. Whether teaching ground courses or blended and/or online courses, you also navigated and learned new faces and spaces. You attended monthly (or otherwise designated) department meetings, faculty meetings, and committee meetings. You sought out and located campus resources which enabled you to do your best job as teaching faculty. Most of all, as new faculty you engaged with those who looked to you to lead them to another level of knowledge, skill, and attitudinal perspectives: the students, the lifeblood of the academic enterprise. It's been an exhilarating and swift time of learning, discovery, and teaching in a space of approximately fifteen weeks. As new faculty, you are to be commended for 'turning the academic corner' and exiting one semester towards the next.
As you prepare to submit final grades and departmental-required reports, have you taken the opportunity to assess your performance as a new faculty member? While it may be one of the last things to consciously occur in your 'precipitous moments of euphoria,' now is the time to do a bit of self-assessment as you prepare for a brief respite before the advent of the next semester. While you are on holiday break, there will be a few times when you will seek solitude and during these times, self-assessment — an 'unpacking' of past work — will be a critical use of your time.
Remember… toward the mid to latter part of the spring semester, you will be evaluated by your immediate supervisor/department chair, so a bit of self-assessment during the holiday break will do much to alleviate surprises in your annual evaluation. At a very foundational level, this self-assessment is a means of consistently — at the end of every semester — examining and responding to the following questions:
Am I effective as a professor?
How can I become more effective in certain areas of my teaching?
How is my teaching in the discipline area comparable to that of my peers?
Am I on an effective trajectory towards merit increases, tenure, and advancement?
As a new faculty member how can you drill down deeper into these areas of inquiry to extract the data needed to move towards clarifying what works well or not so well? While the previous questions are important, at best, they are extremely broad and require refining for an effective self-assessment. Recording your self-assessment through the creation of a simplistic chart or graph which measures your responses along the lines of effective, somewhat effective, not effective, or not utilized provides a document that you can refer to during the next semester in graphing changes in teaching strategy. Brief notes as to why you have rated various areas of your teaching as such will enable you to 'close the loop' as you prepare for the next semester. Your self-assessment will also afford you the opportunity to discuss any areas of challenge and concern with your supervisor early in the next semester towards a further 'closing of the loop.'
While there are many areas to examine in an ongoing self-assessment of college/university level teaching effectiveness, there are a few areas that are particularly essential in your work as new faculty. In each of the following areas, there are a few leading yet not exhaustive questions which will serve to catalyze your self-assessment:
Content Knowledge
Do your presentations (written, oral, and visual) reflect both traditional and contemporary knowledge, data, and opinions in the discipline?
Are you savvy in presenting varied points of view on the course topics (whether they are controversial or not)?
Do you emphasize the importance of citing sources/authorities in the presentation of both oral and written information?
Do you assist students in discerning among types of supporting detail — facts, opinions, and statistical data?
Do you plan to attend at least one event (conference, symposium, professional meeting/presentation, et.al.) in your discipline during your first year?
What is the 'shape' of your current research agenda? Do you have a project that will be completed within the next academic year or two?
Organization and Punctuality
Do you begin and end class promptly?
Do you take attendance? Why or why not?
Have you avoided absences except in cases of pre-approved institutional meetings, etc. and unavoidable personal matters?
Do you provide clear assignments and methodologies for coverage of your classes when you are absent?
Are you prepared for each class session with your materials (lecture/presentation notes, graded assignments, handouts, etc.) ready for use including in-class technology up and running?
Do you practice making connections between the previous class and the current class in providing continuity in teaching and learning practices?
Presentation Skills
Do you periodically ask students if they understand, as well as if they have comments and questions during your presentations?
Do you take time to listen to varied points of view? Are you comfortable explaining to students how discussions (at times) are diverging from the focus in ways that are instructive and positive as opposed to judgmental and negative?
Are you aware of your tone (clear and audible) and pace (enabling note-taking and opportunities for comments/questions) in the oral delivery of information to your students?
Instructor-Student Relationship
Do you schedule one-on-one meetings with students at least once during the semester?
Do you grade assignments within a respectable window of time to enable students to benefit from feedback in understanding the ensuing discussions and assignments?
Is your feedback on assignments clear and specific?
Do you encourage students to meet with you during office hours to clarify assignments and class discussions?
Do you encourage student participation and utilize different methodologies to include all students in the discussions?
Do you provide opportunities for students to demonstrate what they have learned (discussion forums, debates, presentations, 'lead the class' sessions, etc.)?
Are you cognizant of the need to encourage peer interactions (discussions, group activities, and peer reviews) as means of creating a learning community?
Have you been effective in assessing potentially disruptive individual and collective classroom behaviors and dealt with them effectively at first notice?
Use of technology
Do you use your institution's Learning Management System (LMS) in posting information as both a precursor and follow-up to class sessions?
Do you use the LMS for transparency and documentation in grading and attendance?
Do you incorporate various instructional technologies (other than lecture) such as Wikis, Microblogging, Prezi, PPT, Collaborative Writing, LMS Group Learning Projects, etc. in reaching varied student learners?
Your amazing journey as a new faculty member has begun! For those of us who have been involved in the academy as full-time professors, we know that this journey is not one that is without its challenges. The process of self-assessment early in your career will do much to move you along the lines of effectiveness as an informed and, moreover, confident professor. These self-assessment areas will assist you in maintaining high standards towards the confidence and effectiveness that is so needed by professors in the 21st century academy.
As you continue your journey in higher education, be reminded of Pearl Buck's comment, "The secret of joy in work is contained in one word — excellence. To know how to do something well is to enjoy it."