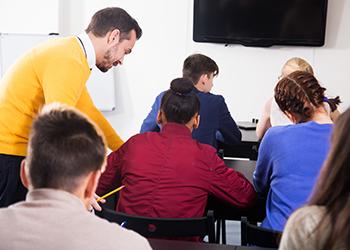 Iakov Filimonov/Shutterstock
Founders of universities are hard to find these days, especially a woman president who led an institution for nearly three decades. But Kathleen A. Ross is a university founder who continues to find success for the type of student her institution was created to support.
Ross is now the director of Heritage University's Institute for Student Identity and Success, which helps faculty and administrators use research-based strategies to foster degree completion among students from low-income backgrounds or whose parents did not attend college. This college student demographic is referred to as the "new majority" because it has grown significantly at American colleges in recent years, and not just for schools like Heritage University, created in 1982 for an underserved, rural area of ​​eastern Washington.
"The core of our work is our students, and where they come from and their expectations, they are changing," said Ross, president emerita and professor of cross-cultural communication at Heritage. "We're looking to make their lives better; that's why we are in this business."
Ross points to the last 12 years, when first-generation-to-college students in the United States has increased from 17 percent to 33.5 percent, and points to alarming statistics of low-income students, representing 24 percent of all students but who are four times as likely to drop out.
Through her research with the Institute for Student Identity and Success, Ross provides ways to enhance learning for first-generation students, which make up 85 percent of students at Heritage University. Techniques range from navigating the syllabus to developing an academic identity for students — make that "future accountants" or "future nurses," as one technique suggests. Overall, there are 11 such strategies detailed in Ross' book, "Breakthrough Strategies: Classroom-Based Practices to Support New Majority College Students."
There is a fundamental challenge that many of the strategies are designed to overcome. "There's a hesitancy for first-generation students to ask questions," Ross said. "If they don't ask questions, they are not going to get that engaged learning. Everybody has questions when they are involved in their learning."
Low self-confidence and the fear of being exposed as someone unworthy of a seat in a college classroom inhibits new majority students, but without the ability to ask questions, student success is significantly compromised. Students must ask questions of their professors, classmates, and themselves to spark curiosity, rather than approaching classes as a task to memorize course content.
The Institute for Student Identity and Success recommends two "questioning" exercises that can be conducted in the classroom as part of its strategies.
One strategy is guided journaling, where students are prompted to write reflections of course concepts in the context of their lives. This exercise, which can be assigned during the last 10 minutes of class or as regular homework, is intended to motivate students to become personally involved with the content and develop an ownership of their learning.
The prompts must be directly related to a course concept and have a clear focus, but still be open-ended. Although not all suggested prompts are questions, such as starting prompts with "identify," "explore how you could," or "write about choices you could make," the strategy is to shift students to higher cognitive levels. Instructors should provide feedback and samples of other journal entries, but allow the students the freedom to think on their own.
The other strategy for overcoming the fear of asking questions is to ask students to write down three questions: 1.) what they would like to know about the person to their left, 2.) what they would like to know about the class, and 3.) What they would like to ask the instructor. Then ask them to write down three assumptions: 1.) about the student to their right, 2.) about the class, and 3.) about the instructor.
A video from Institute for Student Identity and Success goes into greater detail with instruction and providing answers, but the exercise is intended to get students feeling comfortable speaking in class and breaking communication barriers.
Overall, the Institute's research identified four key elements of college student success which are especially crucial for first-generation students: 1.) engaged learning; 2.) confidence in their ability to succeed; 3.) bonding with their college peers, faculty, and institution; and 4.) a vision of where their education can take them.
"You can make a difference for students who you think, 'I've tried this and I've tried that; they just aren't getting it done,'" Ross added. "Yes, you can. There are new approaches and there's belief in what you are doing."
Although you may not go out and start your own university to find a better way to help the "new majority" succeed, you can start thinking more intentionally about serving these students in your classroom. And learning begins with asking questions.