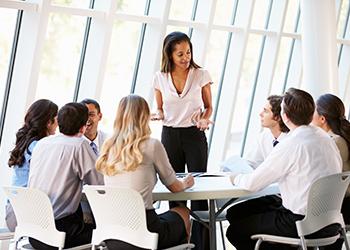 Monkey Business Images/Shutterstock
Professionals from CUPA-HR have been documenting and analyzing employment and salary data for the past 15 years to monitor trends in pay equity and leadership diversity in higher education. Alarmingly, the resultant August 2017 report The Representation and Pay of Women and Minorities in Higher Education Administration: Institutions That Are Getting It Right by Jasper McChesney reveals that progress is slow. McChesney writes: "Gains in representation and pay for both women and minorities are barely perceptible; overall, higher ed institutions are not performing as well as one might expect."
While the study traces and examines this worrisome pattern, it also identifies 11 institutions that have been consistently successful in both areas. How have these institutions been able to foster equity and diversity, and what practices can other institutions adopt to follow their lead?
CUPA-HR Research Brief Highlights:
CUPA-HR's study incorporates salary and demographic data voluntarily submitted by approximately 1,300 institutions annually, totaling nearly 2,300 institutions over the course of the 15-year analysis. The study includes institutions of various sizes (schools range in student population from about 2,000-13,000); different types of institutions: public, private religious, and private independent; and those with a range of classifications including doctoral, master's, baccalaureate, and associate's.
Findings Related to Women's Pay Equity and Representation:
CUPA-HR's Administrators in Higher Education Salary Surveys, 2015-16 notes that women's pay in the higher education industry has gone up little in the past 15 years. In 2001, the survey found that women who worked as higher ed administrators earned 77 cents on the dollar when compared with their male counterparts; by 2016, that figure had risen only slightly to 80 cents on the dollar.
While compensation was lacking, the survey reveals that representation has increased among women. Data indicates that in 2001, women assumed 42 percent of roles in higher ed administration; 15 years later, that figure grew to 49 percent.
While the growth rate appears impressive, in the CUPA-HR report The Gender Pay Gap and the Representation of Women in Higher Education Administrative Positions: The Century So Far, authors Dr. Jacqueline Bichsel and Jasper McChesney explain that less than 30 percent of top executive positions are held by women. Bichsel and McChesney drill down further: "Men occupy the overwhelming majority of executive positions in higher ed. They outnumber women more than 2:1 among presidents and chief business officers. They outnumber women 4:1 among chief information officers and chief athletics administrators, and more than 9:1 among chief facilities officers. The only position in which women occupy the overwhelming majority of positions is that of chief HR officer, where they outnumber men nearly 3:1."
Findings Related to Minorities' Pay Equity and Representation:
Interestingly, when it comes to pay equity, minorities fare well in the higher ed industry, earning slightly more than their peers. According to CUPA-HR's Administrators in Higher Education Salary Surveys, 2001 to 2016minorities earned 97 cents to their non-minority peers' dollar in 2001, and in 2016 they surpassed that measure, earning $1.03 to their peers' dollar.
The figures are less heartening when it comes to representation. In 2001, 11 percent of higher educational administration roles were held by minorities. By 2016, that figure grew to only 14 percent. The survey notes that "1 in 4 college graduates is a minority, whereas 1 in 7 higher ed administrators are."
Traits 11 Institutions Achieving Equity Share:
The 11 institutions that have successfully achieved equity in both areas do not share many surface commonalities. McChesney writes that "they do not fit a single profile, but represent a broad range of classifications, affiliations, and regions."
Where the institutions do resemble one another, according to McChesney, is that their leaders are committed to securing equity and they use data to drive the decision-making that secures it. Their efforts, then, to cultivate equity are measured and purposeful. One specific example McChesney cites is that these institutions tend to make "strong efforts to advertise positions both widely and in publications targeted at minorities."
Voices of Equity:
Debbie Lupton is vice president for human resources at Goucher College in Maryland. Goucher was among the 11 schools that CUPA-HR calls out for creating a culture of equity and diversity. Lupton notes that having leadership's buy-in is key. She explains: "Having worked at the college since 2000, I have seen a commitment from each and every president to ensure both equitable compensation and a commitment to a diverse administration. Having a leader who supports the work of HR, particularly related to compensation and equity, is critical to our work in these areas."
Lupton also notes the importance of careful tracking and data analysis. She explains:
"Participation in the CUPA survey every year, for as many positions as possible, has allowed us access to real data that we can extract based on who we are comparing ourselves to — whether that is the local/regional market, who we consider our peer schools, or who we consider our aspirant schools. Having a goal to be at 100 percent of the peer median for all reported positions and keeping that goal in mind even when faced with tight budget realities."
Lupton's advice to institutions aiming to mirror Goucher's success:
"Establish a goal that is consistent across all positions. Report on as many position matches as possible and use that data as the basis for your salary structure. Spend less time negotiating with candidates at the conclusion of the hiring process and more time being up front with candidates related to the already established, equitable salary at the beginning of the interview process."
Ken Nufer, PHR is the chief human resources officer/Title IX coordinator at Pueblo Community College in Colorado, another of the 11 institutions cited for success. Nufer emphasizes the importance of culture. He explains:
"We recognize that the spectrum of diversity is more than just ethnicity, race, and gender, but it extends to all things that make us different. We subscribe to the concept and philosophy of 'different like you' and capitalize on the fact that diversity is what breeds strength. But diversity is only part of the equation. Equity is what perpetuates diversity, not just in pay, but in treatment and recognition."
Nufer notes that Pueblo's hiring practices are also designed to ensure greater equity in candidate selection and compensation. He explains:
"We have utilized a selection model that provides more flexibility in identifying candidates while removing the traditional ranking methodology that eliminates quality candidates with less experience. It starts with the job description and specifically the setting of the minimum qualifications. By evaluating each minimum qualification to ensure that it allows for the greatest level of access by applicants, it results in a more robust evaluation of candidates. Many traditional job descriptions set the minimum qualifications in ways that eliminate candidates with less experience, but great potential. Once we set the qualifications that allow for the broadest applicant pool, we ask search committees to evaluate the whole candidate, not individual factors, but rather the candidate as a whole."
Nufer's advice to institutions aiming to mirror Pueblo's success:
"Get a commitment from the president and senior leadership and then continuously monitor your data and always ask how your policies, procedures, and personnel decisions impact diversity and equity. Don't be afraid to ask the unpopular questions of hiring managers and leadership."