by Cathy N. Davidson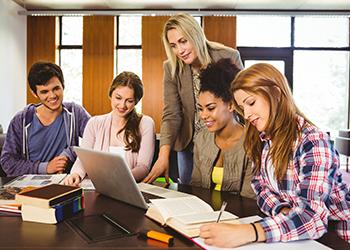 wavebreakmedia/Shutterstock
Is there any topic more deadly-dull than educational technology? Or any topic that universities are more apt to get wrong? Fueling the $250 billion annual global spending in educational technology is the truism that students today need "digital literacy." They certainly do. However, almost all colleges and universities need to rethink what they offer by way of web skills and literacies. We need a thoughtful, intellectual level of training, the equivalent of "defensive driving" for the era of social media, hacking, and media manipulation. We need far more creative and critical training and less expensive instrumentalizing and digitizing of old ways of teaching, learning, research, and thinking.
Many of our learning management systems seem designed to make you as passive, paranoid, bored–which is to say, digitally illiterate–as possible. In "The New Education: How To Revolutionize the University To Prepare Students for a World in Flux" (Basic Books, Sept 5, 2017), I have one chapter, "Against Technophobia," followed by "Against Technophilia." I not only work against traditionalists who dig in their heels and "oppose technology" (whatever that means), but against those who advocate technologies that emphasize surveillance over collaboration, hardware over good, hard analysis of what we really need for the future of our students and why.
Fortunately, several visionary, innovative professors model exciting new ways to think with, through, and about the technologies that govern our lives.
Meet Sha Xin Wei, who directs a new school for arts, media, and engineering at Arizona State University with the goal of having the work that students and faculty do have "palpable impact." He begins each year posing a complex question that can only be solved by creative minds working together, sometimes using a pencil and paper, sometimes using sophisticated equipment. "What will life be like in Phoenix when there is no water?" he asks. Or, because conservative places like, say, Arizona don't appreciate "politically correct" topics like human responsibility for climate change, he has students address problems in the environment without factoring human agency into the picture. "From the point of view of the weather, what happens if there is an increase in CO2 levels?" Students take human agency out of the picture and simply figure out ways to chart points at which different organic entities on the planet (and that would include us mortals) might cook to death from the inside out, and how CO2 levels (from whatever source) contribute to rising temperatures. He then challenges students to think of all the different ways that altering CO2 levels might bring down temperatures. Students use the most sophisticated instruments, learn how to crunch massive amounts of data, analyze abundant research on climate change, and also master the fine, cutting edge, contemporary arts of rhetoric and persuasion. All of these are needed to thrive in the world we live in now–and in the world we are making for all of our futures.
At Olin College, the nation's only liberal arts engineering school, prosthetics designer and artist Sara Hendren invites users to challenge the basic design assumptions her students bring to their solutions. She orchestrates design sprints where skateboard competitors and wheelchair users create next-generation ramps that fold like origami into a backpack–vital design for both of these users, each of whom brings different experiences and necessities to the design process. Other design sprints with botanists focus on tendrils to co-design a next generation arm for an athlete born with only one. Olin's students get rid of the lumbering, million-dollar bionic NASA contraption designed for this athlete and, instead, fashion inexpensive, interchangeable devices that can be screwed into a titanium arm socket as easily as a light bulb. Once again, the focus is not just on the best new technology but on the best human use to which the best currently-available devices can be put–and the best ways humans can make use of such devices. Paradigms shift. Preconceptions break apart. Tendrils, not NASA. Art becomes technology, the impossible gets real: those missing a limb can now rock climb, play golf, or simply zip up a dress.
Professor Tressie McMillan Cottom (@tressiemcphd to her 48 thousand Twitter followers) has created the nation's first program in digital sociology, an online master's program at Virginia Commonwealth University designed to help working professionals cope with technologies that threaten to upend their careers. The students apply the insights of sociology's founders like Durkheim and DuBois to virtual communities from Facebook and 4chan, and then transfer those insights to a capstone project that solves a real problem in their own disrupted field. Journalism, law, accounting, public health, and even education are rethought and reconceptualized through the lens of sociology's foundational ideas as applied to our society's most widespread social media. The result is an emphasis not on the massiveness of the networks but on their inequality. Sociology, after all, is about the study of inequality. There's plenty of that to go around these days. Cottom helps her students understand the machine well enough to fight with it–and, sometimes, to just fight it. She empowers her students to think about their own professions in new ways and to assume a new kind of leadership role in those professions.
The innovations of these visionary professors would not be possible without cutting-edge technology. At the same time, cutting-edge technology itself becomes the object of study for all of these professors. Rather than banning laptops and smart phones, these professors teach students to use them to collaborate across disciplines–to make, create, do, and resist. They are revolutionizing the university not because of new technologies but to give their students a fighting chance in a world where such technologies, to date, have been created and disseminated without the kind of thoughtful attention to equity, consequences, social justice, and social equality. that a decent, just, democratic human society needs and deserves.