by R. Sekhar Chivukula & Kristen A. Renn, from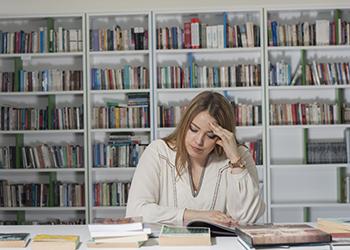 bokehart/Shutterstock
It happens every fall: Over two million New students show up at colleges and universities across the United States. But by winter break, hundreds of thousands of them will have a grade point average that places them in an academic status called probation and puts their college educations at risk.
At Michigan State University, where we work, first-year students who go on probation are only half as likely to graduate as those who don't. This is a big enough problem nationwide that a number of college advice websites offer pointers for students on probation and their parents.
The question for us, as faculty members and academic administrators at MSU, is what universities can do to help more of these students graduate while, at the same time, making sure our academic standards remain high?
Defining Probation
At most universities, students are placed on academic probation when their cumulative grade point average falls below a stated level. At Michigan State University, that's below a 2.0 on a 4-point scale, or below a C.
If they remain below that level in subsequent semesters, they're likely to be removed from the university. If, however, they bring their cumulative GPA back above the cutoff point, they may return to their studies. Many institutions also have a provisional status whereby those students who are making continuous improvement–even if their grades are below the cutoff point–are put on some form of extended probation.
Unlike data on college enrollment and completion, national statistics for academic probation are not tracked. One empirical estimate is that about 20 percent of students at four-year institutions will end their first year of college in academic jeopardy.
That is not a small number.
Differential Impact
Although academic probation is a danger that can befall any student, the stakes are particularly high for students receiving financial aid.
Many institutions give scholarships that depend on recipients staying in "good academic standing." Students receiving federal financial aid must also show that they are making satisfactory academic progress or have taken enough courses and earned high enough grades that graduation seems possible. And so, if a student is put on academic probation, they may lose the financial support they need to continue in college.
Financial aid status is not the only factor that makes a difference in how probation affects students. A recent study showed that among students placed on probation, male students are more likely than female students to leave college voluntarily. Similarly, native English speakers and students with above-average high school GPAs are more likely to leave than nonnative speakers and students with lower-than-average high school GPAs.
Students at the Center
The question is, if probation has such an impact on students dropping out, how can universities help students avoid going on academic probation in the first place?
A number of colleges and universities are taking this issue seriously and reorganizing to design the college experience with students–and student success–at the forefront. As Vincent Tinto, a leading expert on student retention, puts it, students need "learning communities that actively involve students, faculty members, and staff in shared learning activities." Critically, he adds, "no student should be allowed to go through the first year alone, disconnected from other learners in the college."
Institutions large and small have embraced this approach. At Iowa State University over 70 percent of first-year students participate in learning communities. All new students at the University of Rhode Island take "URI 101," a seminar designed to introduce planning for academic success. UT-El Paso offers learning communities, peer leaders and two academic transition courses.
At MSU in 2011 we launched the Neighborhood Student Success Collaborative grouping our residence halls into five separate "Neighborhoods" with their own professional staff and academic advisers. Each of our 8,000 first-year students arriving in the fall of 2017 found a community of support in their new college home and at no extra cost: from tutoring and career planning assistance to fitness classes, a writing center and volunteer opportunities in Lansing and Flint. .
Another option is for universities to look carefully at their essential first-year courses–what is taught and how it is taught. Research has shown that talented students who enter college with weaker academic preparation do better in introductory courses if the additional help they need is provided in parallel with the course, rather than in advance through developmental coursework.
Finally, there are ways for university staff to intervene early in the first semester to help students who are doing poorly.
In the fall 2016 semester, for example, MSU faculty filed real-time early warning reports on almost 18,000 of our 40,000 undergraduate students. To be clear, in most of these cases instructors were letting students know they were doing fine. But in the cases where students were doing poorly, these reports were followed up by academic advisers and neighborhood staff who together with the students put together a plan to deal with the problem. Indeed, such "early alert systems" are also being used successfully at other institutions.
The bottom line at MSU is that Neighborhoods have made a real difference. Since their implementation, MSU's academic probation rate for first-semester students has dropped from over 10 percent to just 7 percent. Or put another way, 240 more students started their MSU career on a much more promising trajectory in 2016 than in 2011.
When Things Don't Go So Well
Initiatives like MSU's Neighborhoods may be keeping students off probation, but what can be done to help those who have already been placed on probation make it to graduation?
Universities are trying a variety of approaches. Prime among them are "monitored interventions" and "academic coaches." At St. Louis Universityfor example, these coaches are "trained to help." [students] improve a wide range of the skills vital to college success" including learning how to wean oneself off Netflix, how to take part in student study groups, and how best to use instructor office hours.
Student success remains a work in progress. There are no silver bullets or one-size-fits-all solutions. Broad empirical evidence of how well existing interventions work is mixed. But universities are learning from one another, and now networks of institutions, like the University Innovation Alliancehave begun to test, scale and diffuse practices that have demonstrable effects on student performance.
All these initiatives, of course, require investment on the part of universities. However, we would argue that these costs are small relative to the benefits to students–and to the universities.