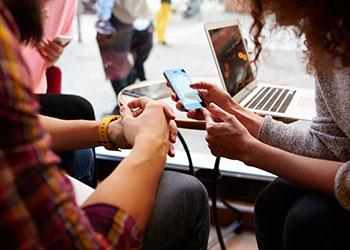 GaudiLab/Shutterstock
As students head off to new colleges and universities this fall, many are more familiar with their campuses than students were a few years ago. The presence of colleges on Facebook, Twitter, Instagram, and Snapchat, among other social media platforms, has allowed students to connect with their college environments before ever setting foot on campus.
In addition to using these platforms to increase student engagement, many institutions of higher education use social media to raise awareness and recruit new students. Through Twitter and Instagram hashtags, Snapchat takeovers, and Facebook campaigns schools are able to promote themselves in new and more effective ways.
Nikki Sunstrum, director of social media at the University of Michigan, and Nick Wilson, social media coordinator at Texas A&M University, explain why social media is an effective recruitment tool below.
Prevalence
Social media is quickly growing as a large part of teenagers' and young adults' lives. A 2015 study by Common Sense Media showed that on average, Teens are spending nine hours a day using and consuming social mediaand a study by the US Department of Human Services showed that 71 percent of teens use multiple social media platforms.
"Social media is an important tool because you have to meet prospective and current students where they are," explains Wilson. "Social media is where many students find and share information, engage with others, and join communities."
Customer Service
Through social media, staff can instantly and easily connect prospective students to answers and resources.
"At Texas A&M, we have @aggiebound, a Twitter and Instagram account specifically dedicated to prospective students," says Wilson. "They share pertinent information about applications, housing, financial aid, etc., as well as carry on informal discussion about what life is like at Texas A&M. With a separate account, @aggiebound can be more focused on customer service and helping prospective students through finding their way to Texas A&M."
In addition to providing information, social media increases responsiveness to questions and concerns. "When a student has a question and posts it on social media, they are often getting a reply in two minutes or less," says Sunstrum. This is significantly more convenient for young adults than traditional methods of communication such as mail, phone, or email.
Timeliness
Rather than writing articles or posting pictures after events, social media allows students and staff to post content in real time. "Being timely in your content is really important," explains Sunstrum. "Be on top of the pulse of your community rather than reactive."
At the University of Michigan, which was the first higher education institution to strategically launch a Snapchat account, snaps continue to be a crucial way to share timely information with students, parents, alumni, and prospective students.
"We have nearly 30 community geofilters to engage students across campus and regularly create other custom filters to showcase specific events," says Sunstrum. This immediate sharing of events and happenings on campus increases prospective student engagement in new and more timely ways.
Transparency
Social media is a way to express yourself or your brand, and this is seen by many as a transparent form of communication. Rather than a posting on a college website which may have gone through many rounds of editing, social media posts imply more transparent engagement with followers.
"Social media has the advantage of reaching a target demographic in a very open way," explains Sunstrum.
However, this transparency can also lead to trouble if social media users react quickly to issues they don't know much about, get involved in online fights, or inadvertently offend followers. "Avoid snark and sarcasm," advises Sunstrum. "Stay true to who you are and increase the positivity and honesty of social media dialogue."
Relatability
In addition to staff posting information for prospective students, social media allows followers to hear directly from current students, using their own words.
"There is nothing like engaging with students through social media because they are the most passionate advocates for your university," explains Wilson.
The University of Michigan relies on Snapchat to increase the relatability of their social media accounts. "Snapchat allows us to capitalize on user-generated content more so than Facebook," says Sunstrum. "We do weekly takeovers and stories to show what it's like to be a student here or what you need to know to move into a dorm."
Prospective students are able to relate to content posted by people closer to their own age or who are in similar phases of life to their own. The interactivity of hashtags, geofilters, and user-generated content allows prospective students to feel more connected to and engaged with the universities they're considering attending.
Social media is able to showcase many dimensions of the college experience from several perspectives in a way that no other form of communication has been able to do. "You get to cultivate a rich community based upon your academics, traditions, and contributions from students and alumni," says Wilson. "I get to show the world what makes my university different and great things our students and faculty are doing. And through the various social media platforms, I get to contribute to Texas A&M's online personality and have fun with our followers."