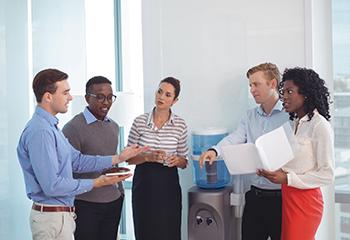 wavebreakmedia/Shutterstock
So, you are finally newly-minted tenure-track faculty at an institution that you like and feel you can grow with in the years leading up to tenure review. And, then it happens. You find yourself surrounded by more than one over-bearing (yet always smiling) senior faculty member at the "water cooler" with unsolicited information (and even more questions about you) than you ever dreamed of entertaining. Keep in mind that the academic water cooler can be any space — parking lot, hallway, campus lawn, dining hall, etc. — where unsolicited discourse can be sparked between senior and newbie faculty members.
The water cooler is both literal as well as metaphorical and has become iconic in academic and corporate structures as a place where employees gather to share information about the workplace. While there are some positive findings on this topic such as one referenced in a brief article by Debra Bradley Ruder in "Harvard Magazine" (May-June 2011) entitled "The Water Cooler Effect," as a person who has navigated academic landscapes for over 25 years, I do not recommend water cooler based discussions on serious academic matters for new faculty.
What should you do? Engage the senior faculty? Walk away? As new tenure-track faculty one of your major goals is to be collegial as well as scholarly, so navigation tips from a professional who started in the academy as an adjunct and is now a vice provost may provide itinerary options for new faculty on the journey to longevity and tenure in the workplace.
New faculty need to know that some particularly troublesome senior faculty carefully strategize upon the key areas for their Foot-loose mentoring of freshly minted faculty. What I am calling foot-loose mentoring can lead to new faculty experiencing an unsuccessful first year at an institution through engagement with classical tenured academic troublemakers. A few areas of their discontent are salary, teaching schedules, personality conflicts with leadership and other faculty, and misunderstandings of faculty governance leading to infamous and unnecessary coup d'états. Too often, these senior faculty seek to engage new faculty in their areas of discontent.
Knowing the key areas of "to-be-avoided" water cooler discourse may provide new faculty with the knowledge needed to divert and abort problematic areas of discussion and perceived collusion.
Here are some first-level topics that new faculty should avoid entertaining with senior faculty:
• Salaries – Sharing information about salaries can lead to discord when all of the details are unknown. For example, someone hired in 2017 may have a dramatically higher salary than someone with the same credentials hired in 2007. Why? One major reason is the use of pay scales such as those offered by CUPA-HR (College and University Professional Association for Human Resources). Additionally, beyond the academic credentials and experience of an individual, factors such as geographic relocation, time of hire, and additional training often impact salary variances. New faculty should avoid discussing their salary package as this information is confidential to a point depending upon the organization of the academic institution. For public colleges and universities, this information is published annually, so there is no need for water cooler discourse. For private colleges and universities, new faculty with concerns about their salary should consult first with their immediate supervisor (department chair/coordinator) and next with the office of human resources.
• Teaching Schedules – New faculty may often receive teaching schedules that bring logic into question. For example, in my former life as a dean reviewing schedules of my department chairs, I have seen some new faculty assigned a Monday/Wednesday/Friday 8 am class and a Monday/Wednesday/Friday 5 pm class further complicated by the assignment of a Tuesday/Thursday 8 am class and a Tuesday/Thursday 5 pm class. Looking at such a scheduling matrix provides a scenario which may prove untenable for most; the faculty is not only required to be in attendance all day on campus (or at least be in close proximity to campus all day) but also such a schedule requires the faculty to be on campus early and late on every day of the week. Complaining to a senior faculty member that is not your immediate supervisor will not alleviate your scheduling concern. It may, instead, create talk of your complaining and have senior faculty saying (albeit behind your back) – "Someone else will gladly take that teaching position." If you find yourself in such a situation, talk first to the department chair or department coordinator.
• Personalities – Asking or being asked (and then responding) to a question such as "Do you like the department chair/dean/provost/president/faculty member?" is a major area of ​​water cooler discussion to avoid. As new faculty, it is a wise move to form new relationships based on your interactions and experiences with individuals and not based on reportage/second-hand information from faculty and/or staff who have senior-level interactions and experiences — in short, history — with college or university personnel. A large part of your academic success depends on navigating varied personalities within your new academic terrain.
• Coup d'états – Avoid being coerced into potential political battles within the department and across the college or university through unproven allegations and vaguely supported opinions of senior (or, any level) faculty. As new faculty, take the time to educate yourself by first reading policy manuals and having discussions with the leadership of your unit. Early complicity with troublesome senior faculty who populate the literal and metaphorical water cooler spaces may curtail your longevity at the institution. Circulating petitions and using institutional email to send personal rants about administrative staff and fellow faculty are not only unprofessional but also potentially libelous. While, unfortunately, this type of behavior has been allowed to exist at some institutions, do yourself a favor and avoid engagement of any kind.
The aforementioned areas are just a few of the likely talking points at the water cooler for senior faculty who have erected agendas for infiltrating the ranks of newly minted tenure-track faculty. So, what can you do to professionally and tastefully exit such forums? Of course, as new faculty you do not want to offend senior faculty, so a very few minutes of noncommittal yet polite discourse with an exit line such as "Nice to see you, but I have to get back to my class/office/appointment , etc." will more than enough. Such an exit line will more than likely create your brand as always busy but never rude.
Above all, remember, as new faculty you have joined the institution primarily to teach and to conduct research and related activities as needed to support and promote your teaching. Along the way to these goals, new faculty will also meet senior faculty who may serve as excellent formal and informal mentors. Avoid the literal, metaphorical, and increasingly iconic water cooler. Gathering at this watering hole too often has led to the demise of promising new faculty.

Dr. Emily Allen Williams is Vice Provost for Curriculum and Assessment at Ramapo College. She is the former Dean of the College of Liberal Arts and Social Sciences at the University of the Virgin Islands.