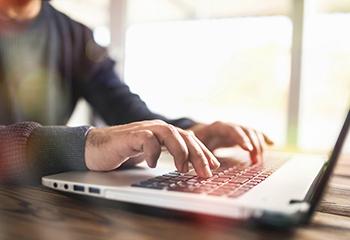 ilkercelik/Shutterstock
Earlier this year Gallup released its State of the American Workplace report, which revealed that more than half of all US employees said they are actively looking for a new job or watching for openings. This is not all that alarming, considering that more than a third of American workers reported an actual job change in the last three years, and, besides, who doesn't want a better job?
Before you commit to an active job search, however, it's important to determine if you should be spending your time and effort seeking new opportunities.
There are jobs to choose from. HigherEdJobs lists nearly 40,000 open positions, and according to its annual employment reportthe total number of advertisements for job postings in academia increased 7.6 percent in 2016. (Although that was the slowest annual growth since 2013, after a 17.3 percent increase in 2015.)
Still, having one foot out the door will almost certainly affect your current job performance and make you less engaged. It's easy to say, "Yes, I'm unhappy with my job," or "Yes, I could do better," but conducting the following writing exercises will help you know if a job search is worthwhile, or make you more deliberate if you decide to pursue a new gig.
Write Your Resignation Letter
This is recommended by Todd Henry, an author who specializes in creativity, productivity, and passion for work. In a recent episode of his podcast, The Accidental CreativeHenry explains why writing your resignation letter (but not sending it, of course) will help organize your thoughts and, at the very least, get some frustrations off your chest.
This letter should be more detailed than a formal resignation letter. Include all the reasons you need to move on and how disappointed you are with your job. Once you are done, review the letter from the perspective of your supervisor and executives at your institution. Is there anything they can change? Would they be willing to adjust the terms of your employment? It never hurts to have a discussion to find out.
Write the Job Description of Your Next Job
Before searching open positions on HigherEdJobs you should first establish your baseline expectation. Be specific, mentioning the type of institution, culture, values, direct reports, objectives, and salary. While you may be disappointed to find there are no current openings that fit your criteria, having this job description in writing sets a standard that you determine, not the job market. This exercise will also help you realize just how much your frustrations can be experienced at other institutions.
If your perfect job does not exist, use this exercise to determine what motivates you and where you are willing to compromise. Henry has a theory that professionals have three primary motivators for doing great work: pay, prestige, and process. Higher ed professionals are not solely motivated by any of these, but collectively they define your motivation. Noticing where you place these motivators in your ideal job description will help you discover your place.
Write Down the One Reason You're Leaving
According to the Gallup poll, the most common explanations employees give when they voluntarily leave their jobs are career growth opportunities, pay and benefits, manager or management, company culture, and job fit. Your reasons may be a combination of all these reasons, but there will come a time when you'll have to answer "Why?" from a search committee for future jobs, your current coworkers, and your family, spouse or partner. By anticipating your best response to these parties, you will better understand what's most important, especially if you will need to relocate your family.
Write Advice to Your Successor
Pretend that the person who will replace you after you leave your job is a close friend, a colleague you admire, a younger version of yourself, or a person of equal skills and experience as yourself. What will you warn her about? How can he be successful and avoid the same frustrations you experienced? Sometimes viewing your job with a fresh approach will open your mind to changes that you could easily make. Henry implores would-be job seekers to ask, "Where am I abdicating my responsibility for the situation rather than embracing my contribution?"
Identity Patterns
After you've compiled all these writing exercises, look at the overall tone and narrative. Are there recent frustrations or old wounds? This could be just the therapy you need to heal and either rejuvenate your approach to your current job or give you conviction to move on to the next opportunity.