by Christopher D. Lee, Ph.D., SPHR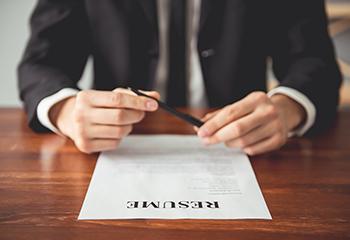 George Rudy/Shutterstock
In today's short-attention-span world, I have resisted the use of 140-character communications and text message conversations for formal purposes. Yet, on the basis of the popularity of their use, there must be some value in the clarity, brevity, and simplicity of these media. It is no secret that the academic community is not known for short verbal or written communications — so seasoned academics might bristle at the thought of being reduced to an elevator pitch to describe their research agenda. For instructional purposes alone, could you coherently and accurately describe the goals of your research in 25 words or less if funding for your research depended upon it?
Academics could learn from songwriters who often describe the chorus of a catchy tune as a "hook." You remember it and sing it over and over again, even if you don't remember any other words. While we might have the opportunity to capture the interest of an audience or spend 50 minutes convincing students of our perspective, potential employers are not as likely to give us that much time or attention. Experts say that we often get as little as 60 seconds to make a good impression on paper as resumes and CVs are quickly reviewed on the first pass. Objective statements and opening lines of resumes often start with a summary or overview. What should this brief statement communicate? Alternatively, what impression could one leave with the National Science Foundation representative whom you met at a social event, or the editor of a top-tier journal with whom you shared a shuttle ride to the conference hotel?
Today's notion of a personal brand is a brief statement or two that summarizes one's professional experiences in a way that creates a positive image or association. It summarizes what we are good at, what we care about, and how we serve others. Some great brands can be deduced to a single word. We associate Volvo with safety, Apple with innovation, and Chanel with style. Artists and athletes have personal brands. Many of them have millions of followers because of their appeal and the ideas that they represent — and sometimes these ideas are not related to their talents. Most often their appeal can be summarized in a few words. What few words would define you best?
A previous post argued that a resume was a marketing piece designed to separate one from the crowd. The Personal Brand Statement is a similar tool. Ideally, it defines you in a favorable way in the minds of those whom you would like to influence — search committees, hiring managers, grant agency decision-makers. Consultants usually do a good job of bolstering their credibility by using well-defined descriptors like best-selling author, sought-after speaker, serial entrepreneur, or retired CEO. Higher education professionals could use the ideas of songwriters, marketers, consultants, and others to create the right image or impression in the minds of others.
Would it be preferable to be known as a senior scholar, tenured psychologist, higher education executive, financial aid director, or as something that has a little more pizzazz? Here are a few examples of makeovers:
• IT Professional: A cyber-security expert who is passionate about protecting organizational assets
• Philosophy Professor: Teacher, student, and lover of ideas
• Financial Aid Director: Problem-solver who helps families find a way to finance their higher education dreams
• Writing Instructor: Storyteller who teaches others how to write happy endings
• Professor of Psychology: Popular professor who investigates the hidden secrets of the unconscious mind
• Director of Campus Housing: Full-time administrator and part-time teacher
A personal brand statement might have its best use in networking situations. Everyone knows that the best method of looking for a new job is through networking. What can you say to your army of friends, family members, colleagues, and associates about you to share with others? A quick quip that will help others share your best qualities with the right people would be a good start.
Here are four ideas for crafting a personal brand statement that helps you land your next employment or consulting opportunity:
1. Personal brand statements should be brief, accurate, actionable, and memorable. While brevity is obvious, it also implies clarity. Similarly, clarity implies simplicity. A long, complicated statement that jams too many ideas into a small space will muddy the issue and confuse others.
2. Experts call commercial slogans and similar statements brand promises. If this is the case, our personal brand should be accurate and should not include embellishments. A health researcher should be in good stead by describing herself as someone who is Curious about the intersections between diet and mental health. Accuracy belies authenticity as well — a true reflection of one's background and abilities.
3. Describing oneself as an avid outdoorsman or master gardener is accurate and revealing, but it does not often help one find employment as a teacher, scholar, or administrator. Therefore, the personal brand statement should have a connection to the professional skills one has to inform others in what areas to help or take action. Telling others that you are an experienced mediator, a romance novel editor, or a virtual assistant that loves making beautiful PowerPoint presentations attracts would-be employers or job opportunities that require those skills.
4. The fourth element in developing a personal brand statement is to make it memorable. Not every statement will have the flair of a historian who described herself as a ghost chaser when speaking before an auditorium of elementary students. Nor should statements in conservative academic environments be filled with compounding and exaggerated adjectives. Nevertheless, carefully chosen words can leave the right impression when you leave the room. Calling oneself "the lady who likes bugs" may say a lot more about you than simply entomologist. Similarly, calling oneself a student success coach is probably more descriptive, accurate, and memorable than the nondescript moniker student counselor.
A personal brand statement encapsulates one's best and most meaningful professional characteristics into a clear, accurate, and easily communicated sound bite. It might seem to be a fad, but long before there were tweets and instant messages, making a lasting first impression was important for all sorts of reasons. A personal brand statement gives one the opportunity to control their image and tell their version of their professional story. It helps one shape their own professional reputation with the acknowledgment that one exists now — whether we intentionally cultivated it or not. So, what is your hook to make partygoers and future employers alike want to know more about you? The next time someone asks, will you say that you are a botanist, researcher, or professor — or will you say that you are a person who studies why and how plants give life to all other living things on the planet?