by Sue Henderson, Ph.D.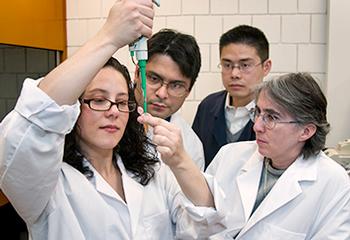 Courtesy of NJCU.
A hundred years ago when the great intellectual Henry Adams reflected on his education at Harvard he noted how little learning had occurred since all the students were the same: "Boys brought up together under similar conditions have nothing to give each other….[T]hey were objectiveness itself; their attitude was a law of nature; their judgment beyond appeal, not an act of either intellect or emotion or of will, but a sort of gravitation."1
There can be no question that Henry Adams was right. When we are with others who hold differing points of view, come from different places, adhere to different values, and have had very different experiences, we have the ideal environment for learning. Over the years this kind of diversity has been a key factor in the success of American higher education. We are fortunate that in recent years our institutions of higher education are becoming increasingly diverse – and there is no turning back. The public schools in the US are currently majority minority.
Following this demographic trend, most college campuses will also be majority minority within the next decade or two. Tomorrow's workforce will also reflect this trend. While this diversity promises new opportunities for learning, it also comes with challenges and the urgent need to do many things differently. In the 60s and 70s, when the number of women in the workforce began to grow significantly, we needed to adapt to new social arrangements, leadership styles, and workplace expectations. We now face similar challenges and opportunities as we rapidly become a majority minority nation. We have a lot of hard work ahead of us if we are to take full advantage of these new realities.
In a recent study by the Pew Research Center, Paul Taylor laments that "Americans are increasingly sorted into think alike communities that reflect not only their politics but their demographics." Too many of us find comfort in retreating from the diversity all around us to something akin to the cloistered halls Henry Adams found stultifying. This not only keeps us ignorant, it also results in a polarized society composed of ethnic and religious groups that are suspicious of the other. We miss out on the value of understanding the 'other' and finding common purpose for advancing forward. It plays out on college campuses across our country, where students have simultaneously ushered in a new civil rights era in which they are demanding more inclusive experiences, and yet often shy away from honest inquiry and dialogue.
Campuses that work assiduously to engage diverse groups in meaningful interactions – engaging with the 'other,' have gone far to counteract this tendency towards insular homogeneous groupings. A model program that began at Queens College, CUNY and has expanded across the country, including my institution, New Jersey City University (NJCU), brings together students from a wide variety of ethnic, religious and socio-economical backgrounds to explore places around the globe where longstanding conflict exists. They visit locations in the middle east to see where groups that historically have been in conflict are working together. The program also provides them with the opportunity to explore their own prejudices and parochial outlooks.
The diversity that enriches our learning environment does pose challenges in the classroom. The demands on a professor today are quite different from those of a teacher at Harvard in Adams's class of 1858. His teachers could assume a certain level of understanding, common knowledge and similar experiences. Today, no such assumptions can be made. Our students come from all over the world, bringing to the classroom very different life experiences, values ​​and goals. What makes teaching today so satisfying is that the faculty member who can harness this diversity creates a learning environment par excellence.
At NJCU we have students from well over 100 countries, over half are immigrants or the children of immigrants, and the vast majority are members of minority groups. In addition, they come from the full range of socio-economic groups, multiple ethnicities and religious communities. The diversity that fosters learning is our starting point.
That diversity enlivens the classroom. For example, in a public policy or philosophy class, if every student believes that physician-assisted suicide ought to be the law of the land, real discussion will almost certainly not occur. Everyone will agree. But, with students from many faiths and cultures and experiences all together in one space, many points of view will be brought out allowing students to consider points of view far different from their own. The diversity forces a kind of critical thinking that higher education values ​​most highly.
Even in fields that do not pose controversial moral or social questions, learning is enhanced when students approach a subject from many different perspectives. The learning of mathematics and analytical problem solving are approached differently across the globe. Bringing these differing learning strategies together in one classroom so that students can take advantage of them in solving complex problems enables a richer and more nuanced solution.
In today's world with its global markets, business courses that provide students with the opportunity to interact with students from across the globe clearly offer advantages over courses devoid of such diversity. The students surrounded by diversity throughout their course of study will be far better prepared for not only their first but also their second and third jobs.
We all know what great value study abroad gives to students. It allows students to immerse themselves in another culture, to speak with native speakers, and to see their own ways of doing things in a new way. We should continue to encourage this for all of our students. However, for those students who cannot avail themselves of study abroad opportunities, having a diverse student body and residing in a diverse community can allow students to experience some of the advantages of study abroad here at home. This, of course, requires that we create venues in and out of the classroom to capitalize on this. For example, a student learning a language could readily speak with native speakers of that language on a richly diverse campus. Student life programs that celebrate the diversity can offer students ways to express their pride in their heritage by sponsoring campus-wide activities such as fashion shows, musical performances, traditional dance routines, as well as lectures and discussion groups on issues of the day.
These are exciting but also challenging times. Concerns and fears about the impact of immigration have bubbled up to the surface. Those of us in higher education who see the value of the diversity that immigration brings, must lead the way in demonstrating the profound value of diverse people coming together in common purpose.

1"The Education of Henry Adams: An Autobiography," Houghton Mifflin Co. Boston, 1918, p.58.