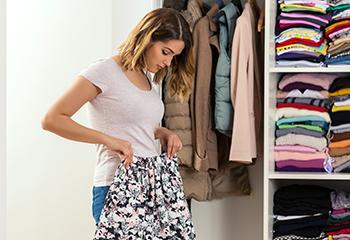 bokan/Shutterstock
In 2016, Larycia Hawkins, a tenured professor at Wheaton College (an evangelical school in Illinois), was fired for wearing a hijab. In explanation, Wheaton College said Hawkins was fired, not for wearing the Muslim head covering, but for her published defense of what she wore. The college found her reasons for her head covering to be against their tenets of faith. Also in 2016, a Russian professor made international headlines when a YouTube video surfaced of him delivering an anatomy lecture in the nude; the Russian professor was also fired.
Most professors, and others working in academia, make fashion choices that lie somewhere between head-to-toe covering and nudity, and very few in higher ed are fired for their fashion sense. Although popular stereotypes would say that professors are not particularly concerned with fashion, questions of what to wear on campus can still be complicated and full of peril.
Young professors and other faculty or staff may worry that dressing in a relaxed manner will lead to them being mistaken for students. Older professionals and professors may worry that dressing too formally will make them seem out of step with today's more casual workplace norms. A recent survey from OfficeTeam shows that no one is exempt from the confusion as half of surveyed executives agreed that employees dress less formally than in the past, but 47 percent cited overly casual attire as a workplace problem.
Signifiers such as hijabs, turbans, and yarmulkes are often sources of anxiety for religiously observant professionals and women often feel overly scrutinized for everything from neckline to heel height. So how should professionals dress on campus?
Sarah Shah, an image expert and author, advises that those on campus worried about appearing too young should modify their clothing slightly. For example, wearing clothing that has more structure, such as a jacket instead of a sweater, or wearing more formal jewelry or ties. Francesca Williams, a young African-American lawyer, feels that women and people of color simply don't have the same ability to "dress young" that white men do, if they want to avoid racist and sexist assumptions. Williams constantly scrutinizes her own wardrobe and that of her clients to make sure they aren't sending unintentional messages with their choices.
On the other side of the equation, Shah advises that those worried about appearing older consider more casual pieces — replacing a button-down shirt with a t-shirt, for example, or wearing younger accessories with more formal attire. Whatever concerns you have about clothing, Shah and other fashion experts stress that it's important that you feel comfortable in what you choose to wear. Dressing in a "costume" that you don't like won't help you succeed.
Obviously, for those who work in labs or around food, safety should be the primary consideration in dress. But even those in classrooms may have unique fashion concerns. Constant movement, changing from sitting to standing, and exposure to chalk and dry erase markers make sturdy, easy-to-wash clothes attractive to many professors. Comfortable shoes are important for anyone who spends their days on their feet lecturing, as well as those whose campus lives involve a lot of walking between buildings.
Some people choose to sidestep the various sartorial minefields by adopting a uniform. Rachel Davis Humphries, a marketing coordinator, owns the same blouse in several different patterns and colors, and the same pants in a few different colors. She wears a combination of the blouse and pants every workday. Humphries read about the idea of ​​creating a personal uniform in a magazine several years ago and has found that dressing in this way saves her time and ensures that she always feels confident about her appearance.
Others feel a uniform automatically confers respect and authority. Although she's not required to do so by her practice, Joyce, an optometrist who prefers to remain anonymous, wears a lab coat every day. She adopted the practice when she was younger and was concerned that patients might not recognize her as the doctor. As an Asian woman, she finds that not wearing her lab coat still leaves her vulnerable to mistaken identity. Without her lab coat people often assume she is an assistant and ask to see the doctor. Professors who work in labs and have similar concerns can easily adapt this practice, but those in the Humanities might feel a little out of place in a white coat.
Jeff, an adjunct professor and clinical therapist, has a different approach to uniforms. He asked to remain anonymous so as not to reveal his secret. Because he teaches on the same day every week, and sees the same patients on the same day each week, Jeff wears one outfit for an entire week (adjusting for weather as needed). Jeff developed his unique approach to dressing after his wife mentioned trying to avoid wearing the same outfit to see her clients one week apart. Jeff changes clothes as soon as he comes home to keep the outfit fresh for the next day. This approach might not work for everyone, especially those prone to sloppy eating and perspiration, but as with others who wear "uniforms," ​​Jeff finds having his clothing pre-selected saves him time and reduces anxiety.
Getting dressed in the morning is an intimate activity with public implications. Increasingly relaxed rules and norms about what's considered "appropriate clothing" have made getting dressed for work more, not less, complicated, and have left many yearning for the safety of a lab coat, judges' robe, or uniform. Unfortunately, those of us not expecting to be placed on the Bench will have to continue to muddle through the daily chore of deciding what to wear.