by George R. Boggs, Ph.D. and Christine Johnson McPhail, Ph.D.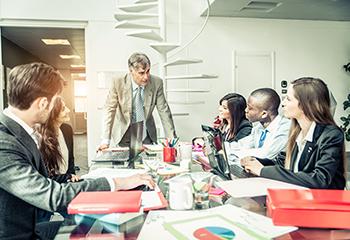 oneinchpunch/Shutterstock
Governance systems are central to the institution's sustainability and a necessary foundation to executing strategies and accomplishing goals. Today's most effective college leaders facilitate the participation of people in making the decisions that will affect them. Faculty, staff members, students, and community members often serve on advisory or participatory governance committees. Because of the size and complexity of the organization, college presidents have to delegate many decisions to others, and governance committees most often inform those decisions. However, neither the delegation nor the participation of others relieves leaders or the board from responsibility for proper administration and governance of the college.
Christine McPhail, Ed.D.: To ensure that institutions focus on the right issues, trustees and presidents should welcome and encourage the orderly involvement of students, employees, and citizens of the college district when discussing new policies, plans, and practices. Presidents must make an assessment of what is important to stakeholders and help boards recognize the complexity of issues faced by the college. Leaders must also help the board understand the importance of participatory governance and the need to consider recommendations from internal governance committees. While some aspects of day-to-day operations may be of interest to trustees, they may not be considered material or relevant for trustee engagement. George, can you comment on problems that arise when trustees become too involved in day-to-day operations?
George Boggs, Ph.D.: Yes, this is an all too common issue, Christine. Trustees need to remember to take a long-range view and focus on community needs when establishing plans and policies instead of directing how they are implemented. If trustees start micromanaging, they lose the objectivity needed for effective policy governance. For example, a most important board responsibility is to set and periodically review the college mission and vision statements and how they align with community needs. While the internal college community may be focused on short-term, internal issues, boards have an obligation to focus more externally and to insist on long-term planning.
McPhail: Speaking of planning, trustees and presidents must be sure that the college community engages in this important activity and develops a useful educational master plan in agreement with the college mission and vision statements. The institution's governance mechanisms should inform the strategic planning process. The facility, staff, instruction, student services, and information technology plans should be integral parts of an integrated educational master plan for the college. It is not the responsibility of the board or the president to draw up the long-range plans, but to insist that the administration, faculty, and staff do so in terms that the board can approve. By listening to stakeholders' feedback, college leaders can get a deep understanding of the issues and risks that matter most to the stakeholders and identify emerging trends and opportunities. Issues, risks, and opportunities can then be prioritized and assigned to appropriate individuals who have the responsibility for developing a plan of action in response.
Boggs: Yes, Christine, planning is an important activity that is often not given the priority it deserves. Another concept to appreciate is that college leadership is a team effort. In order to have a more complete understanding of college governance, it is essential to understand the necessity of delegation of authority. A college president, through authority delegated by the board of trustees, is responsible for the effective and efficient administration of the college and is expected to recommend policies to the board and to develop and revise the administrative procedures to implement them. Likewise, the president must delegate certain administrative responsibilities to senior administrators. To carry out these responsibilities in a collegial setting, it is important that avenues are established to advise the president and senior administrators with regard to both operations and the development or revision of policies and procedures. College and campus committees are the most common avenues to gather advice from those who are expected to implement decisions and policies.
McPhail: Yes, and it is instructive to distinguish between administrative and participatory governance committees. Administrative committees serve two purposes. They provide advice to a particular administrator in the area of ​​operations. They also serve as a communication vehicle to ensure that procedures are interpreted and applied in a uniform manner. Generally, administrative committees are made up of those who report to the administrator who chairs the committee. Agendas can include confidential and sensitive items. A President's or Chancellor's Cabinet is an example of an administrative committee.
Boggs: Good point, Christine. In contrast, participatory (sometimes called shared) governance committees differ from administrative committees in that they bring together representatives of the college's constituent groups. They provide an avenue for an administrator to receive valuable advice from those who are most knowledgeable about specific aspects of the college or district while also providing an opportunity for employees and students to have a say in recommendations that will affect them. Recommendations for new policies and procedures or for changes in policies and procedures are best brought before a governance committee before being forwarded to the president or the board for action. Generally, governance committees are made up of a specific number of representatives either appointed or nominated by the constituent groups.
McPhail: Let's not forget another important college governance group, George. Most institutions of higher education have an academic or faculty senate with the primary focus on academic and professional matters, such as curriculum, grading policies, degree requirements, student learning and success strategies, accreditation requirements and standards, faculty qualifications, and faculty professional development and training Any changes in policies or procedures that impact academic and professional matters often need the advice of the academic senate.
Boggs: Yes, Christine, and sometimes colleges have classified employee senates to provide advice in nonacademic areas. Problems can arise, however, when there is overlap between senates and employee unions. Unions, as collective bargaining groups with special legal status, are not usually considered constituent groups for the purpose of participatory governance. Confusion over the roles of employee unions, which are charged with negotiating compensation and working conditions, and participatory governance committees that recommend changes in college policies and practices, can cause significant problems for college leaders. When practices affect working conditions, both participatory governance committees and union negotiators become involved, and it is important to delineate responsibilities appropriately.
McPhail: I agree, George, but there are many other governance issues that often emerge on college campuses. Sometimes, internal governance processes become ineffective or overly bureaucratic. College practices that are hindrances to effective management or the ability to serve students and communities may develop over time and may even be memorialized in union contracts. When internal governance practices become ineffective, faculty, staff, and administrators can be frustrated by how long it takes to make decisions. Communication mechanisms can break down, leaving people uninformed about the disposition of recommendations that were forwarded to committees. When committee members come to believe that decisions are made by majority vote, administrators may not know the extent of their authority and how they will be held accountable for decisions and their implementation.
Boggs: Yes, Christine, it is a common mistake to try to make decisions by majority vote of a governance committee. We need to remember that administrators should carefully consider the advice and recommendations of governance committees, but the administrators are responsible for the operation of the college.
McPhail: I agree, George, and it is hard to be held accountable if one does not have authority. Another common issue on college campuses is the belief that communication needs to be improved. Sometimes this is due to the way colleges operate in departments (or silos) with little interaction between them. College faculty, staff, and administrators are very busy people who sometimes don't take the time to communicate adequately — or pay attention to what is communicated. Structure plays a large role in shaping organizational culture as well, and colleges may find it necessary to change organizational structure to remain competitive or adapt to changes in the programs and mandated policies. The issues that are most sensitive, such as plans or decisions that affect the college's people, its mission, strategies that are utilized to accomplish the mission, and the effectiveness of those strategies need to be the most publicly communicated.
Boggs: Yes, Christine, we cannot forget the importance that communication has on the effectiveness of governance. Brief summaries of meetings of governance committees should be posted in a timely manner on the college's Intranet with links to the official agendas and minutes. Dashboards or a Gantt chart model should be devised to show the progress of college projects towards measurable goals. Members of governance committees need to take responsibility to communicate regularly with their constituencies. College leaders can schedule periodic meetings on campuses at convenient times to discuss important college issues and to provide employees an opportunity to ask questions. They can seek opportunities to bring employees together across the campus or campuses for more social interaction.
McPhail: George, you are on point with your comments about the importance of bringing people together. Leaders must also consider training. The one thing that most often stands in the way of effective governance is a lack of training. This can be due to either lack of access to quality training or unwillingness on the part of employees to attend training sessions. In our many visits to colleges, we have seen leaders struggle with effective governance. In our book, we provide a more thorough discussion of delegation, communication, and governance.
We have enjoyed the opportunity for the past few months to comment on a few of the most important issues that higher education leaders are facing today. We appreciate your engagement in these topics. Most of all, we appreciate the leadership that you provide at the faculty, staff, and administrative levels to our colleges and universities and the support and academic challenge that you provide for our students.