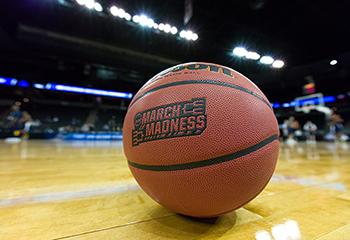 Al Sermeno Photography/Shutterstock
The swishing of basketballs through nets, the angry sound of the buzzer, and the footsteps of sneaker-clad players bounding across the court propel fans' excitement to a fever pitch this month. College teams take to the courts for the 2017 NCAA Division I men's and women's basketball tournaments that started last week.
The tournaments — referred to as March Madness because of the sometimes unexpected results — ignite team rivalries and spark the creation of office pools that allows participants to bet on the outcomes of the games. They also can offer lessons on how to lead high-performing teams, according to Pam Borton, who coached the University of Minnesota women's team for 12 years.
"You can't lead the same way you did decades ago," said Borton, who, despite achievements earlier in her career, was fired in 2014 after failing for five consecutive years to take the team to the NCAA tournament. "If you are, you may be frustrated [as a leader] or underperforming [as a team]."
The Golden Gophers made the NCAA tournament in six of Borton's first seven seasons at the school, including advancing to a Final Four game and three Sweet Sixteen competitions. She was the first coach in Big Ten history to win 25 or more games in each of her first three seasons at Minnesota. She became the winningest head coach in the school's program history. In 2004, the New England Basketball Hall of Fame named her National Coach of the Year. In 2013, she coached the US Olympic women's basketball team to a gold medal.
Today, Borton is a global leadership consultant at Minnesota-based Borton Partners, which focuses on executive leadership; a senior executive coach with the International Coaches Federation; and author of "On Point: A Coach's Game Plan for Life, Leadership, and Performing with Grace Under Fire" (Morgan James Publishing, 2017).
Coaching strategies have changed over the years, Borton told SHRM Online, and coaches have had to change their approach — just as leaders in corporate America have had to do.
"We all used to lead [teams] kind of the Bobby Knight way — [through] dictatorship, [a] 'my-way-or-the-highway, trust-me, just-do-it [approach],'" she said, referring to the legendary and controversial Indiana University (IU) men's basketball coach.
Knight led the Hoosiers to three NCAA championships, took Texas Tech to four NCAA appearances, and coached the 1984 US Olympic men's team to a gold medal. He made headlines when he famously hurled a chair across the court during a game against Purdue University in 1985 in reaction to a referee's decision. He was at IU for 29 years; the school fired him in 2000 for an alleged "unacceptable pattern of behavior."
"Now leaders are looked at to be more authentic, more compassionate, have more empathy. Leaders have to have soft skills… [and] build relationships" with the people they lead, Borton said.
Hiring, Motivating the Right People
Take time to hire the right people, she advised, noting that while a candidate may have the skills you seek, that person may be the wrong player for the team.
"I'll take a little less talent to get the right person. You can always teach the skill," she pointed out.
It's important, she wrote in a LinkedIn blog, to recruit and hire people who share the organization's values ​​and to communicate those values, expectations, and vision before bringing people onto the team. It's also important for leaders to stay true to their values, she said. After the 2008-09 season — when her team lost 72-55 to the University of Texas in the first round of the NCAA tournament — Borton says she strayed from what she believed was the best approach to putting together a winning team.
Feeling extreme pressure to ramp up her program so her team could reach the NCAA tournament every year, "We modified the way we recruited and how we evaluated talent, and the types of players we brought into the program changed," she wrote. The players were more talented, but they were the wrong fit, "and our approach changed the trajectory of the program in the wrong way."
It was, she wrote, one of the biggest mistakes she made as a coach at Minnesota, and it set the program back.
Keeping Top Players
Retention tactics should not be overlooked, she wrote in her book. About 40 percent of all NCAA Division I male basketball players will transfer out of their initial school by the end of their sophomore year, according to NCAA figures. More than 100 female college basketball players transferred from schools in major conferences in 2015, according to Borton.
She has found that the "secret sauce" for keeping top talent is building relationships, developing individual and team skills, and showing appreciation for people's contributions.
Getting to the Final Four
Minnesota's win over Duke in 2004, propelling the team to the Final Four, was the highlight of her coaching career at the school, Borton wrote in her book.
Getting there started with setting early-season, mid-season, regular-season, and post-season team goals and celebrating even small successes, she wrote. It's important to communicate those goals clearly and concisely, she said. Identifying individuals' strengths and responsibilities and cultivating "a culture of accountability" are also key, according to Borton.
Individual Growth = Organizational Growth
Borton thinks an organization's growth starts with:
• Making sure employees are in roles that allow them to use their strengths.
• Giving them projects to work on.
• Engaging them.
• Being flexible as a leader.
• Listening to team members to learn what they need to succeed.
"If you don't know what motivates your employees, go ask them," she said.
Doing so could help put your organization on the road to its own version of the Final Four.