by Daniel B. Griffith, JD, SPHR, SHRM-SCP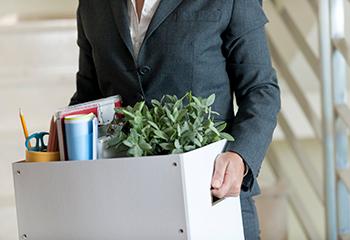 Will Selarep/iStock
Congratulations! You landed your dream job, which means you can finally leave that awful job that you thought you would never escape. Perhaps it's all you can do not to scream and tell the world how excited you are about leaving and vent your frustrations about how bad things have been. You've given two weeks' notice and perhaps you're tempted to slump off on current assignments, take as much remaining paid time off as you can, and, if not withdraw completely from helping colleagues as they take on your assignments, don't be overly helpful and forthcoming either.
There are so many things you could do to show your boss, colleagues, or organization how much they will miss you and how poorly they've treated you. Let's face it – you're human. Who hasn't felt at some point in their career an overwhelming sense of ingratitude from their employer and fantasized about retaliating, if only in subtle ways, upon exiting?
If this describes how you feel, here's a quick bit of advice: Don't do it! You may be completely in the right and your employer completely in the wrong with respect to the poor state of affairs, but it will not benefit you to make a bad situation worse by engaging in negative attitudes and behaviors as you leave. Make it a graceful exit. Here are some tips:
Give a clear, succinct, and polite notice. Even if your boss doesn't deserve it, show respect by meeting in person to provide your first communication about leaving rather than only sending an email. At the meeting, present a short, succinct letter or follow up immediately with an equally succinct email. Although it is common to state where you are going and to express appreciation for the opportunity you've been given, it is not required. Simply state you are resigning with an effective date. You can decide how much you will share with your boss about future plans, but don't use your notice meeting and message as a means for venting or allowing yourself to be baited into doing so by a boss you don't trust.
Negotiate your remaining time. Whether at your notice meeting or shortly thereafter, begin a discussion about how you will use your remaining time. This includes remaining projects to complete or to pass on to others as well as any earned paid time off you would like to take before your last day. If you have a lot of earned time and risk losing it, you might want to negotiate with your new employer a later start date and, therefore, a later date by which you will first communicate notice. You can then take earned time in a more relaxed manner rather than attempt to squeeze it into your last two weeks. While you may prefer to essentially be absent for most of your remaining time, consider the message you'll send if you aren't present and cooperative during your last two weeks. This goes to the next point.
Cooperate fully with your boss and colleagues. You know best what projects and assignments need to be completed and the time needed to complete them. Be transparent about these matters as you hand off work to others. For short-term, achievable assignments, complete them. For a longer-term project, inform your boss and any co-worker who takes on the project where you have left things and next steps. Pass on all files, both physical and virtual. Inform external colleagues, clients, and constituents to whom you still owe a response that you are leaving and with whom they will interact thereafter. A disgruntled employee may be tempted to withhold necessary information about projects and working relationships. This is unprofessional and will ultimately do more to damage your reputation than prove a subtle, misguided point about how valuable you were or how much you will be missed.
Be gracious and circumspect with well-wishers. You may wish to make phone calls or send emails to trusted colleagues to communicate your intentions to leave. Keep it positive and professional. Share your plans and when your last day will be. Express appreciation for the opportunity to work with them and express, as relevant, your desire to keep in touch. As it becomes known you'll be leaving, colleagues may call, email, or stop by. Some may wish to go for coffee or lunch. Don't use these exchanges as opportunities to share negative experiences about absent third parties. Focus on the positive aspects of your relationships. Be circumspect with any well-wisher who seeks to delve deeper. You and your colleague may share common knowledge about a negative situation, but focus on what you can learn from the experience rather than running someone down.
If you must vent, find the appropriate venue. In your last days, you are neither expected to blindly accept nor remain completely silent about objectively unfair and negative experiences. But choose your venues wisely rather than in a scattershot fashion with anyone who will listen. If it is your boss that has troubled you and you feel comfortable doing so, ask to meet and offer your insights and suggestions for improvement that will benefit him or her and your colleagues in the future. If that is not a wise option, meet with HR or other office responsible for addressing employee issues. Many organizations offer an exit interview process. You can then share your concerns more openly, but remain professional, objective, and fair. Generally, during an exit interview, you will be asked if your information can be shared with your supervisor. If you decline, at least the organization will have general awareness of the issues for future consideration.
"Don't burn your bridges." This is, of course, the perennial advice you'll hear when faced with a difficult work transition. It is about keeping your good reputation. While you may never use your boss or other difficult colleague as a reference, you never know how your bad behaviors in your last days may become known. You also never know how a perceived enemy now may become your friend later and offer unsolicited input about how professionally you behaved during trying times. And because you never know, do all you can to guard your reputation and not make your actions an excuse for a bad word against you.