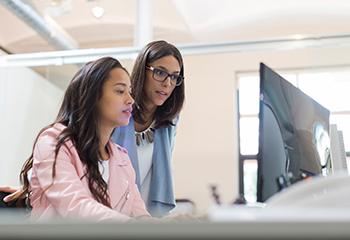 Tempura/iStock
Mentors are a crucial part of higher education professionals' support systems. Mentors can provide support and advice to job seekers as well as to people settled in their careers. In this month's interview, Dr. Gerard Kowalski and Dr. Anne E. Lombard shares her thoughts on the value of mentorship, how to find and interact with mentors, and the role of mentors for professionals seeking work in student affairs.
Andrew Hibel, HigherEdJobs: Dr. Kowalski, you work in student affairs as the executive director of university housing at the University of Georgia. Briefly tell us about your professional path that led you to this position.
Gerard Kowalski, Ph.D., Executive Director of University Housing, University of Georgia: A long time ago in a galaxy far far away, I was an RA in college. I wanted to be a teacher and a coach, but a two-year stint as a graduate residence director convinced me that working on a college campus was more appealing. My first full-time position was an assistant director of residence halls at Trinity University in San Antonio, TX. I went to my first professional conference and a curtain was lifted for me about human development for college students. I moved to Pennsylvania to become an assistant director of residence life at the University of Pittsburgh. I met my wife and became a father, then finished a doctoral degree. Our next step was to Blacksburg, VA where I served for 17 years as the director of residence life and adjunct faculty in the higher education student affairs faculty at Virginia Tech. We added another child and raised both up in a wonderful neighborhood. The accumulation of those quality of life experiences led me to my current position at UGA and Athens, another wonderful university and college town with an extremely high quality of life.
Hibel: Dr. Lombard, please tell us about your road that led you to your current role as the vice provost and dean of Student Affairs at SUNY College of Environmental Science and Forestry.
Anne E. Lombard, Ph.D., Vice Provost and Dean for Student Affairs, SUNY College of Environmental Science and Forestry: I am a third-generation university administrator – both my father and grandfather ran performing arts series and auditoriums on college campuses, and I grew up in a small college town in Michigan. I grew up spending lots of time on campus around college students, and I have always appreciated what they have to offer. I am also a resident assistant who never outgrew her job. I honestly can't imagine being anywhere else. I started my work in residence life on a small private campus, and have also worked with student organizations, orientation and first-year programs, leadership development, student center management, judicial affairs, off-campus living, community service, and with LGBT programs. . During my 30 years in student affairs, I've been on private and public campuses, in urban areas and in small college towns, and it has all culminated for me at ESF where I serve as the senior student affairs officer at a small, public , research-focused college campus with amazingly bright and motivated students who want to solve significant global problems.
Hibel: We'd like to discuss the topic of mentoring and the value of a mentor relationship in a job search in academia. The definition of mentorship has evolved over the years. How would you each define a mentor as well as the value of this relationship in terms of a job search?
Kowalski: A mentor is an experienced professional, valued colleague, and someone with whom you are simpatico. I mean someone who connects with you and with whom you are comfortable being yourself. This person provides both challenge and support in candid and timely ways. The value of this type of relationship in a job search is that you have a person who can review and critique your resume and cover letters. Likewise, this person can provide guidance and another perspective about the positions and schools that interest you. A mentor can help prepare you for campus visits by reviewing your presentations, questions, and apparel choices as well as helping you "do your homework" on the institution. Finally, a mentor can provide tips about managing job offers and salary negotiations.
Lombard: The simplest definition of mentor is to serve as a friend and teacher, and I have been very fortunate during my career and in my life to encounter a number of wonderful people who have served in this capacity to me. Some have served as direct supervisors to me, others as friends or colleagues. I also count among my mentors a former graduate student and a supervisor who are now very capable and accomplished professionals in their own right. I continue to learn so much from all these people. Having people willing to mentor me has been critical to my success and development as a professional. They've pointed me in the right direction, made me aware of opportunities, pushed me to grow and develop, and served as sounding boards for me – about both professional and personal things.
Hibel: What suggestions do you have for a new professional in a higher education job search that is seeking a mentor?
Kowalski: First of all, you must conduct a process of self-review of skills, competencies, goals, and motivations. Self-awareness is critical. Observe, listen, and be in the presence of persons/professionals whose personality, character, and attributes are admirable to you. Try to find someone who sees and engages the world differently than you. Take a leap of faith and ask if s/he would be willing to meet for coffee. Be yourself and determine if you are simpatico.
Lombard: Be willing to reach out to someone you might want to learn more from – don't wait for them to seek you out. Most seasoned professionals I know would be more than happy to mentor someone and share their wisdom. And look for mentors both within your professional realm but also in other aspects of your life. Those who have much to teach may not do anything related to what we do (professionally). I personally believe that everyone we encounter has something to teach us if we are open to it.
Hibel: What type of support and advice should the mentee look for from his or her mentor? Specifically, how should they help in a job search?
Kowalski: The advice a mentor provides is about guidance in conducting a thorough search as well as a solid decision-making process for the next quality of life opportunity. Allow the mentor to be a sounding board for your questions, insecurities, confidences, and "gut level" instincts about reading people, processes, and institutional context.
Lombard: I believe that a person should have multiple mentors or teachers in their lives – all have something specific to offer to them. It's unrealistic to think you might find everything you need in one person.
Hibel: Mentoring is not only important in a job search, but also once you are in your academic career. What different suggestions do you have that a mentored individual could seek out in order to excel in his/her position on campus?
Kowalski: Be attentive, punctual, and competent; a person who does his/her job. Spend time with your hobbies outside of work and set a life/work integration that works for you. Connect with the people who do the "hard work" and "behind the scenes" work in your department (the administrative assistants and the custodians are good examples). Learn from your supervisor, even if you don't get along. Find out who are the key influence and decision makers. Listen and observe what they talk about and act upon. How do you connect?
Lombard: Look for mentors from people outside your area of ​​expertise. You can learn a lot about teaching others by looking in different places on campus. Are there excellent teachers or researchers who can help you to expand your skills? What about budgeting and finance? Or the ombuds? There are unlimited people on our campuses who we can learn from – invite someone to lunch or coffee and pick their brain.
Hibel: The Placement Exchangethe top job placement event in student affairs, is taking place on March 8-12, 2017. What are your suggestions on how a candidate can prepare for the event utilizing their mentor?
Kowalski: Similar to previous comments, allow your mentor to critique vigorously your resume and cover letters that are tailored to specific positions and institutions. Allow your mentor to help you choose opportunities wisely. That means selective, not numerous, interviews are the way to find your path. Ask your mentor to identify your biggest strength and biggest room for improvement. Practice interviewing with your mentor. Answer questions with examples.
Hibel: Putting your recruiting hat on, what are the three most important things that you look for in a candidate during an interview?
Kowalski: Basic competence for the positional requirements, strong interpersonal skills, and a demonstrated desire to make the most out of the responsibilities in the position.
Lombard: Authenticity – you need to be comfortable with who you are. Present the best version of your authentic and true self. Don't try to adapt to what you think the employer is looking for. You are enough just the way you are. Sometimes this is a great fit for what an employer is looking for and sometimes it's not. Sense of humor – this helps me to assess fit. Show your sense of humor (but of course, keep it appropriate!). Excellent communication skills – both written and verbal. I cannot stress enough how important these two are regardless of what other skills are needed in a particular position.
Hibel: How can a candidate at The Placement Exchange successfully highlight these?
Kowalski: Know yourself, sell yourself, and ask specifically targeted questions to the position and institution. Be confident and as succinct as possible.
Lombard: I think candidates need to be confident in their skill set, and comfortable with who they are. Before responding to a question, think about your response and answer as authentically as you can. Give some thought to how you might answer some questions in advance – you want to sound prepared but not too rehearsed.
Hibel: We like to end our interviews by asking our guests what makes them passionate about academia. Why did you choose the field of student affairs and what is the most rewarding part of your position?
Kowalski: A college campus and student affairs work is hopeful, youthful, and vital. By getting to know students, one can maintain personal hopefulness, relative youth, and vitality. College students are smart, talented, and engaging. They help activate my intrinsic motivation receptors. The most rewarding part of my work is providing opportunities and then seeing people take full advantage of them.
Lombard: Truthfully, student affairs chose me, and I wouldn't have it any other way. The most rewarding part of my work is the interaction I have with students – particularly when I can help them resolve a challenge. Nothing makes me happier than watching students who overcame hurdles along the way walk across the stage at Commencement and knowing that my student affairs colleagues and I played a small part in their success.