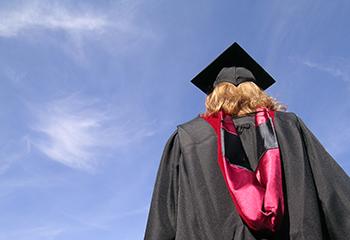 Ksboling/iStock
HARTFORD, Conn. (AP) – Come for your college education, stay for a master's degree on the house. In the higher education equivalent of a fast-food value meal, at least one university is dangling tuition-free professional graduate degrees as a way to entice applicants at a time of lean budgets and intense competition.
The University of St. Joseph in West Hartford this week made the pitch, announcing that undergraduates studying business management and accounting will be able to qualify for a fifth-year master's degree with no additional tuition.
"We'll leave some tuition dollars on the table for graduate students," the university's president, Rhona Free, said in an interview, "but we hope that we will more than make up for that by attracting more undergraduate students to the campus and to these programs."
It's part of a broader strategy to boost enrollment at the private university. The school, which has enrolled only female undergraduates since its founding in 1932, is also evaluating whether to open admission to men as it contends with a decline in college enrollment.
In developing the new program, which the university bills as "Two degrees for the price of one," Free said school officials spoke with leaders of other campuses that have attempted different pricing approaches but did not find many others that offered tuition-free graduate school. . The closest model they found, she said, was the private Clark University in Worcester, Massachusetts, which offers a tuition-free fifth-year master's degree in areas including finance, management and public administration.
About 20 percent of graduating Clark seniors, or roughly 100 students, take advantage of the accelerated master's degrees annually. The GPA requirements vary by department, depending on the cost and available spaces in each program, according to Kevin McKenna, a senior associate college dean. Clark introduced its program in the 1990s as an incentive to retain strong students who were transferring to more highly ranked institutions, he said, but it also has helped to attract students.
While joint-degree programs have become common at universities, the offers of tuition-free graduate degrees at a few private schools remain unusual.
Bob Collins, vice president for financial aid at Western Governors University, said it is a fascinating concept that makes sense for students who decide early on a career path. For others coming out of high school, he said, it will take more time and work experience to know whether an advanced degree is worth the time and indirect expenses.
With enrollment around 2,500 students, half of them in the co-ed graduate programs, St. Joseph's is among many smaller schools that have faced strains in the aftermath of the Great Recession, particularly in suburban areas where the number of college-age students has dropped. The pressures have led many schools to carve out niche academic offerings and experiment with aid packages to help bring in more tuition-paying students.
Enrollment has remained strong in the programs the university is best known for – including nursing, nutrition and social work – but it hopes the new offer will attract more to business and accounting programs it began offering 40 years ago, Free said. Students who complete the program will earn an MS in management.
"We have some really important global corporations right down the road and they have needs for workers who are prepared to move directly into jobs," Free said, referring to Hartford's big insurers among others. "We want to help meet that need."
A year at St. Joseph's costs around $46,000 including tuition, room and board. School spokeswoman Diana Sousa said 84 percent of full-time undergraduates receive need-based grants, with an average award of $20,487 annually. The tuition for the master's degree would be around $28,000.
Elsewhere, the Milwaukee School of Engineering began offering tuition-free master's degrees to qualified undergraduates in 2012 as a recruiting tool, but it has since discontinued the program. A spokeswoman for the private school, JoEllen Burdue, said that students in the graduate program traditionally have had three to five years of work experience and that those who enrolled directly from college could not draw on real-life experiences and struggled in the classroom.

Copyright 2017 The Associated Press. All rights reserved. This material may not be published, broadcast, rewritten or redistributed.