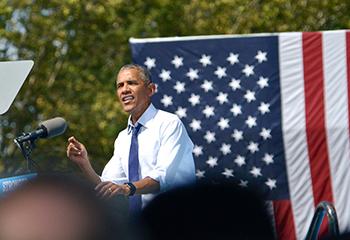 Bastiaan Slabbers/iStock
As President Obama's tenure as president comes to a close, many are reflecting on the legacy he'll leave behind. One policy area in which President Obama and his administration had a significant effect is higher education. His efforts to make higher education more affordable and increase quality and accountability are particularly likely to have lasting effect.
President Obama first worked to make college more affordable through increased student financial aid. "President Obama invested more resources into financial aid than any other American president in history," explains Marry Nguyen Barry, a senior policy analyst with Education Reform Now.
The Obama administration nearly doubled annual Pell Grant funding for students from low-income and working-class families and raised the maximum grant award by 25 percent. President Obama also created the American Opportunity Tax Credit, extending tuition-related tax relief for middle-class families, and signed legislation capping student loan payments at 10 percent of annual income and making loans forgivable after 20 years.
These reforms have positively affected college affordability and access. The increased fiscal investments in financial aid alone extended Pell Grants to an additional 3 million more students every year, the American Opportunity Tax Credit to up to 4 million more low-income families, and more generous student loan repayment options to over 6 million more students. ," says Barry. "With greater college affordability, over 700,000 more minority students attended college immediately after high school under President Obama's watch."
This increase in direct enrollment in college after high school was particularly noticeable among black and Latino students, whose college-going rates increased by 12 and 26 percent respectively.
President Obama combined his financial reforms with calls for greater accountability and higher quality in higher education. "What set the Obama Administration apart was how they expanded that federal role and stopped taking college quality and degree completion for granted," explains Barry.
The Obama administration debuted the College Toolkit and College Scorecard, and emphasized the importance of transparency regarding graduation rates and job placement. The administration was particularly tough on for-profit schools. As a result, many for-profit vocational schools with low graduation and job placement rates closed. At for-profit schools remaining open, spending on instructional services has increased by 25 percent.
President Obama also announced new initiatives to jumpstart workforce development. The Departments of Labor and Education jointly awarded $500 million to community colleges for distance-learning and on-campus support for students pursuing technical careers. In President Obama's second term, the administration introduced a plan to pair colleges with for-profit institutions to offer courses for professional credentials to low-income students. The administration also created regulations for teacher education programs to ensure that only high-quality K-12 teacher preparation programs would be eligible for federal TEACH grants.
While previous presidents have made reforms that affected higher education policy, President Obama's unique set of priorities set a precedent for more effective reform in the future. "Results matter—but in conjunction with continued financial investments," summarizes Barry. "It's easy for Democrats to call for just money and for Republicans to call for just reform. But where Obama broke the mold was combining resources and reform. That's the best route to ensure continued improvement in our American higher education system."