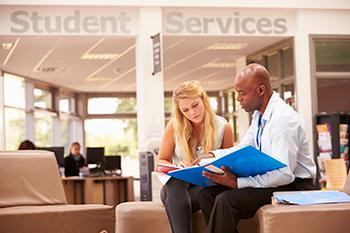 As institutions face mounting pressure to improve retention and graduation rates, it is becoming increasingly important to employ long-term strategies for student success. One solution that has proven effective for many colleges, particularly those in the community college sector, is known as intrusive academic advising.
Although the concept of intrusive advising is not new, it has taken on more meaning recently as college students have come to campus with more academic and personal challenges, said Jennifer Varney, associate dean of faculty, Undergraduate Business, in the College of Online and Continuing Education at Southern New Hampshire University.
Intrusive advising is a preemptive approach to working with students, Varney said, which is why it is known by some in the advising world as proactive advising, a name which more accurately indicates the nature of the model.
"Intrusive advisors try to anticipate and look for issues, concerns, roadblocks…anything that has or could potentially get in the way of a student interacting in the course and being successful," she said. "The goal is to help the student feel cared for by the institution. And, in taking a proactive approach, rather than waiting for problems to occur and reacting, advisors are able to demonstrate this care."
Student support services are proving crucial given the changing landscape of higher education. According to a 2010 study by the Department of Education, roughly half of the college population in the United States is made up of students whose parents never attended college. Of those who start at community colleges, only 11 percent obtain bachelor's degrees, according to the National Center of Education Statistics. Experts often cite lack of academic preparedness and inadequate academic and personal support as some of the driving factors behind poor retention and graduation rates for this group.
Additionally, many students are coming to college with more competing priorities beyond education, such as work and caring for children or aging parents, Varney said, which makes a proactive approach to advising even more essential.
According to Varney, this approach can work with any student relationship on campus, and is not limited to advisors. Individual advisors can choose to adopt this approach without having the institution necessarily also prescribe to the same model. Advisors who use this approach do not need to wait until there are red flags, such as a poor mid-term exam or class attendance, to use this mindset. They are also encouraged to reach out because of positive occurrences, such as strong grades or important dates. The strategy can begin from the first day a student makes connection with the institution during the admission process and can continue through graduation.
Paul Donaldson, director of enrollment management at Northshore Technical Community College in Greensburg, La., indicated that the term "intrusive advising" can be misleading in that it is such a strong term that can carry a negative connotation. He has found that making advising mandatory or too intrusive may adversely impact a student's attitude towards advising and may cause them to shun help.
"It's important to consider the delivery of intrusive advising and how it is promoted to students," he said. "It's also important to ensure students see the value of advising sessions before being required to participate, focusing more on the benefits and less on the requirement."
Students at community and technical colleges often "don't know what they don't know," Donaldson said. If students are not required or strongly encouraged to make an advising appointment, they may miss out on necessary information on course selection, the process of transferring from community college to a four-year institution, or important dates and deadlines.
"How would a student who has never attended college and doesn't have a relationship with someone who has successfully completed college know what to expect or what questions to ask?" he asked. "While many with years of experience within the college culture come to find the process as logical over time, the college experience can be quite complex for students unfamiliar with the environment, especially those under-prepared academically."