by Christine Johnson McPhail, Ph.D. and George R. Boggs, Ph.D.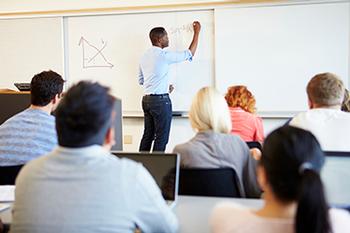 In her September 26, 2016 article in The Washington Post, Marybeth Gasman, professor of higher education in the Graduate School of Education at the University of Pennsylvania, provided her opinions as to why colleges don't hire more faculty of color. She claimed, "We don't want them." Of course, we in academia say that we want a diverse faculty and staff, but our practices seem to indicate otherwise. If we really want to attract and retain a more diverse faculty, staff, and administration, college leaders at all levels need the courage to make some changes in how business is done, and governing boards need to support them. We offer our suggestions in this article.
Christine J. McPhail, Ed.D.: Historic issues of races, gender, and social class-and continuing concerns about access to and success in higher education for underrepresented minorities and low-income students-are still a challenge for higher education. However, addressing these issues should not be viewed as an issue only for one particular group; rather the problem must be addressed collectively by college leaders at all levels and by trustees and then spelled out in college plans, policies, and practices. Diversity in the workplace has been heavily researched, demonstrating that diverse organizations are smarter organizations. For colleges and universities committed to closing student achievement gaps, a diverse faculty, staff, and administration is a critical component. The Higher Education Recruitment Consortium (HERC) reports that increasing employee diversity is not only the right thing to do, but also essential to achieving the academic missions of HERC's member institutions. According to HERC, educating people of all backgrounds, beliefs, and cultures requires a diverse academic workforce.
George R. Boggs, Ph.D.: This is important information, Christine, and I believe that most of us realize how important it is to have a diverse faculty, staff, and administration in our colleges and universities. It is more difficult to bring diversity to the faculty than to the staff or administration because the turnover rate is much slower. When an institution makes a decision to hire an individual as a faculty member, that person will likely be with the institution for a long career. For that reason-and the fact that faculties have a significant influence on the culture of an institution and on the student-learning mission-employment processes and their outcomes are critically important. Although these guidelines apply to staff and administrative searches, we will focus on faculty employment practices in this article.
McPhail: George, the search committee is very important to the outcome of the search process. There should be broad representation on the committee from minority groups as well as from the LGBT community. In our work with campus leaders, we often talk about how a diverse search committee sends a positive signal to candidates; it shows the candidates that the college is serious about attracting a diverse pool of candidates. We understand that some institutions may not yet have a sufficient number of employees of diverse backgrounds in the workplace to populate the search committees. If that is the case, it is advisable to seek representation from outside the college (from the community or another institution) to ensure appropriate representation and a wider perspective. A more diverse search committee will allow for broader perspectives in assessing a candidate's qualifications for the job. We encourage institutions to provide in-depth training for search committees, especially for the committee chair because the chair sets the tone for the search and influences the behavior of the committee members. However, everyone participating on a search committee must be willing to participate in the training.
We are often asked about the role of the affirmative action officer in working with the search committee. The affirmative action officer monitors the efforts of the search committee to act affirmatively and legally in recruiting women and members of minority and protected groups and serves as a resource person to assist the committee in its efforts. The affirmative action officer reviews the Affirmative Action Plan's goals and objectives to determine if women and minority groups are underrepresented. The affirmative action officer notifies the search committee about the types of under-representation. Where there is under-representation of identified groups, special efforts should be made to attract those candidates.
Boggs: Before a position vacancy is announced, it is important for the search committee to prepare a common set of expectations for the new faculty member. What will the teaching assignment be, what committee work will be expected, and are there research or service expectations? At this point, it also becomes important to change the dialogue from wanting to hire "the best qualified person" to seeking "the person who best meets the needs of the institution, or the person who best fits the set expectations." As Dr. Gasman points out in her Washington Post article, the word "quality" is used to dismiss people of color who are otherwise competitive for faculty positions. The problem is in the definition of who is more qualified. Is an applicant who has a degree from an Ivy League institution of higher quality than one who has a degree from a state university? Is an applicant who has five years of teaching experience more qualified than one who has only three? Remember, we all started somewhere in academia when we had no experience.
McPhail: Good points, George, but remember that qualifications are important. Minimum qualifications for faculty positions are spelled out by accreditors and sometimes by states. Institutions can increase these requirements to improve the chances of employing faculty who are prepared to meet institutional expectations. However, search committees need to be careful that the minimum qualifications are really job-related and do not inadvertently screen out diverse applicants.
Boggs: This is one area, Christine, in which courageous leadership might be needed. Leaders need to insist that the advertised minimum qualifications are appropriate. In larger institutions, the president may not be able to interview all finalists for faculty positions, and may have to delegate this important task to a vice president, provost, or dean. However, I hope that leaders will see this as one of the most important responsibilities of leadership. When I was a college president, I interviewed all finalists for faculty positions. If I was not satisfied that the applicant, interview, and finalists pools had sufficient racial and gender diversity or enough qualified candidates, I would instruct the committee to extend or void the search. It is better to start again than to make a mistake in hiring.
McPhail: Recruiting and hiring underrepresented faculty is just the beginning, George. What can be done to ensure that new employees are able to be successful on the job after they have been hired? We encourage institutions to provide nurturing and support programs for new faculty. The administration and the senior faculty must take responsibility for providing support for the faculty to be successful. This may mean providing a mentor or success coach for new faculty. Some institutions are hesitant to provide additional support for underrepresented groups due to fear of lessening standards. Faculty members' experiences with their departments are reported to be the primary source of their job satisfaction (or dissatisfaction) and their decisions to stay or leave. Positive experiences at the department level should have a powerful impact on faculty retention. In our conversations with department chairs we also encourage them to engage new faculty members in the department and to find ways to introduce underrepresented faculty to the external community so that they can feel connected and engaged. The department chair can also monitor the underrepresented faculty member's engagement on committees such as affirmative action and equity. While these may be relevant assignments for the college, the underrepresented faculty member must be allowed the opportunity to make contributions throughout the teaching and learning environment.
Boggs: In her Washington Post article, Dr. Gasman says that the most common excuse for not employing a diverse faculty is "there are not enough people of color in the faculty pipeline." Her response is, "Why don't you create the pipeline? Why don't you grow your own?" Faculty members and administrators are in key positions to mentor students and to give them opportunities to experience what a career in higher education is like, and how they can make a significant difference in the lives of others. Colleges can formalize mentorship programs, inspiring their own students and giving graduate students from other institutions opportunities for internships. Partnerships with minority serving or Historically Black Colleges and Universities could be especially meaningful.
Our message is that it is possible for colleges to attract and underrepresented faculty, staff, and administrators. However, it will not happen without a plan and the courage to implement it. Higher education institutions can realize the benefits of diversity and recognize the contributions and achievements of a diverse faculty-not only one that is diverse in terms of race and gender, but also one that is diverse in talents, experience, and teaching approaches that are focused on the learning and success of all of our students.