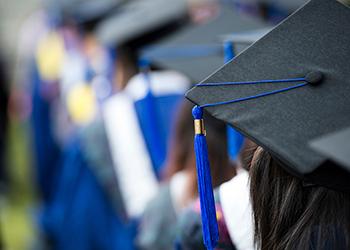 While college enrollment rates have increased over the last decade, there are still a large number of students who do not complete their degrees. To combat this issue, many universities are developing programs to help students successfully transition to college and persist through graduation.
According to a September report by the Education Trust, fewer than four in 10 students who start at a four-year institution earn a degree in four years, and fewer than six in 10 earn a degree in six years. Among students who attend two-year institutions, fewer than three in 10 complete a degree in three years.
The authors of the report, José Luis Santos and Kati Haycock, cite poor preparation as a major reason why students are unable to complete their degrees. Less than half of high school graduates meet college readiness benchmarks, and students not meeting benchmarks need to take remedial courses upon enrolling in postsecondary institutions.
"However, remedial education in its traditional form does not work; it's broken," explains Santos. "Over 50 percent of students don't even complete those remedial courses, and never move on to credit-bearing courses."
Since such a large number of college freshman are unprepared for college-level work, some states are working with their school systems to strengthen graduation requirements. The California State University (CSU), the California State Board of Education, and the California Department of Education worked together to align high school graduation requirements with CSU admission requirements.
California students take the Early Assessment Program (EAP) test in their junior year of high school. The results tell the students what additional preparation they need to do in their senior year in order to succeed at the college level. Taking this assessment in 11th grade gives students time to prepare before entering college, so they will not need to spend additional time and money on remedial courses as undergraduate students.
While state governments and K-12 school districts are working to prepare students more thoroughly for post-secondary work, colleges and universities can also take steps to help students persist through remedial courses and obtain a degree. "The choices made on college campuses have a huge effect on persistence, and ultimately, graduation," says Santos. "Colleges and universities have not paid enough attention to remedial education needs. They need to look at the data, look at how to redesign courses, and look at best practices at other schools."
The first step is to examine the data to see how students currently enrolled in remedial courses are faring. If a lot of students in a specific remedial math sequence, for example, are not moving on to credit-bearing courses, the remedial math sequence likely needs to be redesigned. Similarly, if students are moving on to credit-bearing courses, but then are failing the next math sequence, the way those remedial courses were designed does not work.
One way to redesign remedial courses is with a co-requisite model. Co-requisite remediation places students in entry-level credit-bearing courses, while also providing remedial tutoring services and academic support. Tennessee currently implements a co-requisite model at all public community colleges, and a study by the Tennessee Board of Regents concluded that more students received college credit in co-requisite courses than in college-level courses after completing traditional remediation.
The final step to redesigning remediation is collaboration. "Academic departments must take the lead because they're the ones enrolling the students and leading instruction, but they can't do it alone," explains Santos. "Schools that have been successful have had redesign efforts led by a provost who sits with its academic deans and examines the outcomes data of existing remediation efforts."
The provost is often the lead academic officer at a college or university, and a successful redesign effort needs strong leadership from the administration as well as investment from academic departments in order to be transformative. Through collaboration between the provost and relevant academic departments at a college or university, students will be more likely to persist through remediation and attain college degrees.