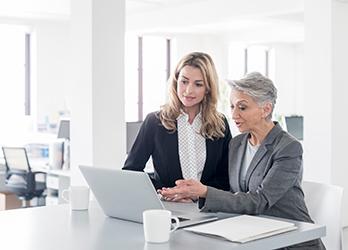 Mentoring has long been essential to the personal and professional development of students, faculty, researchers, and staff in higher education. It increases one's likelihood of career success. From my perspective as a recruiter, mentoring can be a more fundamental part of broader leadership development, whether in support of faculty transitioning into administrative roles-department chairs, assistant deans, or deans-or career administrators moving into higher echelons of responsibility. Even the most senior leaders on campus (including presidents) can and do benefit from mentoring.
I have seen mentoring become more commonplace in recent years, in particular for women and minority leaders to gain career guidance. Even so, I speak with a lot of campus leadership candidates who cite it as an extra or add-on career activity when in actuality it should be a standard practice for everyone. In the competitive job market today it is important for professionals to build a network within their workplace and with external colleagues across the industry.
Mentoring is often informally arranged between peers and colleagues, but formalized practices and programs continue to crop up across campuses and within higher education associations. The American Council on Education (ACE) has long promoted mentoring and leadership development and has resources on its site devoted to these topics. Other examples of interesting programs I have come across include:
• The Council of Colleges of Arts and Sciences (CCAS)
program
for new Deans and Associate/Assistant Deans is designed to familiarize individuals with these roles, develop requisite leadership skills, and provide networking opportunities. CCAS facilitates the matching of an experienced dean or associate/assistant dean with those new to the dean's role. The program encompasses one-on-one and peer mentoring and networking, in-person and online.
• The American Association of University Administrators (AAUA) Professional Development Fellows
Program
offers those selected as fellows to work with two mentors, one at their institution and one selected from AAUA membership, through an individualized, year-long program.
• For IT leaders in higher education,
Educause
has programs that align professionals with each other and additional resources such as a suggested mentoring agreement form.
Beyond Gurus
An important trend is that institutions have begun to expand beyond the single "guru-based" mentorship into a variety or combination of models, each designed to accommodate the mentee's individual needs or goals. Some of these include:
• Peer Mentoring pairs the mentee with another professional in a similar situation to share experiences.
• Network Mentoring recognizes that the needs of a mentee are varied and change over time, making it hard for a single mentor to provide adequate support. Individuals can seek input from a network of mentors, each with unique expertise and guidance.
• Group or Team Mentoring Allows an individual mentor to meet with multiple senior advisors (selected by the mentee or, more typically, the employer) who have a common need or similar goal.
• E-Mentoring allows access to a mentor online and thus without the limitations of geographic distance.
• Reverse Mentoring pairs a junior with a senior professional with the junior acting as the primary mentor, most often to keep the more senior colleague informed of new methods or technological advances.
The Wake Forest School of Medicine website has clear descriptions of some of the above, as do other sites devoted to professional mentoring and development.
Supporting Diverse Leadership
An administrator can experience additional challenges as the only minority (or one of a few) holding a similar position in their institution. Issues can range from experiencing outright bias and discrimination to more subtle feelings of isolation.
Mentorship can be especially beneficial to those administrators underrepresented by, for example, gender or race, and many institutions offer mentorship programs as part of broader leadership diversity programs.
The Executive Leadership Summit offered by Hampton University is one of the oldest of its kind and is credited for 15 alumni currently serving in the role of university president. Based on the Harvey Leadership Model, developed by Hampton president Dr. William R. Harvey, The Summit focuses on learning best practices and strategy development as well as networking and mentoring opportunities.
The Leadership and Mentoring Institute, offered by the American Association of Blacks in Higher Education (AABHE), is specifically designed to assist African Americans who aspire to senior leadership positions in higher education. A key objective of the Institute is to link program participants with mentors who will work with participants individually and assist them in enhancing their leadership abilities and professional development.
Mutual benefits
A healthy mentoring relationship results in many career benefits for the mentee including increased satisfaction, increases in salary, promotion, and expanded opportunities for learning and growth.
It is important to remember that it is not just the mentee who benefits from the relationship. Mentors experience the satisfaction that comes from assisting junior colleagues, and often improve their own skills through the relationship. Interaction with a younger mentee can be an opportunity for growth through exposure to new ideas, new creative energy, and new ways of thinking about or doing things.
Maybe most of all, the institution sees benefits from efforts to develop and support good mentorship programs in the form of higher retention rates, enhanced development of leaders, and increased productivity and performance.
Mentorship programs continue to grow and change to meet the increasing challenges faced by new administrators. Whether it is a professional group, colleague or friend, a trusted and committed mentor should be a fundamental component of the personal and professional development for future leaders in higher education.