by Daniel B. Griffith, JD, SPHR, SHRM-SCP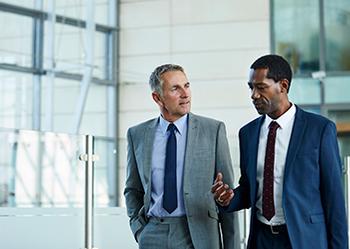 Whether recruited from the outside or promoted within, the first 90 to 180 days are crucial for new leaders to gain their footing, develop positive relationships, and establish positive directions that will help them, their institution, and the groups and constituents they represent succeed. Their success does not depend solely on their own abilities, no matter how stellar their performance, skills, personality, or character. Institutional representatives who recruit them must also establish conditions early on – indeed, before their first day – that will support their transition as new leaders. Consider these examples when institutions fail this charge:
The new director of a campus-wide program to support the recruitment and retention of students from underprivileged groups brings forth a list of "exciting" ideas for achieving program goals that worked in his past institution. But he is met by team members who are barely able to meet current expectations. He is surprised how dispirited and exhausted they feel after years of working with his predecessor whom they call a "bully."
A new director is recruited from the industry to lead an innovative office designed to support STEM faculty with their research. She is unprepared for the slow, bureaucratic wheels that do not allow her to push through an aggressive research agenda. Many senior leaders appear openly hostile to her ideas and complain to the vice president of research who hired her. She is disappointed to learn that the "green lights" that were represented during the recruitment process are just an illusion.
The new HR director formerly served as the institution's employee relations manager and was known for being "blunt, but fair." Her new role requires more diplomacy and tact. Neither she nor the vice chancellor for finance who promoted her anticipated the difficulties she would face in overcoming this skill deficit. Although she eventually develops these skills, her first year is more focused on repairing damaged relationships than advancing HR goals.
Employers invest a great deal of time and expense recruiting professionals to serve in important leadership roles. But do they invest time and expense to ensure new leaders' success once they start? Consider these strategies to support new leaders' transition:
Begin before the first day. During the time lapse between job acceptance and the first day, don't leave the impression that "I'll see you when you get here." Remain accessible to answer any questions and provide relevant information the new leader may need prior to the first day. Just as your institution would support out-of-town recruits with a physical move, provide resources, contacts and information as needed to help the new leader begin to anticipate and adjust to the job demands and expectations of the new role. The earlier you can provide information about the job and institution and unit culture, the more prepared the new leader will be to take on new challenges from day one.
Give time and attention to the new leader during the first few days or weeks. As the direct supervisor, be prepared during the first week or so to be more available than you might normally be once your relationship is established. Leaders should be self-directed so daily physical contact with the leaders you hire isn't expected. But early on, a greater presence will help the new leader acclimate, understand unit and institutional culture, clarify job expectations, and make necessary initial connections with key personnel with whom the leader will interact. As the start date looms, be sure to check your calendar and reschedule less essential meetings so you can be available.
Provide personal onboarding. Your institution may do a great job with onboarding. This means more than simply ensuring new employees are enrolled in benefits and have received the employee handbook. It involves efforts to ensure the new employee feels valued and welcomed into the institutional family and understands from the beginning how his or her role connects with the institution's mission, vision, and values. Whether or not your institution provides this, take measures to ensure the new leader is fully acclimated to and supported in the new culture of your unit. This can mean engaging in longer conversations about your unit's specific goals and how the new leader fits, or something as basic as ensuring the new leader is introduced to unit employees at all levels and provided a campus tour. Be sure to provide a similar support, as needed, for internal transfers.
Ensure the new leader has a realistic picture. During the recruitment process, sufficient vetting should have occurred so that candidate and employer alike are fully aware of each other's positive qualities and shortcomings. Once the new leader starts, it may be wise to revisit any concerns, whether they are perceived deficits in the new hire or in the environment in which the new hire will be placed. The scenarios above suggest that this additional vetting may have helped avoid the consequences that followed. The leader in the first scenario might have tempered his approach when working with a team not yet ready for "exciting" new ideas. The leaders in the second and third scenarios might have been better supported to adopt a different approach or to start to develop new skills respectively.
Engage in dialogue processes with direct reports and important constituent groups. The above scenarios also suggest the adverse consequences of simply "throwing" new leaders into the fray without appropriate preliminary preparation and conversations among direct reports and constituent groups to address concerns and ease uncertainties. To remedy this, consider formal processes in which organization development consultants facilitate meetings, conversations and data gathering processes between the new leader and relevant groups to help the new leader gain a better understanding of concerns, respond to questions, address uncertainties, and discuss mutual expectations. . This will help the new leader form relationships and discuss common goals and interests before moving too quickly or too brashly to implement change. In some cases, facilitators may need to engage in processes that allow dialogue participants to speak openly absent the new leader's presence to preserve anonymity. Facilitators would then take notes and gather other data to share with the new leader without identifying information included.
Final advice for the new leader. If you are transitioning into a new role and your new employer has not offered upfront transitional support, consider requesting it. Consider what you may need to be successful as you start your new position and make the case how such support will benefit both you and your new employer. Consider how such processes will help you avoid the kinds of consequences discussed here.