by Christopher D. Lee, Ph.D., SPHR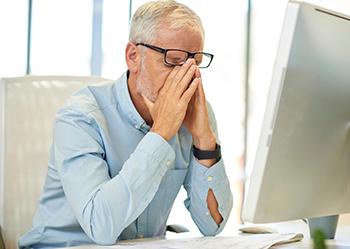 Nothing says "I am old and out-of-touch with current norms" as poignantly as not being technologically proficient. Applying for jobs today has nothing to do with sending your resume or CV through the mail on good paper. The state of the art has changed and one must know and understand the new rules of the game in order to succeed in today's technology-driven world. A large percentage of senior executive applicants are pushing fifty; the world has changed and norms are different. So do your homework, learn the latest state of the art-a few hours on this website and the Internet in general will serve you well.
Job Tech 101
First of all, the vast majority of applications are received through online portals called Applicant Tracking Systems. If you are fortunate enough to have a great job at a great institution and have been in your position for many years, you might have escaped their ubiquity. Nevertheless, it would be wise to be familiar with how they work and their usual protocols. Below I will share why this is important as well as some tips for being tech savvy–mostly because incomplete applications or small mistakes can derail your candidacy.
Next, you must have a good e-mail address to apply. An appropriate, non-work e-mail address that is used for this purpose is mentioned in an earlier post.
Create a file name that makes sense for your application materials. Something clever like your name. Do not use revealing or misguided names like 2016-presidential-resume-generic.doc or statecollegeapplication.doc when you are applying to a private school. I would suggest that you name your electronic files with your name and description of the document only. Simplicity is best: RachelSmithCV.pdf or CvrLtrRajPatel.pdf, for example. The reason that .pdf documents are a universal standard on the World Wide Web is because the formatting is preserved. Save your documents using Adobe because the formatting is fixed and does not change. Microsoft Word and other word processing software and their various versions change document files to meet their own design standards.
Check your application after submitting it. Ensure that the document you uploaded was actually uploaded and that you have a complete application package. If the advertisement asked for a cover letter, resume, and statement of leadership philosophy and the latter is omitted because of a technical glitch, many organizations will pass on your candidacy because they will not see you as a serious-read complete-applicant. All ATSs send you an e-mail acknowledging receipt of your material and providing you with a password to check your application's status. Take the time to log back into the system and verify that all of your intended materials are indeed present.
Some applicants have started to submit a single .pdf document that combines their cover letter, CV, and additional statements all in one electronic file. Most search committees seem to appreciate this courtesy as it makes applications easier to share and handle. However, make sure that the ATS recognizes that your application is complete. Logging back in ensures that one complete file is recognized as complete just as three separate files are so recognized.
Telephone and video interviews. While telephone interviews are ubiquitous, video interviews are becoming the mainstay. You will likely be sent a link to an online portal or asked if you have a Skype account for an initial round of contact with a prospective employer or search consultant. It might be a good idea to familiarize yourself with this approach and enlist a friend or colleague to conduct a mock interview to practice your interview skills using these new protocols. Your dress rehearsal and big day should not be at the same time. I would suggest you have access to a computer with a camera and microphone and know how to use them in advance.
Cellular phone number and not your home phone or work phone. See the previous post on why I discourage using your work number. Additionally, most people are going to call you during their work hours. You make it easy for them to contact you rather than leaving a message for you at home and waiting for you to return their call the next day.
The World Wide Web
Virtual Resumes and Portfolios – It is a growing trend that individuals own the domains that bear their names such as RachelRSmith-Wintrop.com. There are lots of free resume hosting sites as well. These sites are often used by artists, photographers, consultants, and others who want to share information about themselves, their work, or their artistic creations with the world. A growing number of students are also posting their academic portfolios to inform would-be employers. This is a rather novel way to present the right image to employers and allows one to curate their professional profile in a manner that is unprecedented. This practice will undoubtedly evolve overtime. Some even record videos to talk about their background and tell their personal story.
Web Presence – Lest we forget, one's total online presence is also one's new resume. While LinkedIn itself can serve as a resume, one's collective social media presence is likely to be reviewed by potential employers. In an earlier blog post, I argued that senior executives hold highly scrutinized positions, and web presence is tantamount to a public theater at times.
While filling many senior positions today is handled through executive search firms, many of the aforementioned ideas still apply. They might not use an ATS, but it is frustrating having to save dozens of applicant resumes and CV's that are all labeled Resume.doc. Similar frustrations occur when the fancy font that you chose to give your resume a distinct look does not translate to the new software or version-and looks awful. Now the search consultant has to call you to ask you to send different materials, or make changes, etc. You don't want to be viewed as a difficult or out of touch applicant; first impressions matter. And you'd better believe that before a search consultant recommends you to her client, she will have done thorough due diligence and scoured the Internet researching your online presence.
Being technologically savvy has few downsides and is expected of today's applicant. My experience has been that senior professionals with thick and dense resumes and CV's often assume their credentials will speak for themselves. While this idea has merit, it only takes one similarly capable professional to edge out another for an interview. Like appreciating technology, it does not hurt to be a good applicant. Such subtleties often make the difference in earning a gold or silver medal. However, in the job search second-place finishers do not get any recognition or reward.