by Daniel B. Griffith, JD, SPHR, SHRM-SCP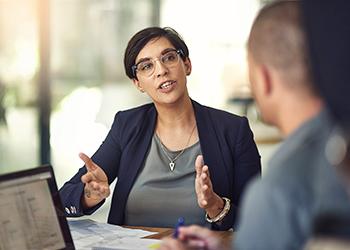 In Improving the Institution's Response to Everyday Workplace Challenges, we addressed the need for the institution's HR and equity offices to be more responsive to employee workplace concerns by moving beyond sole reliance on traditional and often restrictive policy-driven procedural remedies. Employees should seek institutional support to address these challenges and expect the HR or internal equity office to help identify and implement strategies and approaches that will improve working relationships and return respect and a positive environment to the workplace. At the same time, employees should prepare for these interactions beforehand to put organizational representatives in the best position to help them. Consider these tips:
Take ownership of the issue that concerns you.
When we feel wronged by a co-worker, our boss, or other workplace circumstances, it can be tempting to place blame on others and not see our own contribution to the problem. We can then transfer this blame to institutional representatives and expect them simply to "fix it." However, as much as institutional representatives have the responsibility to assist, employees will achieve better outcomes when they take ownership of their situations. This includes an active partnership with the HR or equity office you have approached and taking their advice and counsel seriously. Yet, regardless of the quality of their counsel, you must first rely on your own counsel and judgment to move matters forward.
Make a preliminary inquiry regarding how HR may be able to assist.
If you are at the point in trying to manage your workplace difficulty where you feel the HR or equity office's support may be needed, start by contacting them and asking as a preliminary matter how they can become involved. Make a call, state your situation generally, and ask how they typically handle such matters and what you can expect if you meet with them. You should not expect too many specifics at this point, as every situation is different and the precise form of support they can provide cannot be determined until they have the chance to meet with you. You should expect, however, representatives to want to respond to and allay your concerns so that you will feel as comfortable as possible to discuss your concerns more fully.
Know your facts and be objective in sharing them.
The HR or equity office will need to know the facts and difficult circumstances you've experienced. Emotions are understandable, but seek to manage them in order to state your case in an objective fashion. When you make an assertion about how you feel treated, be prepared to provide the facts that support this assertion. You are not expected to be perfect. You may have done or said things you are not proud of in the course of interacting with the co-worker or boss who is causing you difficulty, but representatives will need the full picture. The important lesson here is to establish credibility which means being objective and fair in the telling of your story and sincerity in your belief about how you are being treated.
Know what you want and don't want.
In keeping with the need to take ownership, own the solution you would like to realize. Except in extreme cases, such as sexual harassment and misconduct and threats or occurrences of workplace violence where there are policy obligations to take immediate action irrespective of the complainant's wishes, the HR or equity office will confidentially explore with you options that you would like to pursue. . Do not assume that the only tool in the toolkit is a formal, full-blown investigation. Perhaps all you need is to create awareness of your concern and the opportunity to engage in periodic confidential meetings with the representative to talk through the matter. Perhaps you'd like coaching to receive guidance on how you may return to the workplace to address the matter on your own without further involvement by the representative. Perhaps you need a referral to a training program to help you develop skills for responding to these situations. Or perhaps you would like them to intervene, such as to mediate a conversation or to informally inquire on your behalf without making it a "federal case." Be thoughtful about what you want and how you will articulate your needs so the representative can help you strategize the best approach.
Have realistic expectations.
Depending on your situation, what you share, and the support you seek, the HR or equity office will be able to assist with certain forms of support and not with others. For example, you may have your reasons for not wanting your work unit, boss, or co-worker with whom you are in conflict to know your concerns and that you are consulting with the HR or equity office. Therefore, it is unrealistic to expect the office to "fix it" without your consent to intervene. Similarly, if you ask them to intervene and conduct the appropriate inquiry (if not a full investigation) they must treat your concerns objectively and in a neutral fashion. It is, therefore, unrealistic to expect them simply to take your side or advocate solely on your behalf rather than pursue solutions that take all sides under consideration and meet all parties' needs.
Stay positive.
Notwithstanding these caveats, if you've established an understanding of how you and the representative will proceed, expect positive steps to be taken to address and resolve your situation. Matters won't be resolved overnight and patience is needed. Depending on what you've agreed to do and what the HR or equity office will do on your behalf, you may also face some uncomfortable situations as you confront the situation or individual causing you difficulties. But if you continue to work through the situation with the support of the HR or equity office, have confidence that solutions are at hand.